Candied or glacée fruit has been made for centuries as a means of preserving fruit through the winter months. During a recent wander around the Adelaide Central Market I came across some Candied Vanilla Pears, which inspired me to have a go at making my own. They were a rich dark brown colour and delicious. They almost looked as if they were made of chocolate.
After reading through half a dozen recipes online, I found one which uses a slow cooker. This appealed to me as you can go away and leave the fruit to cook for hours without looking at it. It's a time-consuming activity and you only end up with a few pieces, but having successfully done one batch I think I'll do some more. The criss-cross pattern you can see in the photo is from the wire rack!
For those who have never been, the Adelaide Central Market is fabulous. Around 80 under cover stalls selling fresh fruit and vegetables, as well as fish, meat, bread, cheeses and other gourmet delicacies. It's open every day except Sundays and public holidays. I wish we had something similar in Canberra.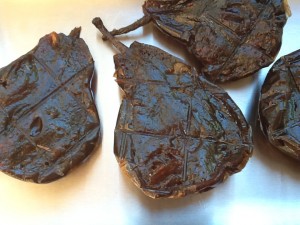 6-8 large pears, only just barely ripe
water
sugar
1 vanilla pod, split, seeds scraped out
2 very heaped Tbs glucose syrup (about half a 500g jar)
Halve pears lengthwise. No need to peel and you can leave the stem on one  half. Use a metal skewer to pierce fruit all over. Place in slow cooker and add enough water to barely cover. Remove pears and measure the water – mine was a litre or four 250ml cups. In a medium saucepan, heat the water with one and a half times the amount of sugar – so for me that was six cups – stirring to dissolve the sugar.
Put pears back in slow cooker with enough syrup to cover, keeping the rest as spare in case you need to top up. Add vanilla pod and seeds, cover, turn the heat setting to high and cook for 6 hours. The recipe said to turn the pot down to low setting, but it also said the liquid should be gently bubbling. In my slow cooker that meant using the high setting. Keep an eye on it and if they seem to be cooking at more than a bare simmer, turn the  heat down to low. If you cook the pears too quickly they will break up.
After six hours turn off the heat and leave to cool overnight. Next day turn to high and repeat the process, letting it gently simmer with the lid on for six hours. Next day do the same again, so that's three times in total. I found I didn't need to add more liquid but if you do, use the reserved syrup to top up.
Next day add the glucose syrup, turn the slow cooker to high and when it starts to bubble cook for about 3 hours, adding more syrup if pears are not covered.
Remove fruit from syrup while it's still warm and place on a wire rack to drain. Keep the rich dark brown syrup to serve drizzled over pancakes or waffles. It will keep for months in a sealed bottle.
When fruit has stopped dripping preheat oven to 100ºC. Place the rack over a baking tray and place in the oven for an hour or two. When the surface of the fruit no longer feels very moist to the touch they are ready. Don't overdo it or the pears will be a bit chewy. Leave the pears as they are for a shiny look, or roll each piece in granulated sugar for a frosted look.
Fruit will keep for several months in a tightly sealed container. Serve with cheese – they go especially well with brie and cheddar and look great on a cheese board.
Makes 12-16 pieces
Note: if preferred, cut pears into quarters instead of halves.