I was looking for a dessert to serve on New Year's Eve that could be made ahead, didn't involve turning on the oven, used seasonal fruit, could be transported from Canberra to Sydney with ease and didn't include raw eggs, making it suitable for a pregnant lady.
This recipe which meets all the criteria appeared in a recent advertisement for Kraft Philadelphia cream cheese.The only change I made was to increase the lemon rind from one teaspoon to one tablespoonful.
Mangoes are at their cheapest in Australia at this time of year. Choose ones which are not over-ripe as they're easier to slice thinly and curve for the decoration. I made the cheesecake the day before and took it to Sydney in an Esky (Australian name for a cold box, for those who don't know) on New Year's Eve. All I had to do was arrange the mango slices on top and it was ready to serve.
The original recipe didn't include passionfruit, but we ate the leftovers on New Year's day with some pulp spooned over. It was a definite plus, enhancing the flavour of the mango and providing colour contrast.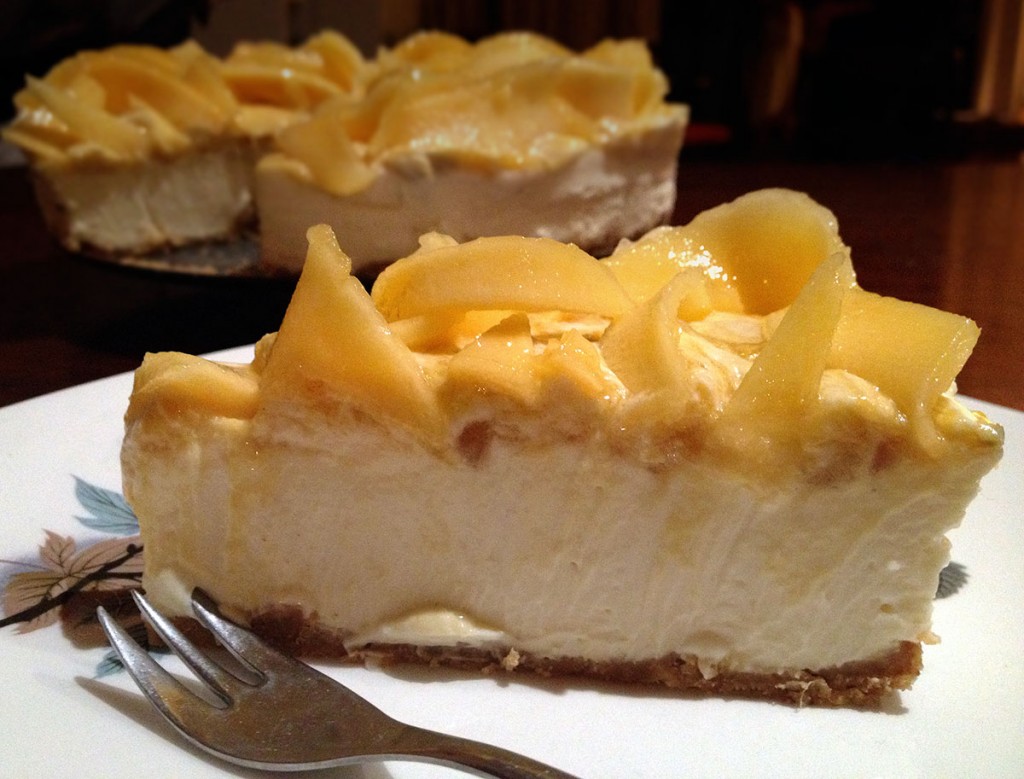 200g fresh mango, puréed in food processor
¼ cup glucose syrup (also known as Corn Syrup)
1¼ cups sweet biscuit crumbs (e.g. Digestives, crushed in food processor)
75g butter, melted
500g cream cheese at room temperature
¾ cup sugar
1 Tbs grated lemon rind
2 tsp gelatine dissolved in
¼ cup boiling water, cooled
220g white chocolate, melted and cooled
1 cup cream, softly whipped
2 mangoes extra, thinly sliced
Pulp from 2 passionfruit (optional)
Thick cream to serve
Place mango purée in a saucepan with glucose syrup. Cook, stirring over a medium heat for 15 minutes or until thickened and reduced by half. Set aside to cool.
Combine biscuits and butter and press evenly over the base of a 20-22 cm springform pan. In food processor or by hand beat cream cheese, sugar and lemon rind until smooth. Mix in gelatine mixture and melted chocolate, then fold in the whipped cream. Pour filling over biscuit base. Spoon over mango mixture and swirl through the white mixture using the tip of a knife, smoothing the top. Refrigerate 3 hours or overnight. Serve decorated with fresh mango slices and, if liked, some passionfruit pulp. Serve thick pouring cream separately.
Serves 12
Variations: use peaches, apricots or strawberries instead of the mangoes – pulp in the filling and sliced fruit to decorate. For a Ginger Mango Cheesecake use ginger nut biscuits for the crust and mix 2-3 Tbs finely chopped crystallised ginger into the filling.
Note: if preferred, omit the white chocolate and use one and a half cups of cream, whipped. When whipped the cream will more than double in volume.