Beef Teriyaki is one of my favourite stir fry recipes. There are other stir fries I've made once or twice, but I've made this one dozens of times. It's quick, easy and adaptable – just as delicious at room temperature as it is hot.
With the addition of lots of veggies, a small amount of beef goes a long way. Use Singapore noodles, Hokkien or similar. We find the amount of soy sauce is about right, but soy sauces do vary from brand to brand. If you find it's a bit too salty make a note and next time use less soy sauce and make up the difference with water.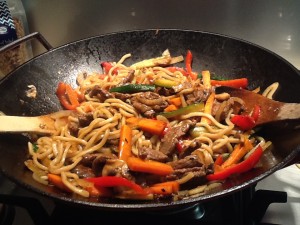 500g beef – I use 2-3 thick rump or topside steaks
3 Tbs vegetable oil
1 clove garlic, crushed
1 large onion, halved and sliced
1 large red pepper, sliced
4 medium zucchini (courgettes) sliced or cut into sticks
2 medium carrots, cut into sticks
250g mushrooms, sliced
½ cup soy sauce
1 Tbs sugar
¼ cup dry sherry
450g packet of fresh, pre-cooked Chinese egg noodles (omit for a Low Carb meal)
Freeze steak a bit to make it easier to slice thinly. Slice downwards into paper thin strips. Dry well on paper towels. Heat oil in wok or large frying pan. Add meat and garlic and stir fry for 1-2 minutes over high heat or until browned. Remove meat from pan, leaving the oil behind. Add onion and stir fry 2 minutes, then add remaining vegetables except mushrooms and stir fry for 5 minutes or until al dente. Add soy sauce mixed with sugar and sherry. Meanwhile cook noodles in boiling salted water according to packet instructions. Return meat to pan with mushrooms and stir fry for 2-3 minutes. Fold through drained noodles and stir fry for about a minute.
Note: if using dried noodles you will need only 125g and they will take longer to cook. If liked you can always add a touch of fresh chilli and substitute other vegetables such as broccoli, green beans, cauliflower or asparagus.
Serves 4