The QANTAS business class lounge in Bangkok is currently serving some delicious prawn balls. Light and crispy on the outside and soft and prawny in the middle, they are served with sweet chilli sauce for dipping. Very moreish.
Having read through a few similar recipes online I came up with the following version.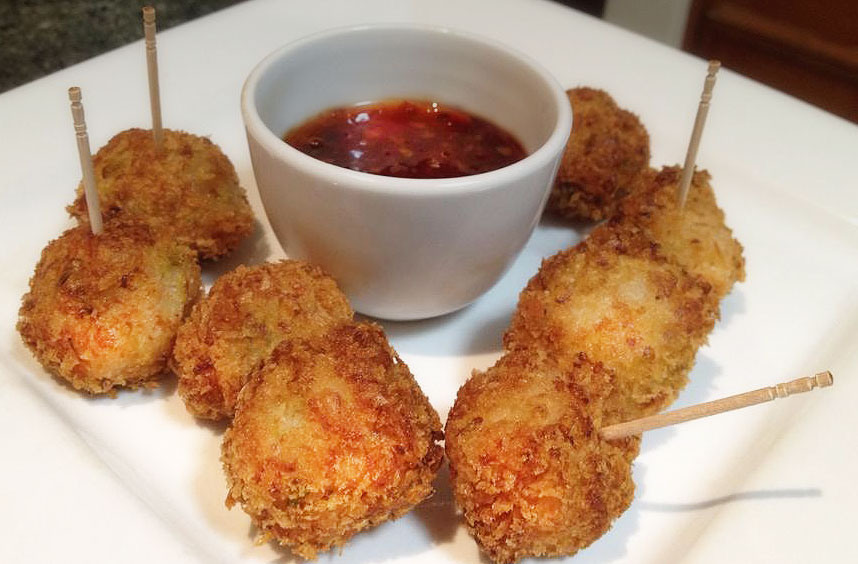 3 spring onions
¼ cup drained canned water chestnuts
300g peeled and deveined raw shrimp or prawns
2 tsp sesame oil
2 tsp grated ginger
2 tsp cornflour
1 egg white
1 tsp salt (or to taste)
2 tsp Chinese rice wine or sherry
To finish:
Panko crumbs (see note below)
Vegetable oil
Sweet Chilli Sauce
Finely chop spring onions and water chestnuts in a food processor using the pulse button or by hand. Tip into a bowl. Finely chop the prawns – not too fine – you don't want a puree, so leave a few chunky bits. Add to the bowl with remaining ingredients and mix well.
Place panko crumbs in a shallow bowl. Using damp hands, form prawn mixture into balls about 2cm in diameter, roll in panko crumbs, then place on a tray. Refrigerate until needed.
Heat 2-3 cm of vegetable oil in a frying pan or wok. When hot add the prawn balls, a few at a time and cook, turning so they cook both sides, for 2-3 minutes or until golden brown. Remove from oil and drain on paper towels.
Serve prawn balls warm on toothpicks with sweet chilli sauce for dipping.
Makes about 20 balls
Note: Panko crumbs are much lighter and crunchier than normal breadcrumbs. You can find them in most supermarkets.