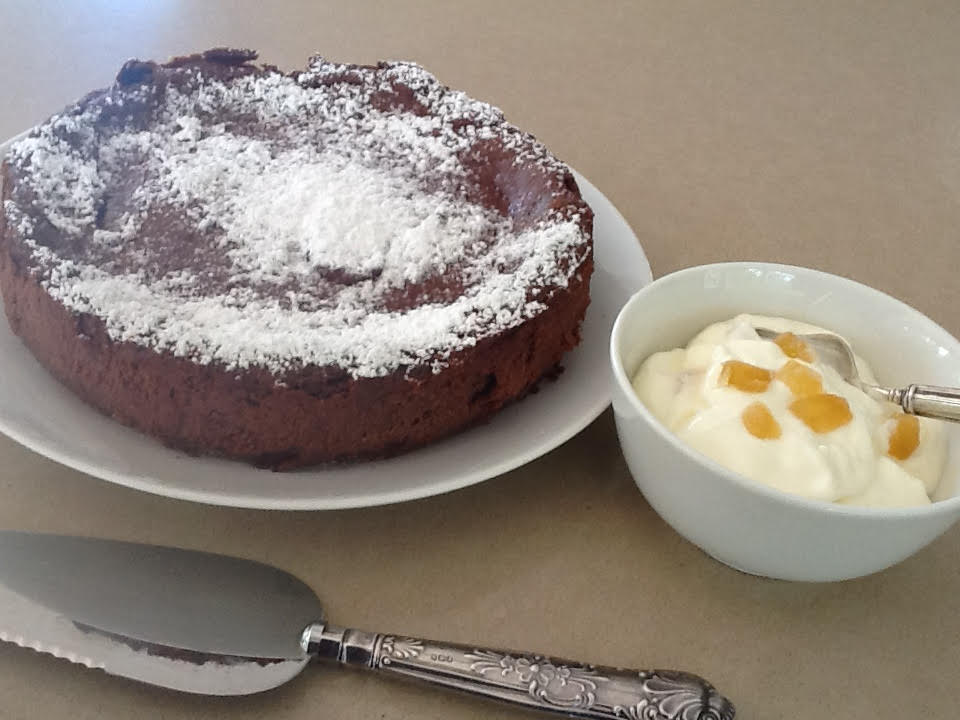 With a food processor this dessert is quick to make. Really chocolatey and not too sweet.
Crust:
125g Ginger Nut biscuits
50g butter
Filling:
250g mascarpone or sour cream
500g ricotta cheese
2 eggs
2-3 Tbs sugar, to taste
150g dark chocolate, melted in microwave
2-3 Tbs crystallised ginger, chopped
To serve:
Labneh
Icing sugar
Crystallised ginger or stem ginger in syrup, chopped
Pre-heat oven to 170°C. Place biscuits in food processor and process until fine. Melt butter in microwave, mix in biscuit crumbs then tip into a 20cm (8″) springform pan which has been greased and bottom lined with baking paper. Press the mixture evenly over the base of the tin. Bake for 10 mins.
While biscuit crust is cooking make filling. Wipe out the food processor. Place all ingredients except ginger in processor and mix till well combined, stopping to scrape down the sides halfway. Add chopped ginger and process briefly, just to combine.
When ready remove biscuit base from the oven tip in the filling and smooth the top. Return to the oven for 30 mins or until just set, but still a bit wobbly when shaken. Cool cheesecake, then refrigerate several hours or overnight.
Dust the top of the cheesecake with icing sugar. Serve with Labneh or whipped cream, with some chopped ginger and a little icing sugar mixed in.
Serves 10-12