Even when the fridge is looking pretty empty you can usually find enough ingredients to make a risotto. An onion, Arborio rice, Parmesan cheese and olive oil are essential. Then you just need one or two ingredients to be the focus of the dish.
In this recipe, istead of pumpkin and spinach try mushrooms, asparagus or zucchini (courgettes). You can also add a few prawns or some sliced chorizo, fried when you cook the onion. Optional additions include chopped fresh herbs, sundried tomatoes, a pinch of saffron. Use your imagination.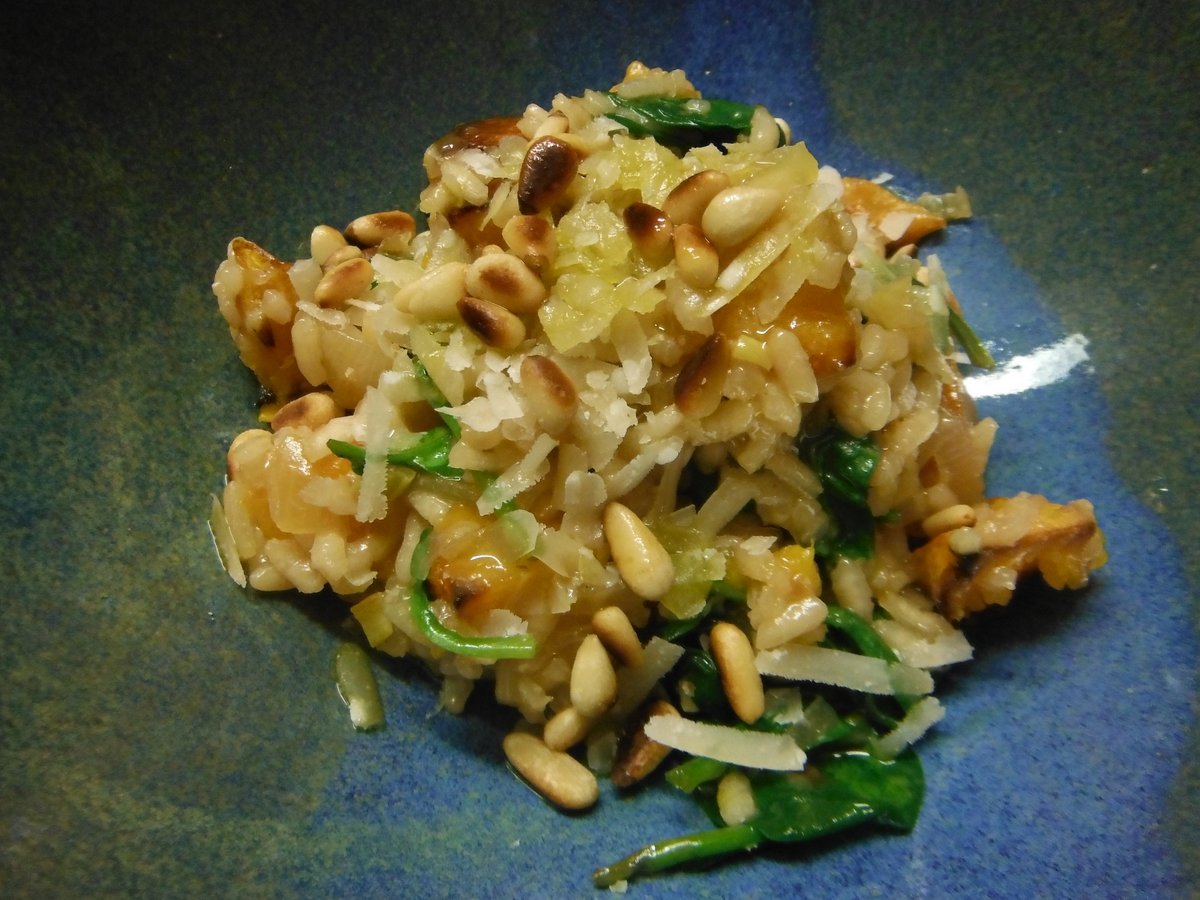 3 Tbs olive oil
1 large onion, peeled and diced
1 clover garlic, crushed
2 cups Arborio rice
500g butternut pumpkin, peeled and cut into 2cm dice
1 cup white wine
About 4 cups chicken or vegetable stock or water and stock cube
Salt and freshly ground pepper to taste
4-6 cups baby spinach
To serve:
Extra virgin olive oil
Grated Parmesan cheese
3-4 Tbs pine nuts, toasted
Pre-heat oven to 200°C. Mix pumpkin cubes with 1 Tbs of the oil then spread over a shallow cookie tray – lined with baking paper if you want to save the washing up – and bake for 20-30 mins or until browned and cooked.
Meanwhile in a large heavy-based saucepan heat the remaining 2 Tbs oil and gently cook onion and garlic, stirring often, for 3-5 mins or until soft but not brown. Add rice and continue to cook, stirring, for 2 mins. Gradually add wine, stock (or water and stock cube), allowing the rice to absorb the liquid before adding more. Stir frequently and keep adding liquid until rice is al dente and rice is very moist but not soupy. Add the roasted pumpkin, baby spinach and season to taste.
Serve drizzled with a little extra virgin olive oil and topped with grated Parmesan and toasted pine nuts.
Serves 4
Variations: use rocket instead of spinach