Matthew doesn't like bananas or custard, especially if they're served together as Banana Custard. A few years at boarding school in the UK during his impressionable youth is to blame. He describes over-ripe greenish-black banana slices mixed into lumpy, cold, congealed custard. You can just imagine it.
I grew up in the UK with my mother's version of this traditional British dessert – hot, creamy custard with perfect slices of banana folded through, all topped with lightly toasted coconut flakes. Delicious.
In the early days of our marriage I tried to persuade Matthew that my banana custard was different. He would love it. But no-way-José could I persuade him to try it. I had never been to boarding school, he said, so I had no idea how strongly these culinary disasters were etched on his soul.
For the first six months of married life we lived in a granny flat tacked onto a large house which was owned by an elderly widower. From time to time we invited Tom for dinner and once or twice he invited us back. He wasn't much of a cook and his repertoire was fairly basic. Roast hogget (somewhere in age between lamb and mutton) with vegetables, cooked in a pressure cooker to within an inch of their lives, by which time they all took on the same greyish hue, followed by a simple dessert.
As I helped Tom to clear away the dishes from the main course I spotted the dessert on the sideboard. Banana Custard. This is going to be fun, I thought.
Now it's important to point out that Tom had quite clearly used the boarding school recipe book. And for those who don't know him, I should also point out that Matthew was about five years into what ended up being a successful career in diplomacy.
Tom served three generous helpings of Banana Custard. Matthew glanced at me and rolled his eyes. He could see I was on the verge of uncontrollable laughter. He was not even slightly amused. Well, the diplomat rose to the occasion and you would have been proud of him. He ate the lot, then looked at me with an expression of relief that clearly said "Thank God that's over."
I really don't know what came over me, but I heard myself saying "That was delicious Tom, Banana Custard is Matthew's absolute favourite." And with that Tom served Matthew a huge second helping.
By the time he had finished the second bowl Matthew was looking somewhat green around the gills. But he didn't follow through with his threat to kill me when we got home, divorce proceedings were avoided and we're still together 40 years later.
This Bread and Butter Pudding with Caramelised Bananas, from one of my favourite UK food writers Nigel Slater, is a 21st century update on Banana Custard. So delicious even Matthew eats it!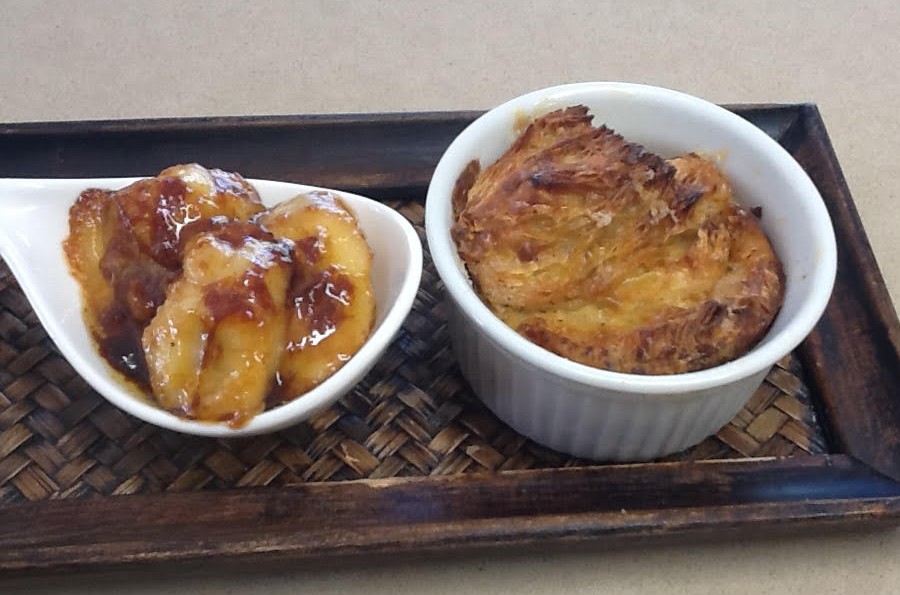 300g brioche or croissants
1 vanilla pod or 1 tsp vanilla extract
6 cardamom pods
½ tsp cinnamon
400ml can coconut milk
400ml milk (or use half milk and half cream)
3 eggs
3 Tbs brown sugar
Pinch salt
A sprinkle of sugar for the topping
For the bananas:
2 Tbs sugar
50g butter
4 large bananas
Zest of one orange
To serve:
Thick cream (optional)
Preheat oven to 180°C. Butter a baking dish (approximately 22cm) or 6-8 individual ones. Lightly toast the sliced brioche or halved croissants until golden-brown. Arrange in dish, overlapping slightly. If using small dishes you will need to cut the brioche or croissants into smaller pieces.
Remove cardamom seeds from the pods and crush with a mortar and pestle or a rolling pin. Slice the vanilla bean in half and scrape out the seeds. With a hand whisk, beat cardamom, vanilla seeds or extract, cinnamon, both milks, eggs and sugar in a large bowl until combined.
Pour custard over brioche and sprinkle a little more sugar over the top. If using individual dishes you can fill them to almost the top, but you may have some custard left over. Dessert can be made ahead to this point and kept in the fridge for several hours. Bake for 25 minutes or until nicely browned and the custard is just set. Cool for 10-15 mins then serve with the bananas.
For the bananas: cut in half length-ways or slice on the diagonal. Heat sugar in a large non-stick frying pan. Swirl it around and when melted and caramel colour add the butter and swirl to combine. Add the bananas and turn to coat them with caramel on both sides. Cook very briefly or they will become too soft. Sprinkle with orange zest and serve immediately with the bread pudding and thick cream if liked.
Serves 6-8