When you've been cooking as long as I have it's not often you come across a technique you've never seen before. Cooking is a bit like fashion. Old recipes and ingredients are revived and tweaked, but there's very little that's totally new.
So as I was flicking through an old Delicious magazine recently and saw a recipe for making cauliflower into rice I thought, now that's interesting, I wonder if it works? Well it does.
Here the rice is flavoured with coconut milk and cashew nuts and served with pan-fried salmon. But once you have the basic idea of blitzing raw cauliflower in the food processor to make rice you can use different liquids and flavourings and serve it with any meat, fish or even eggs. I know I'll be trying all sorts of variations. Great for anyone trying to cut down on carbs.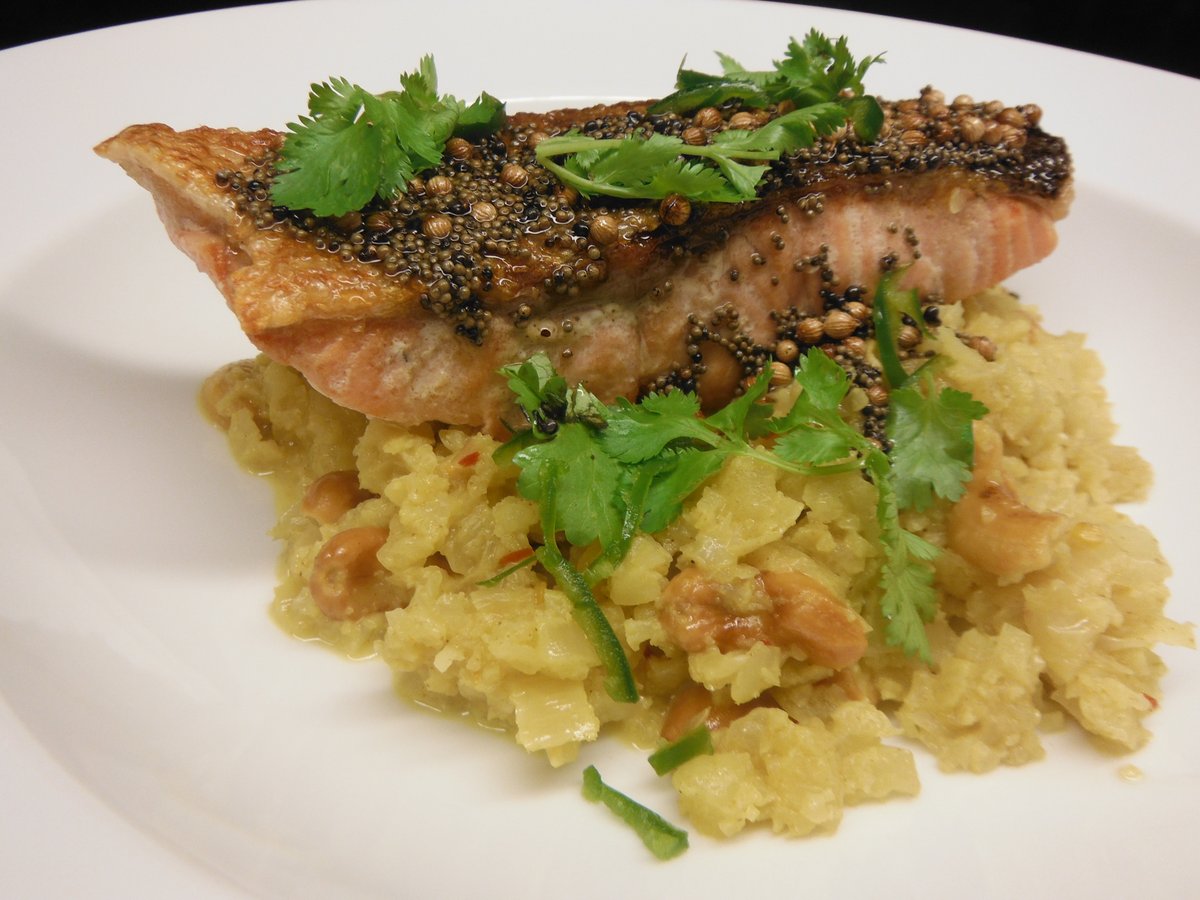 2 Tbs coconut oil or vegetable oil
1 onion, finely chopped
1 cinnamon stick
1 cauliflower roughly chopped
1 tsp each ground cumin, turmeric and chilli flakes
400ml can coconut milk
½ cup water
¾ cup roasted cashews
Salt and freshly ground black pepper to taste
4 x 180g salmon fillets with skin on
1½ Tbs brown mustard seeds (sold in Asian supermarkets)
1 Tbs whole coriander seeds
Juice 1 orange
To garnish:
1 long green chilli, seeded and thinly sliced (can substitute a red chilli)
Coriander leaves
Melt 2 tsp coconut oil in a large heavy-bottomed saucepan. Add onion and cinnamon and cook, stirring for 3 mins or until golden. Whiz cauliflower in food processor until finely chopped like rice – watch carefully as you don't want to over-process it. Add to pan with the cumin, turmeric and dried chilli. Cook, stirring for 3 mins then add coconut milk, cashews and water.  Season to taste, then  partially cover and simmer over moderate heat, stirring occasionally, for 15 mins or until thick. If not thickened when cooked remove lid and cook a bit more to reduce the liquid.
Melt 2 tsp coconut oil in a large non-stick frying pan. Season salmon then cook, skin-side down, for 4 mins or until skin is crisp. Turn and cook for a further 3 mins or until just cooked. Remove to a plate and keep warm.
To the pan where you cooked the salmon add the remaining 1 Tbs coconut oil and when hot add mustard and coriander seeds and cook for a minute or until they start popping. Remove from heat and stir in the orange juice.
Divide the cauliflower rice among 4 plates. Top with the salmon, spoon over the coriander seed oil. Garnish with the green chilli and coriander leaves.
Serves 4