Apart from being quick and easy salmon is versatile, light and full of goodness, so I serve it about once a week.
We're growing yellow and green zucchini in the garden. If they grow too big – which they seem to do very fast when you're not looking – I use them in this delicious recipe for Zucchini with Tarragon. If I catch them when they're smaller (10-15cm in length) they're ideal for making into ribbons.
There were some tomatoes which needed using up, two pieces of salmon thawing on the side and a fridge overflowing with zucchinis. The result was this colourful recipe which was simple, but delicious. Great for a mid-week dinner for two, but snazzy enough to make when you have guests – just increase the quantities. If you don't have any yellow zucchinis use all green ones. If you find English mustard too strong use a milder one such as Dijon.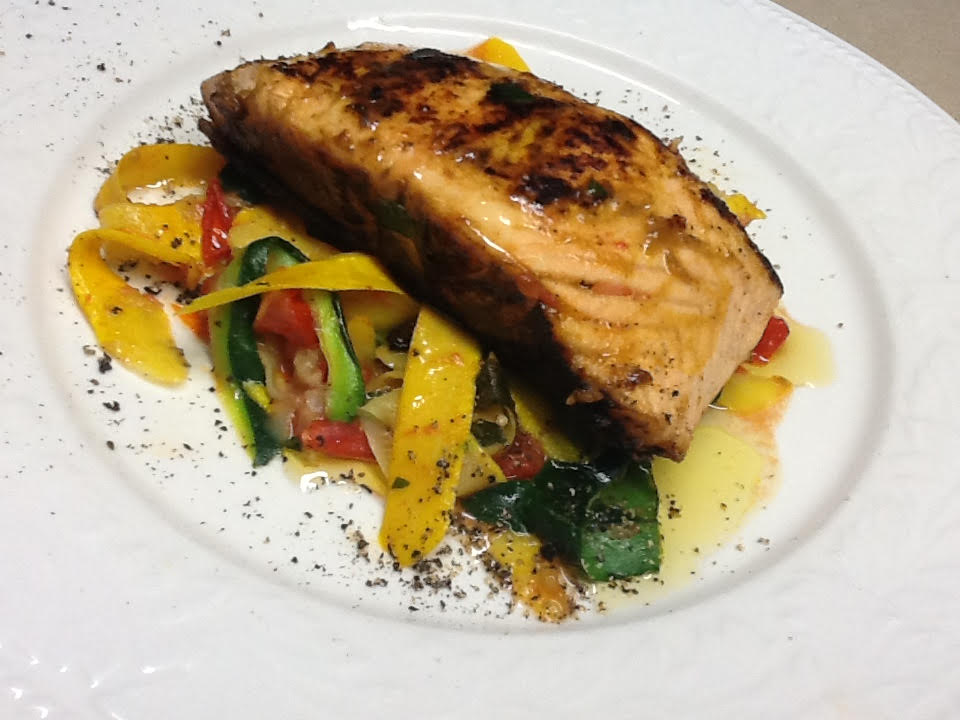 2 green zucchinis (courgettes)
2 yellow zucchinis (courgettes)
1 Tbs olive oil
3 medium tomatoes, cut into small dice or equivalent in baby tomatoes
1-2 Tbs chopped fresh basil (or parsley or coriander)
2 salmon fillets with skin, about 180g each
2 tsp brown sugar
2 tsp made English mustard
2 tsp olive oil, extra
Salt and freshly ground black pepper
To serve:
Extra virgin olive oil
Cracked Pepper
Wash and dry zucchinis and trim the ends. With a vegetable peeler cut them into ribbons. Cut about 4 on one side, then turn the zucchini and cut another 4 and keep going round till you're left with the core which is mainly seeds, which you can throw away. Place ribbons in a covered microwave dish with 1 Tbs water and cook on High for 3 minutes then drain thoroughly.
Heat the tablespoonful of oil in a medium-sized frying pan and cook tomatoes, stirring, for 2-3 minutes or until slightly softened. Add basil, salt and pepper to taste and the zucchini ribbons. Mix gently then turn off heat.
Meanwhile heat the extra oil in a small non-stick frying pan. Season salmon and place skin side down in the pan and cook until skin is crispy. While skin is crisping, mix the brown sugar and mustard and spread over the salmon on the three exposed sides. When skin is crisp turn salmon and cook on the underside for a minute or so, then very briefly on the other two sides so they are nicely glazed. When salmon is almost ready reheat the zucchini and tomato for a minute or so. Serve salmon on a bed of zucchini ribbons, with a drizzle of extra virgin olive oil and some cracked pepper.
Serves 2
Note: I used 8-10 baby tomatoes instead of bigger ones. There's no need to peel the tomatoes, but you can if you prefer.