I've always been a cheesecake fan, but I don't like all cheesecakes, especially ones which are dry. This one is rich and creamy and not too sweet.
Chocolate, vanilla and raspberries go together extremely well, but if you prefer leave the cocoa powder out and just have a simple biscuit base. Vanilla paste is nicer than essence because it has the little black vanilla seeds in it.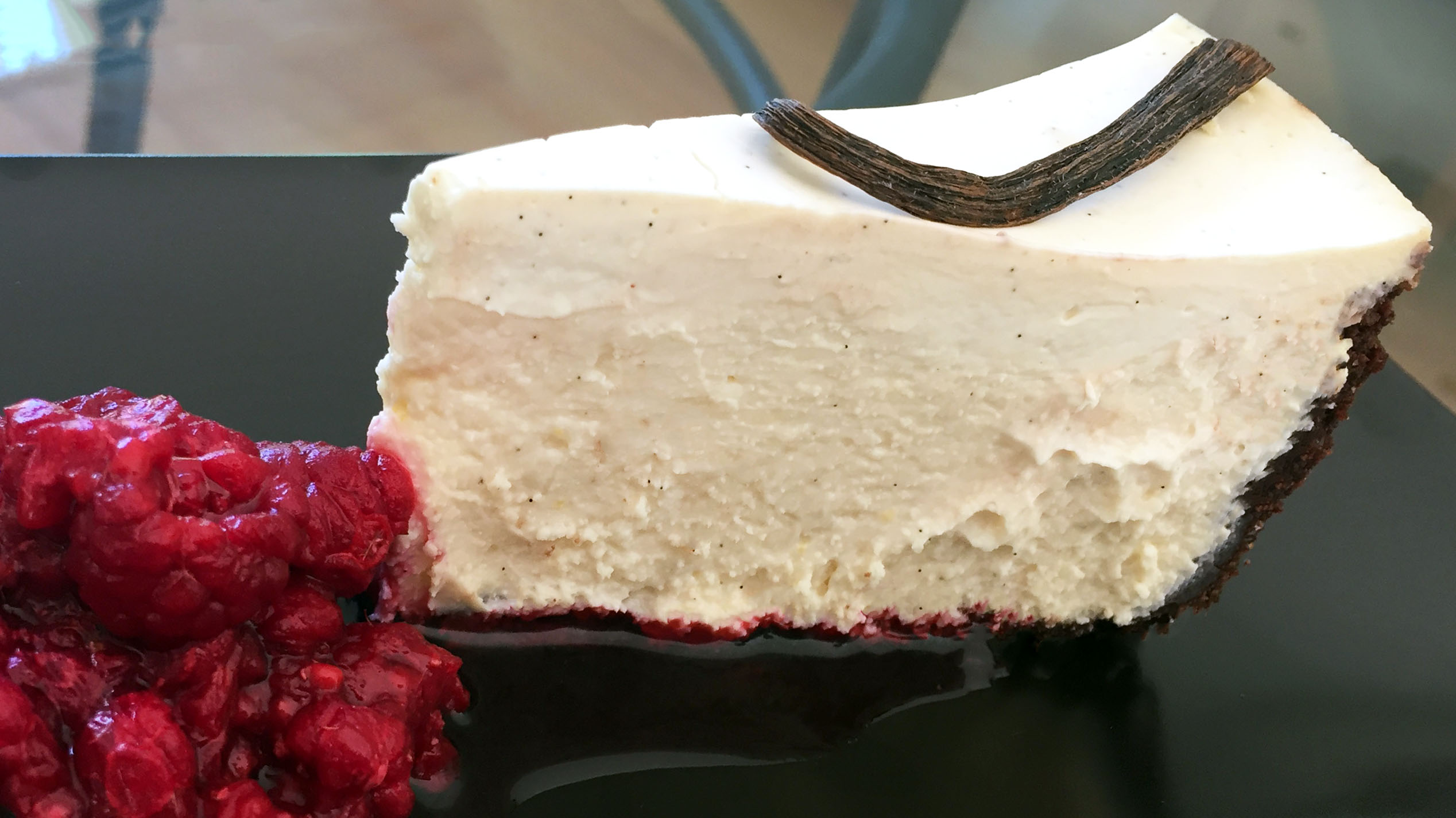 Crust:
170g plain sweet biscuits (digestives, Nice, any will do)
3 Tbs cocoa powder
¼ cup sugar
125g unsalted butter, melted
Filling:
500g ricotta cheese
250g cream cheese at room temp
1 cup sugar
4 eggs
2 tsp vanilla essence or paste
Finely grated rind one lemon
Pinch salt
Topping:
2 cups sour cream
1 Tbs sugar
1 tsp vanilla essence or paste
Raspberries:
500g frozen raspberries
1 Tbs sugar (or to taste)
Place biscuits in food processor and process to fine crumbs. Add cocoa and sugar and blitz for 30 secs. Meanwhile in a mixing bowl melt the butter in microwave. Add biscuit crumbs and mix well.
Preheat oven to 150°C. Butter or oil a 22cm springform pan. Press biscuit crumbs over the base and about three quarters up the sides of the pan. Use your hands to coat the sides and a small glass to press down the bottom – try to avoid it being too thick where the sides meet the bottom. Place in the fridge or freezer.
Rinse out food processor. Place all ingredients for filling in food processor and mix until smooth, stopping to scrape down sides and checking there aren't any large lumps of cream cheese left. Scrape into the biscuit lined pan, then bake for 40-50 mins or until cheesecake is set around the edges but still a bit wobbly in the middle. Mix all ingredients for topping and spread over the top. Put back in the oven for 8-10 mins until just set, then remove and cool. Run a knife around the edge to loosen and  when cold refrigerate overnight, covered.
Serve cheesecake with the raspberries which have been left to thaw in a bowl with the sugar, then gently stirred.
Serves 12-16
Variations: use gingersnap biscuits instead of plain ones and omit cocoa. Serve with fresh or frozen berries such as raspberries, strawberries, blueberries or slices of fresh mango.