Each year on the 25th of April, Australians and New Zealanders remember those who lost their lives fighting for their country.
Over the ANZAC Day long weekend we had a house full, so I decided to make a fruit crumble because everyone loves them. The latest edition of Australian Gourmet Traveller featured a recipe called Apple ANZAC Pie which used the same ingredients you use to make ANZAC Biscuits, so I adapted it slightly to make an ANZAC Crumble.
ANZAC biscuits were sent by Australian and New Zealand wives to soldiers who were fighting abroad. They were popular because they kept well during naval transportation.
Rhubarb grows like a weed in our garden so I often mix it with apples. If preferred just leave it out and increase the number of apples by 2 or 3. The fresh ginger was a great addition to the fruit layer, but some of the smaller kids didn't like it. If preferred just leave it out. And if you're concerned that it will be too sweet, leave out the brown sugar.
The verdict on this recipe was that it's the best crumble ever. Actually the topping isn't very crumbly, it's more like a fruit cobbler. Sorry it wasn't published in time for ANZAC day, but I'm confident it will go down well any time of year.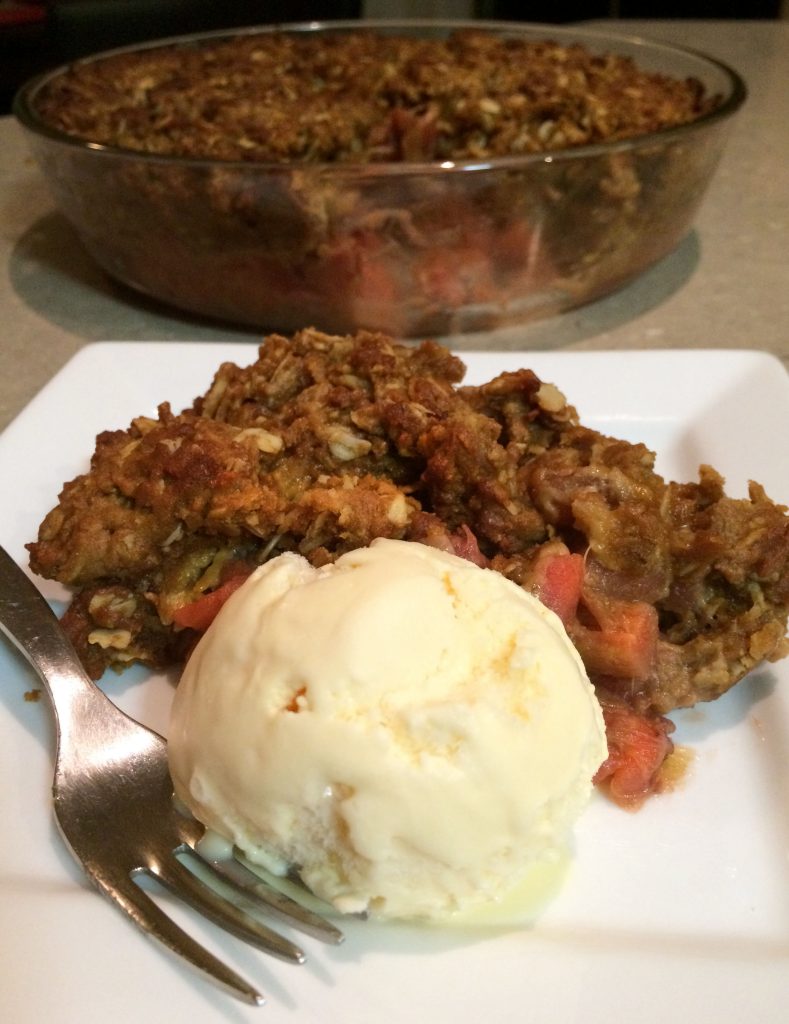 Fruit layer:
5 large Granny Smith apples or cooking apples
About 10 sticks of rhubarb, washed and cut into 2-3cm lengths
¼ cup sugar
1 Tbs grated fresh ginger (optional)
6 Tbs water
Topping:
185g butter
¼ cup each treacle and golden syrup
1 tsp bicarbonate of soda
2 cups plain flour
1 cup rolled oats
¼ cup brown sugar
1 cup desiccated coconut (preferably coarse flakes)
To serve:
Vanilla ice cream or cream
Peel and slice apples and place in a saucepan with the rhubarb, sugar, ginger and water. Cook for 8-10 minutes until slightly softened then spread into a greased 25cm pie dish.
In a large bowl melt butter, treacle and golden syrup in the microwave then mix in the bicarbonate of soda, flour, oats, sugar and coconut. Spoon all over the apple and rhubarb mixture, using a fork to cover any gaps. Refrigerate until serving time.
Pre-heat oven to 180°C then bake the crumble for 25-30 mins or until crisp and golden. Serve warm with vanilla ice cream or cream.
Serves 12
Notes: if you don't have any treacle, double the amount of golden syrup. If you don't have either use honey or maple syrup instead.