The recipe for these little coffee desserts was given to me by the wife of a British diplomat. By the time we met, Mary and her husband had had several postings, including one to a remote African country where entertaining was something of a challenge. Finding the ingredients for a Western-style dinner party and explaining to the local staff exactly what she wanted had not been easy for Mary. Sometimes things were simply lost in translation.
Every time they entertained the food was inevitably served cold or at best lukewarm. Mary's house boy Robert said that the cook was not to blame. The distance to the dining room was the problem. By the time the food had made that long journey along the hall from the kitchen, of course it was cold.
Mary persuaded the Embassy to fund the installation of a serving hatch, so the food could be passed directly from the kitchen to the dining room and hopefully arrive on everyone's plates before it got cold.
In due course the hatch was installed. When the next dinner party was arranged Mary instructed Robert that from now on everything was to come through the new hatch. He seemed somewhat reluctant, but Mary said that it had cost a lot of money and her husband would be very cross if he didn't use it. Robert was a likeable fellow in his twenties who tried hard to please.
When the guests sat down the cold starters were already on the table. Mary sat with her back to the serving hatch, while her husband sat at the other end of the long table. In due course the plates from the starter were cleared away. Polite diplomatic conversation continued as they waited for the main course.
Some of the guests began to giggle. Mary wondered if there was some joke that she had missed. People seemed to be looking at something behind her. She turned around to see Robert climbing through the hatch, a large serving dish balanced precariously in his free hand.
Mary wanted everything to come through the hatch and so it did.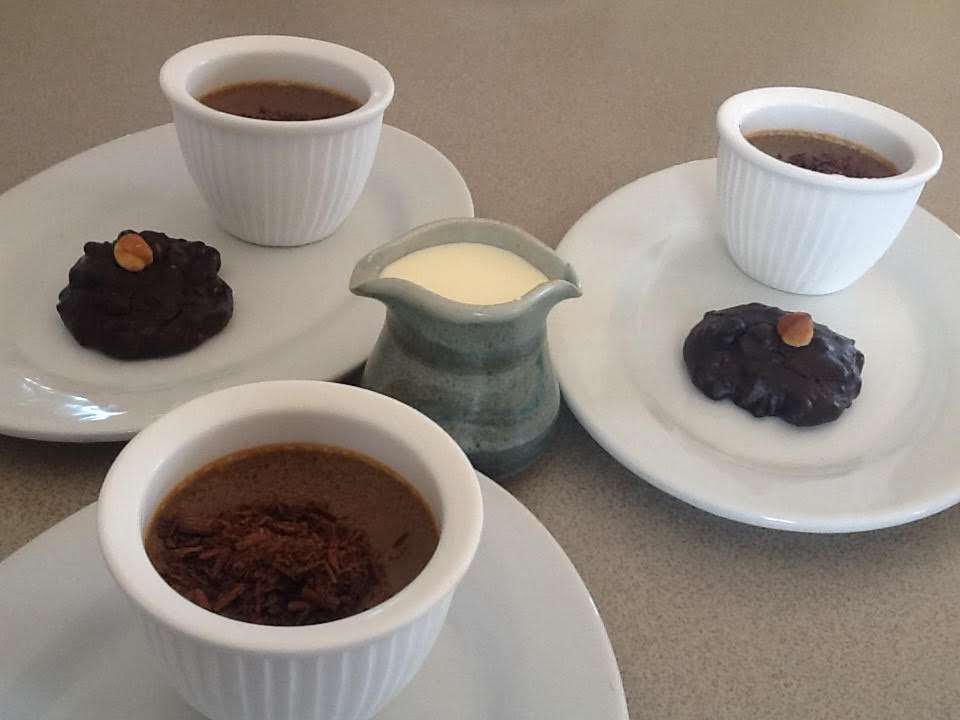 Panna Cottas:
250ml milk
300ml cream
¼ to ½ cup sugar (to taste)
2 shots Espresso coffee (see note below)
1 Tbs gelatine
4 Tbs water
Chocolate Hazelnut Chews:
4 large egg whites
3 pinches salt
1½ cups icing sugar
1 cup cocoa powder
150g blanched hazelnuts, roughly chopped in food processor
Extra whole blanched hazelnuts
To serve:
Grated dark chocolate
Pouring cream (optional)
Place milk, cream, sugar and coffee in a saucepan and bring to the boil, then remove from the heat. Meanwhile place gelatine and water in a small bowl then zap in the microwave briefly to dissolve. Mix gelatine mixture into coffee mixture then divide among 6 small ramekins, coffee cups or glasses. Chill for several hours or overnight.
For the Hazelnut Chews, preheat oven to 180°C. With electric beaters whip egg whites and salt until soft peaks, then gradually beat in the sugar until you have a thick, glossy meringue. Beat in the cocoa then fold in the chopped nuts. Line a biscuit tray with baking paper and place tablespoons of mixture onto the tray with a little space for spreading, though they won't spread much. Top each biscuit with a whole hazelnut then bake for 15-20 mins. Mine were done in 15 mins and to be chewy you don't want them overcooked. Makes about 15.
Serve panna cottas sprinkled with a little grated chocolate, with the hazelnut chews and pouring cream in a jug.
Serves 6
Note: if preferred use 125ml hot water and 1 Tbs instant coffee granules