Rice pudding made a regular appearance on the dessert menu when I was growing up in England. My mother served it with jam or baked until it formed a golden brown skin on top. Either way it was delicious. Sadly most of the desserts I grew up with have gone out of fashion. Indeed there are probably a lot of readers who have never tried a home-made rice pudding, let alone made one.
A few years at boarding school in the UK put Matthew off all the traditional British milky desserts – rice pudding, tapioca, semolina pudding and custard. He was scarred for life and won't touch them with a barge pole.
The weather was cold and miserable last week and I was feeling the need for some comfort food. So I made rice pudding and as Matthew doesn't like it I ate the lot – for breakfast, for dessert or as a snack.
Rice pudding is such a flexible dish. Make it on the stove top, in the oven, in the microwave or in a rice cooker. Serve it hot or cold with jam, stewed fruit such as rhubarb or apples, or fresh fruit such as banana, blueberries or mango. Sweeten it with sugar, honey or maple syrup. If using sugar then add it when you cook the rice. If using honey or maple syrup, drizzle it on top when serving.
I usually zap a bowl full in the microwave and eat it with a drizzle of cold cream on top. Heaven, if you like that sort of thing.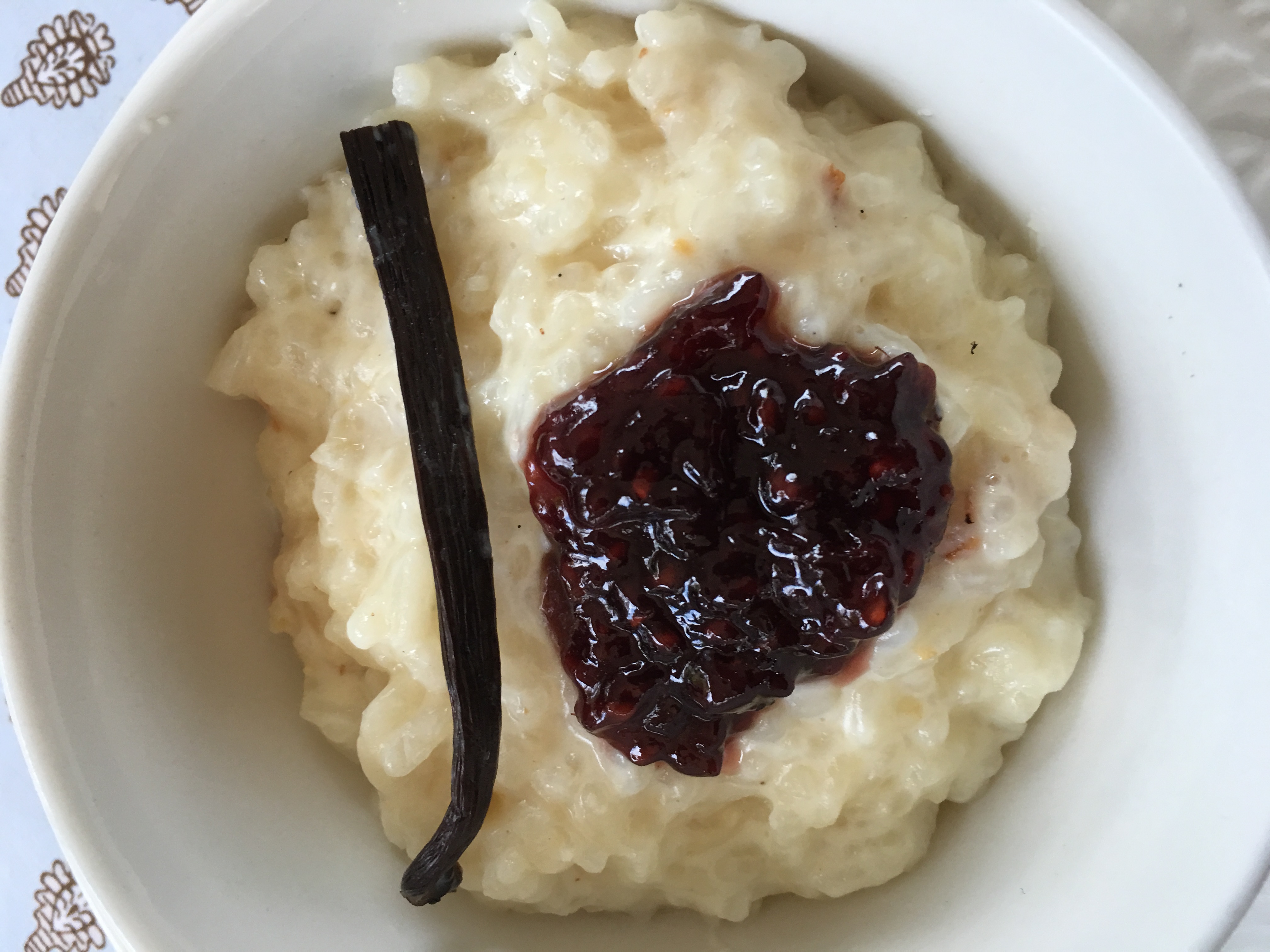 1 cup short grain or medium grain rice
25g unsalted butter (optional, but it does make it richer)
4 cups (1 litre) milk
1/3 cup brown or white sugar (I use slightly less)
1 vanilla bean, split, seeds scraped (or 1 tsp vanilla essence)
½ cup cream or canned evaporated milk
To serve:
Jam such as raspberry, strawberry or rhubarb (preferably home-made)
Or stewed fruit such as apples, peaches, rhubarb
Or fresh fruit such as banana, blueberries or mango
Place all ingredients except the cream in a saucepan, Bring to the boil, then reduce heat and simmer, stirring from time to time, for 20-25 mins or until rice is al dente. Stir in the cream or evaporated milk and serve immediately while it's hot, or chill and serve later, hot or cold. If preferred you can drizzle the cream or evaporated milk on top at serving time.
I prefer it hot, but it's easy to zap a serving in the microwave.  Serve with jam, fruit compote or fresh fruit.
Serves 4
Rice Pudding made in a Rice Cooker
Place all ingredients except the cream or evaporated milk in a rice cooker and cook for one cycle, leaving it on the "keep warm" setting for 15 mins or so after it's cooked. Add cream or evaporated milk and serve. Depending on the size of your rice cooker you may need to reduce the quantities so it doesn't boil over. Mine is quite small so I have to reduce the rice to ¾ cup and the milk to 3 cups. Also I need to stir it a couple of times while it's cooking, so it doesn't stick.
Rice Pudding made in the Microwave
A really good way to use up leftover plain cooked rice. While rice puddings are usually made with short or medium grain rice, because they are stickier, any kind will do. Place cooked rice in a large bowl, so it won't boil over. Add enough milk to not quite cover the rice and sugar to taste. Cover then microwave on High for 2-3 mins. Add cream or evaporated milk and serve. Or you can microwave it in individual servings.
Rice Pudding made in the Oven
Make rice pudding either in a saucepan (according to the basic recipe) or in a rice cooker or microwave. If made in the microwave you will need to use about 4 cups of leftover rice. Butter a shallow 6 cup baking dish, add the rice pudding and spread it out. If it seems a bit thick add a little milk and stir through. Dot with a little butter (about 30g cut into small pieces) and sprinkle with a little brown or white sugar. If liked a sprinkling of coconut flakes is nice. Bake in a hot oven for 25-30 mins or until browned on top and serve with a drizzle of cream.