This lovely summery salad was in a supermarket recipe hand out. I've made a few changes as I always do. Perfect for the warmer weather when mangoes are in season.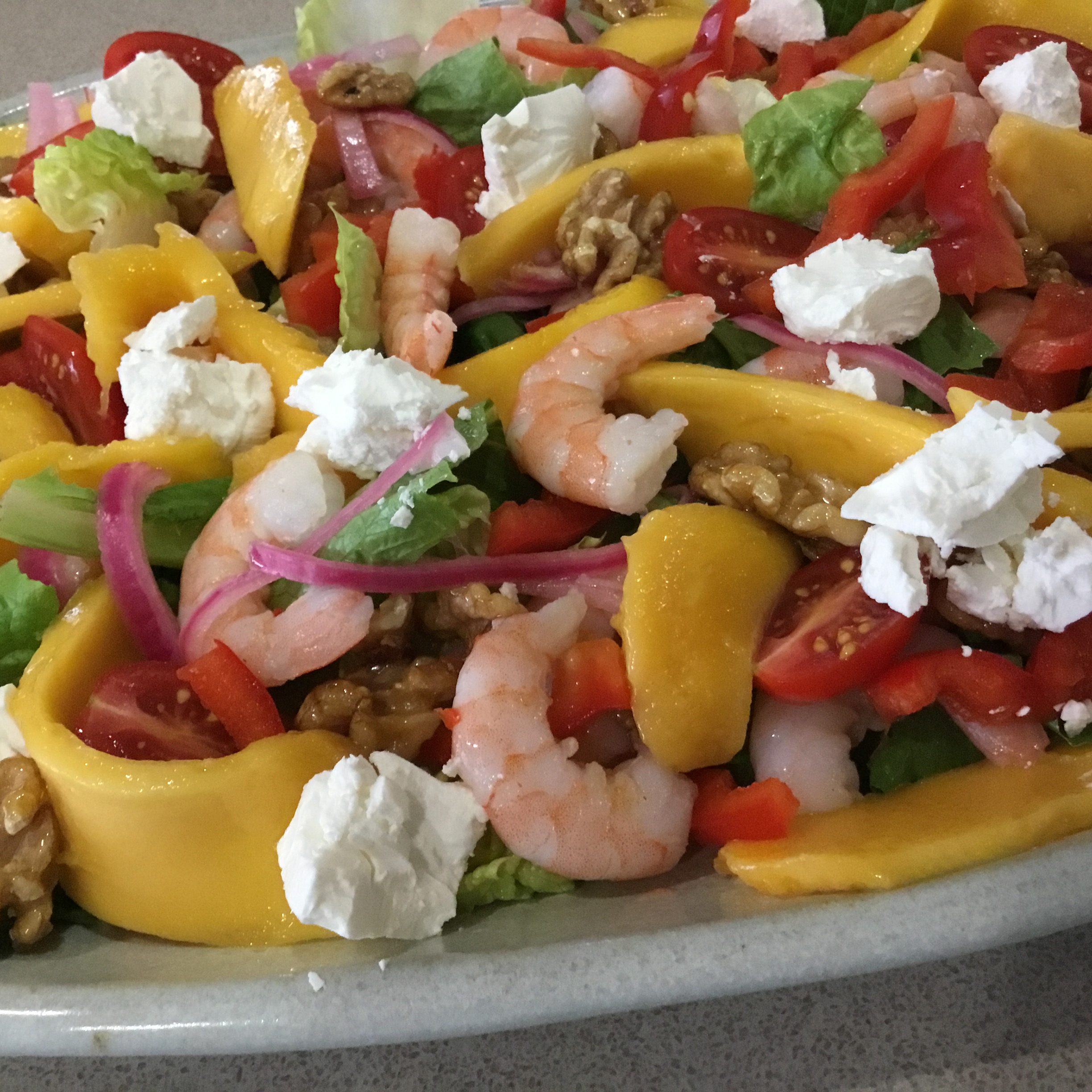 1 red onion, halved and thinly sliced
1 tsp salt
1 Tbs sugar
¼ cup vinegar
½ cup boiling water
About six cups mixed salad leaves
1 mango, peeled, stoned and thinly sliced
1 red capsicum (pepper) thinly sliced
1 punnet cherry tomatoes, halved
300g cooked, peeled prawns (weight after peeling)
100g feta or fresh goat's cheese, crumbled
½ cup walnuts or pecans
1 Tbs honey
Dressing:
¼ cup red wine or cider vinegar or lemon juice
½ cup extra virgin olive oil
1 Tbs honey
Grated rind of 1 lemon
Salt and freshly ground black pepper, to taste
Place onion in a small bowl. Add salt, sugar, vinegar and water. Mix well then leave to macerate for half an hour or more. Drain and pat dry with paper towels. Place all ingredients for dressing in a jar with a lid and shake well.
Arrange salad leaves in a large shallow bowl or four individual serving plates. Use small leaves or break larger ones into bite sized pieces. Top with the mango, capsicum, tomatoes, prawns, feta or goat's cheese and the drained onions. Place walnuts in a dry frying pan and stir over moderate heat until lightly toasted. Add honey, stir to coat, then arrange over the salad. If you do this ahead and let them get cold they will stick to the pan, so you will need to turn the heat back on briefly to loosen them. Drizzle salad with some of the dressing.
Serves 4
Variation: use peaches or nectarines instead of mangoes.