When we go to our farm in summer we pick all the zucchinis before we return to Canberra. As we only go every second weekend this means we bring back some huge ones, which have grown since our last visit – actually they are more like marrows – and some small ones which we pick in order to stop them growing huge before our return.
The big ones are good for soup or for Zucchini with Tarragon and Sour Cream, one of our all-time favourite recipes for this versatile vegetable. The small ones are good for recipes such as Mustard-Glazed Salmon with Zucchini Ribbons or Zucchini Bake, another family favourite.
This salad with its vibrant green dressing is another good way to use smaller zucchini or as Matthew calls them, the ones that haven't got away. It's absolutely scrumptious and very healthy. If you have some zucchini flowers to garnish this salad they look quite spectacular. Unfortunately I didn't have any for this photo.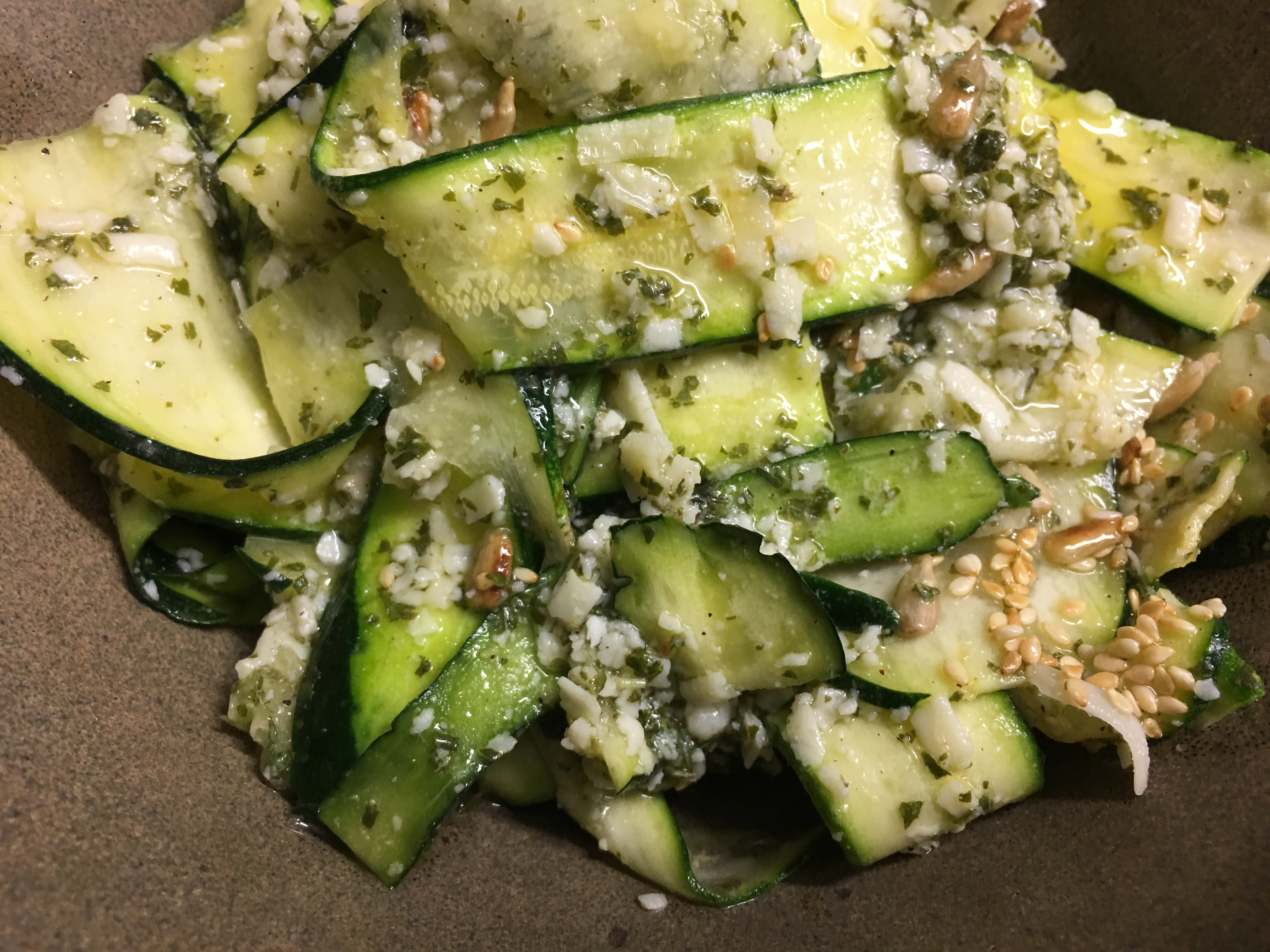 6 zucchini (courgettes) about 6″ or 15cm long
60g grated Parmesan cheese
Salt and freshly ground black pepper
Dressing:
1 cup mint leaves
½ cup olive oil
1 small clove garlic, crushed
Juice of 1 lemon and the grated rind of half
To garnish:
2 Tbs seeds such as sunflower, sesame, pepitas
A few zucchini flowers (optional)
Wash zucchini and trim off the ends then slice them horizontally with a mandoline. Place in a salad bowl with the grated cheese and season with salt and pepper. Place all ingredients for dressing in food processor and process till you have a vibrant green dressing. Place seeds in a dry frying pan and stir over moderate heat until lightly toasted.
Drizzle some of the dressing over the zucchini and parmesan and mix well. Garnish with the toasted seeds, the zucchini flowers (if available) and drizzle with a bit more dressing.
Serves 4-6