I haven't posted any mouth-watering desserts of late. I'm trying to avoid them at the moment in an attempt to make some headway in the battle of the bulge. I always seem to be on the losing side in this battle, which I guess is par for the course when you love cooking and eating as I do. Anyway I like to think that this blog provides inspiration for subscribers wondering what to make for dinner tonight. Quick and easy, everyday dishes are the mainstay of Café Cat.
Fans of sweet sticky Asian meat dishes will like this one. Adjust the amount of brown sugar to suit your taste. The recipe doesn't contain any chilli (though you could always add some) so it's a good way to introduce young kids to Asian food. If you (or the kids) don't like mushrooms leave them out and increase the meat.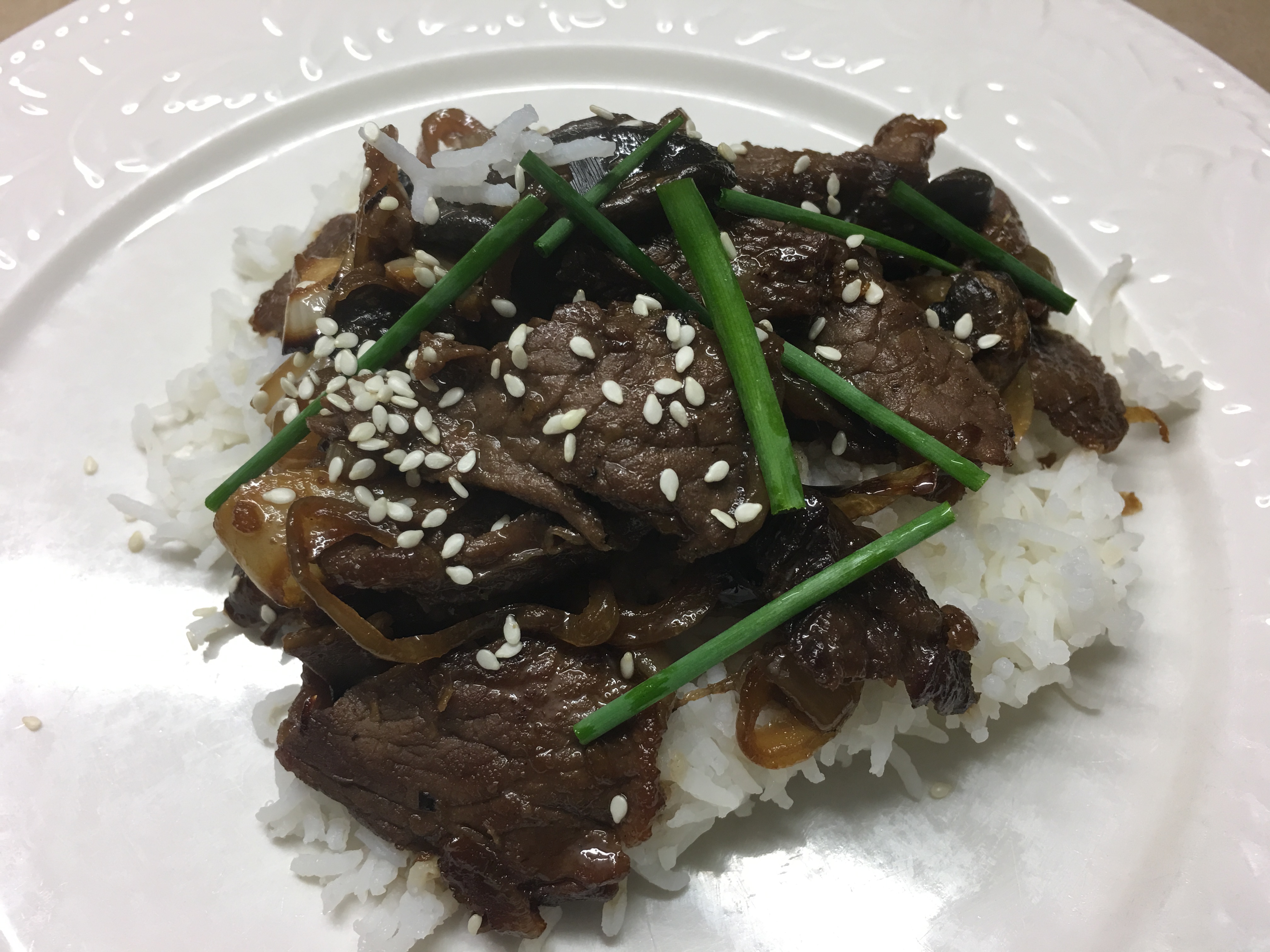 2 Tbs olive oil
1 large onion, halved and sliced
250g mushrooms, wiped and sliced
450g lean beef (fillet or Scotch fillet) or leftover rare roast beef, in thin strips
¼ to ½ cup brown sugar
¼ cup soy sauce
3 cloves garlic, crushed
2 Tbs sesame oil
To serve:
Steamed rice
Chives or spring onions, sliced
Toasted sesame seeds
Heat oil in a large frying pan or wok and cook the onion until soft, then add the mushrooms and continue to cook, stirring, until mushrooms are starting to brown. Remove from pan.
Add a tiny bit more oil to the pan with the beef strips and stir fry until browned. If you are using leftover roast beef this won't take long. Add the brown sugar, soy sauce, garlic and sesame oil and cook, stirring, for a few minutes, or until sauce is thickening and glazed.
Return mushrooms and onions to the pan. As soy sauce is salty you probably won't need to add salt to this dish. If the mixture is a bit dry, add 2-3 Tbs water and stir to combine. Serve beef with steamed rice, garnished with sliced spring onions or chives and a few sesame seeds.
Serves 4