Learning a language is hard work and keeping it going can be a challenge.  As the saying goes – if you don't use it you lose it. I started French at school in the UK when I was 11 and have managed to keep it going, helped by 3 years in Geneva in the early 70s and 4 years in Paris in the late 90s, ever since.
In Canberra I belong to a group called Accueil which meets once a month to speak French over lunch. We take it in turns to host and everyone brings a sweet or savoury dish. This inevitably results in a spectacular spread.
Last month Gabrielle brought a delicious sweet potato dish from one of my favourite chefs Yotam Ottolenghi. Since then I've made the recipe three times – the first time with sweet potatoes, the second time with carrots from the garden and the third time with a mixture of the two. They were all delicious.
A bottle of Angostura Bitters has been sitting in our drinks cabinet for years. Apart from an occasional dash in a gin and tonic or a splash on top of a pisco sour it rarely sees the light of day. It's probably been there for a decade, but having made this dish three times I had to buy another bottle. Any good liquor store should stock it.
Ottolenghi serves the sweet potatoes sprinkled with goat's cheese, but I think it's perfectly nice without.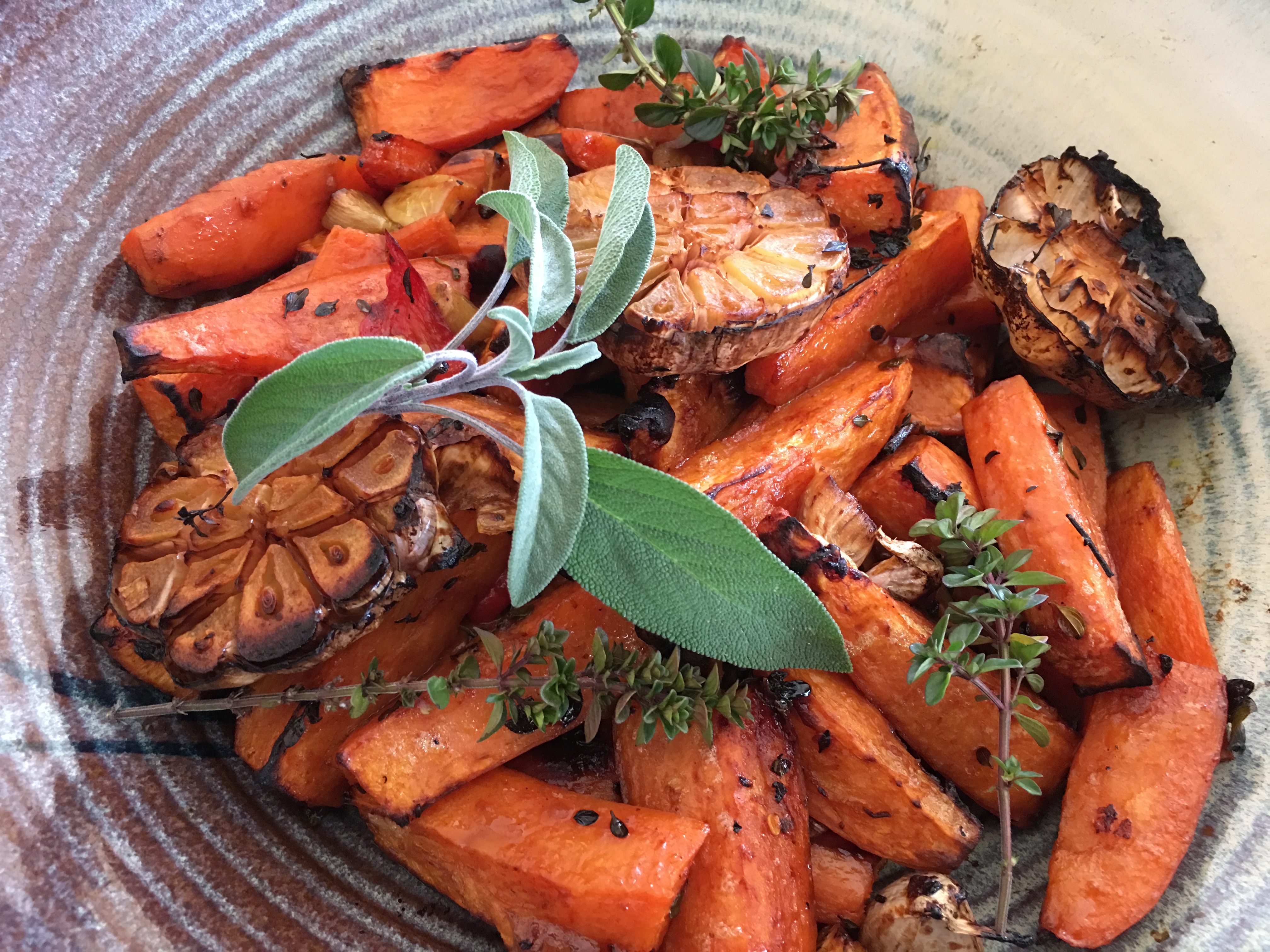 1½ cups orange juice (preferably fresh)
1/3 cup brown sugar
¼ cup red wine or apple cider vinegar
¼ cup Angostura bitters
2 Tbs olive oil
1-2 tsp salt, to taste
4-6 sweet potatoes
2 small red chillies (optional)
3 sprigs sage
10 sprigs thyme
2 heads garlic, unpeeled, cut in two horizontally
100g goat's cheese (optional)
Fresh herbs to garnish
Place orange juice, brown sugar and vinegar in a small saucepan. Bring to the boil then boil steadily for about 20 minutes or until reduced to one cup. Add Angostura Bitters, oil and salt.
Preheat oven to 200°C. Peel sweet potatoes and cut into thick wedges – see photo. Place in a bowl with the chillies, herbs and garlic. Pour in the orange juice mixture and mix well to coat, then spread out over a shallow baking tray lined with baking paper if liked, to make the washing up a bit easier.
Bake for 50-60 minutes, turning the vegetables every 15 minutes or so. The sweet potatoes should be nicely glazed all over when done, so if they are looking a bit dry add a dash more orange juice or water to the pan.
Serve warm or at room temperature, sprinkled with goat's cheese if using and garnished with some fresh herbs.
Serves 6