In 1915 Josef Keller, pastry chef at the Café Ahrend in Bad Godesberg in south-west Germany, invented the Black Forest Cake, using a local liqueur made with sour cherries to produce a distinctive flavour. His winning combination of chocolate and cherries went on to become famous around the world.
Here I've used the same ingredients to make a quick and easy dessert, layered in a glass. For an authentic flavour it's worth investing in a bottle of cherry brandy, but a dash of ordinary brandy or your favourite liqueur will do.
I wanted to decorate each trifle with a fresh cherry, but tried three supermarkets and there wasn't a fresh cherry to be had, it being mid-winter here.
You can also make this trifle in one large glass dish.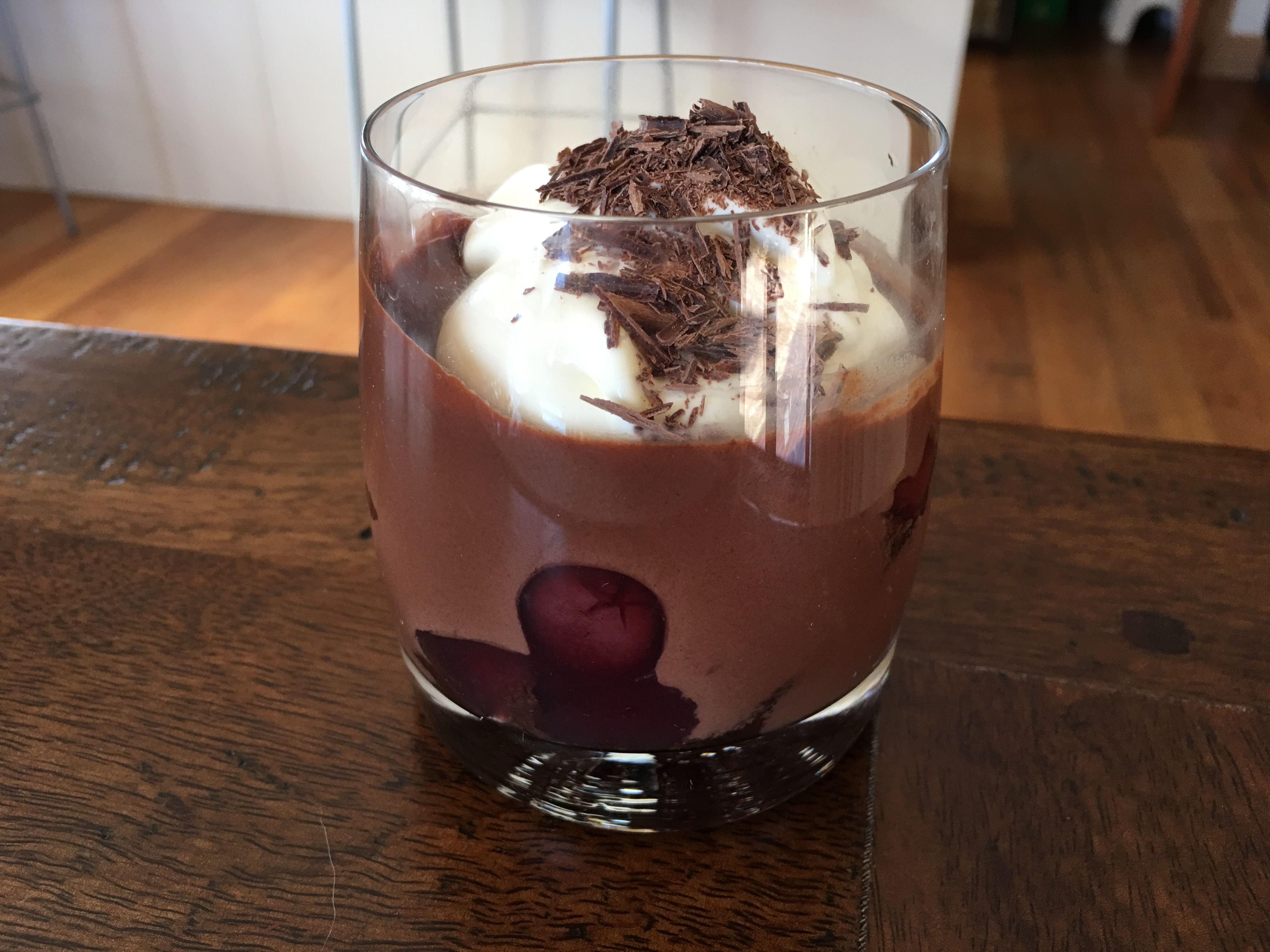 Chocolate cake (bought or homemade)
Cherry jam (I used Hero's Black Cherry)
Preserved cherries in a can or jar (I used a 680g jar of Aldi's pitted Morellos)
2 heaped tsp arrowroot
Cherry brandy or brandy (optional)
Chocolate Ganache:
350ml cream
50ml milk
200g dark chocolate (I used Cadbury's Old Gold 70%)
To decorate:
250ml cream, extra
Fresh cherries
Grated chocolate
Slice cake horizontally and fill with a generous layer of cherry jam, then stick the two halves back together. You will need a third to half a jar of jam. Cut slices or chunks of cake and arrange a piece in 8 glass tumblers. If liked, drizzle each with a tablespoonful or two of cherry brandy or brandy.
Place cherries in a saucepan with most of the juice and heat to boiling point. Mix arrowroot with the rest of the juice until smooth, then add this to the cherries and cook, stirring, until thickened. Spoon cherries over the chocolate cake.
Place cream and milk in a small saucepan. Add chocolate, broken into squares, then heat to boiling point, stirring until chocolate has completely dissolved. Spoon chocolate ganache over the cherries and shake glass to spread evenly. Desserts can be made ahead to this point and kept in the fridge, covered, for several hours or overnight.
Whip extra cream until soft peaks form, then place a large dollop on each trifle. Decorate with a fresh cherry on its stalk (if available) and some grated chocolate.
Serves 8
Variations: Use fresh pitted cherries, stewed with a little sugar, in season. Use milk chocolate instead of dark. Use a different red fruit jam. Arrowroot is available in the cake ingredients section of the supermarket.