Fermented food is really good for maintaining healthy gut bacteria.
I have just made my first batch of sauerkraut and as it's an integral ingredient in the famous American Reuben Sandwich I decided it was a good way to try it.  The origins of this sandwich are not entirely clear, but according to one version, a man called Reuben Kulakofsky ordered a corned beef and sauerkraut sandwich in a hotel in Omaha USA in 1928. A young chef by the name of Bernard Schimmel came up with the rest. So I guess it should have been called a Schimmel sandwich!
If you don't have Thousand Island dressing and can't be bothered to make it, mix two parts mayonnaise with one part tomato ketchup and add a dash of Tabasco or Worcestershire Sauce to give it a bit of bite. The photo shows two sandwich halves stacked one on top of the other.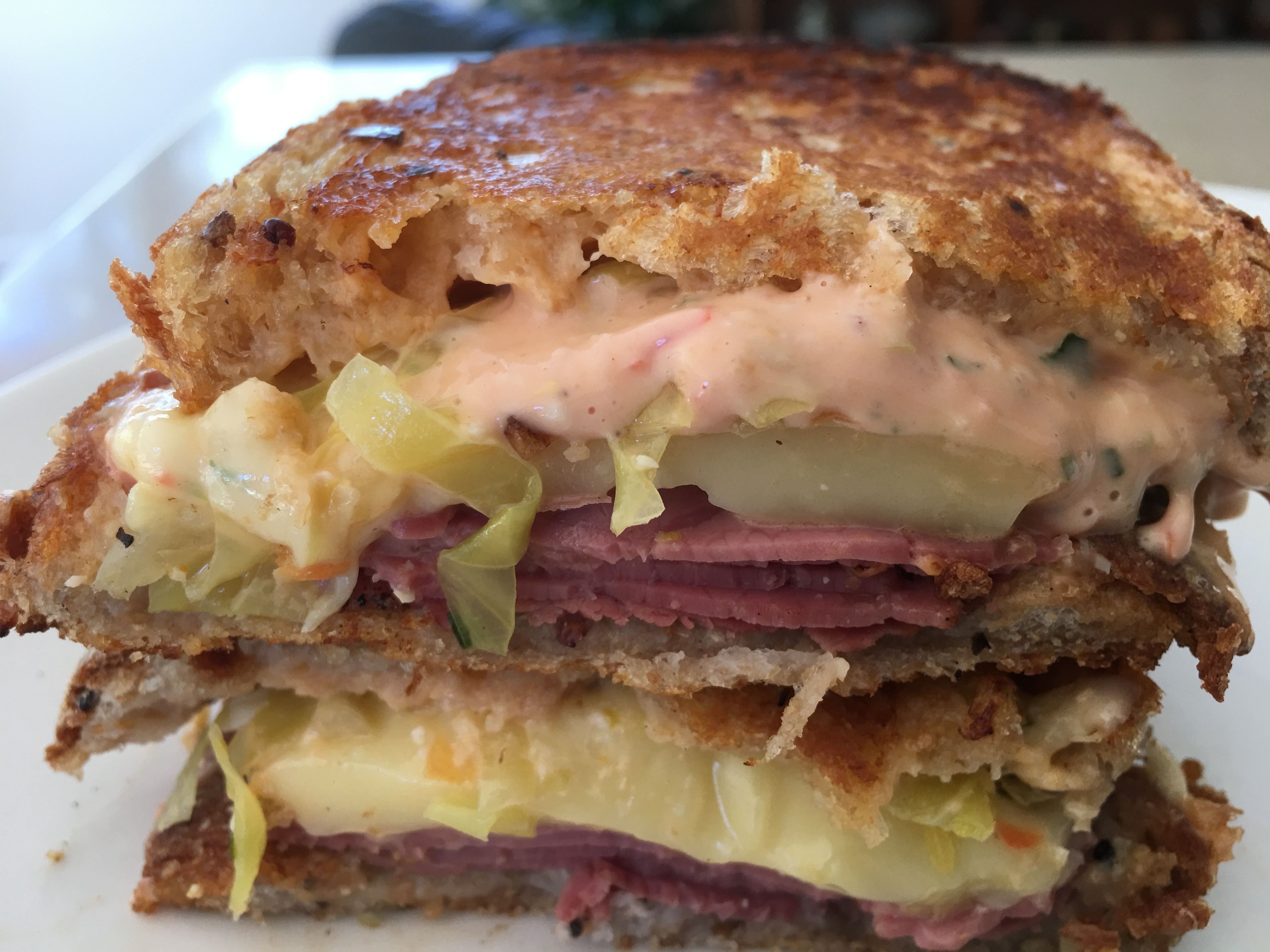 Corned Beef (or Pastrami), sliced
Swiss cheese, sliced
Light Rye Bread, sliced
Sauerkraut, rinsed and well drained (bought or home-made)
Thousand Island Dressing, bought or home-made (see below)
Butter
To serve:
Dill pickles
Radishes
Potato crisps/chips
Make sandwiches using rye bread spread with Thousand Island Dressing, filled with generous amounts of corned beef or pastrami, Swiss cheese and sauerkraut, then topped with a second slice of bread.
Butter the outsides of both slices of bread and cook in a sandwich press until nicely toasted. You can also cook them in a frying pan, with a weight to flatten them down a bit, but a sandwich press is the best solution and a worthwhile investment if you're a fan of toasted sandwiches.
Cut the sandwiches in half and garnish with dill pickles, radishes and potato crisps.
Thousand Island Dressing
1 cup mayonnaise
½ cup tomato ketchup
1 slice onion
1 slice red or green capsicum
A few celery leaves or half a stick
¼ tsp salt
1 Tbs parsley
1 hard boiled egg
¼ cup fruit chutney or pickle relish
few drops Tabasco
Place mayonnaise, ketchup and onion in food processor and mix till smooth. Add remaining ingredients and pulse briefly so you end up with a slightly chunky dressing. Keep refrigerated and use within 5 days.
Makes about 2 cups