My mother's best friend Edna was affectionately known as Little Edna because she was so tiny.
She loved to bake and watching friends and family eat what she had made gave her a great deal of pleasure. You rarely saw Little Edna eat anything herself, which is one of the reasons she was so tiny. My mother was always trying to shed a few kilos so we would avoid calling in at afternoon tea time. This wasn't easy, as time-wise afternoon tea was a movable feast. Any time visitors popped in was an excuse to put the kettle on and get the cakes out. Edna was what is known as a "feeder" and saying no thank you wasn't an option.
Edna and Stan kept a caravan on one of the beaches in northern France. They went there for a month each summer, often taking their grandchildren with them. One year Edna was on the beach, holding hands with two of her grandchildren as they ran in and out of the waves, laughing and splashing. Suddenly Edna's false teeth shot out and into the sea. Despite a long search, they were nowhere to be found.
Driving back to England to get a new set wasn't an option – they had only just arrived. So poor Edna spent a miserable two weeks feeling embarrassed and avoiding conversation. One day as she was strolling along the beach feeling glum she looked down and lo and behold "There they were, laffing up at me" she explained, with her broad Yorkshire accent "so I picked them up and put them straight back in again".
Eccles cakes are traditional British pastries named after the town of Eccles and they were one of Little Edna's specialities. I always thought her method of cutting the pastry into squares rather than circles (which is quicker and avoids any off-cuts) but still ending up with round cakes was pretty neat.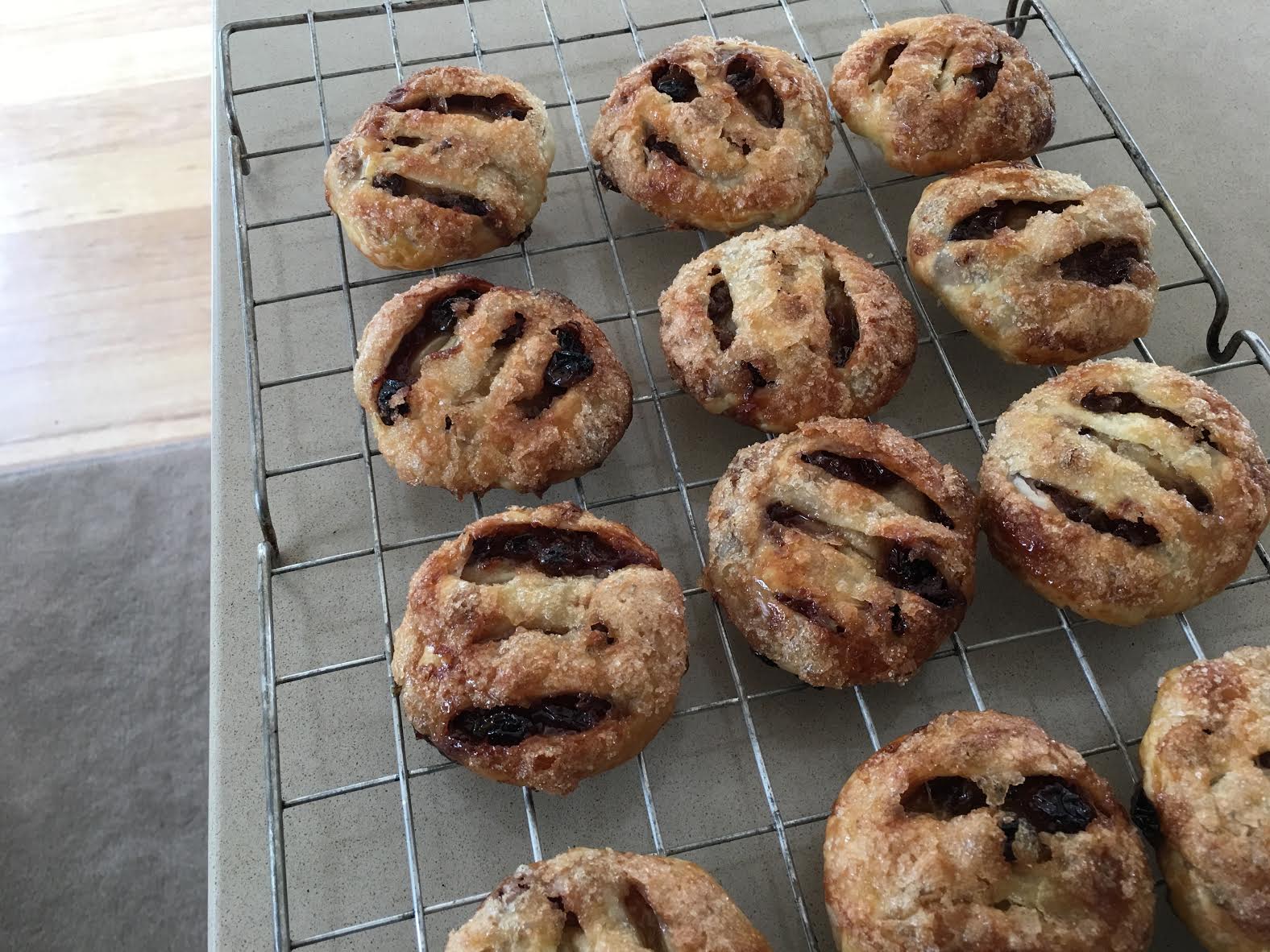 2 sheets ready-rolled puff pastry, approx 25x25cm
Filling:
1 cup mixed dried fruit or half sultanas and half currants (see note below)
25g butter, melted
2 Tbs brown sugar
2 Tbs jam or marmalade
Pinch of nutmeg
Grated rind of 1 lemon
To finish:
1 egg white, beaten with a fork
Sugar
Preheat oven to 180°C. Cut each square of pastry into six even pieces – down the middle, then into three cross-wise. Mix filling ingredients and put a heaped teaspoonful or so in the middle of each square. Draw up the sides of each square into the middle and pinch the ends together firmly, to form a little round purse.
Turn each one over and press firmly with the palm of your hand, so you have a neat round cake, or roll over each one lightly with a rolling pin. Cut two or three slashes with a sharp knife on the top of each cake. Brush each one with egg white, then dip in some sugar and shake off the excess. Arrange cakes on a baking sheet and bake for 15 minutes, or until golden brown. Serve warm or cold. Best eaten the same day.
Makes 12
Note: if preferred, make the cakes smaller by cutting each sheet of pastry into 9 instead of 6 – as shown in this photo.
Currants are dried small grapes not dried blackcurrants. If unavailable use more sultanas or some chopped raisins.