Cappadocia, in the middle of Turkey is well worth a visit. We stayed in Göreme in a cave hotel which had been carved out of the rock, but was nonetheless very comfortable.
Over the centuries the inhabitants of this region have carved out shelters, houses, churches and monasteries from the rocky outcrops, which are often described as fairy chimneys. The geology and history of the area is fascinating and in order to see the terrain from above we went on a balloon flight at dawn. One hundred and twenty balloons all taking off at about the same time is a sight to behold.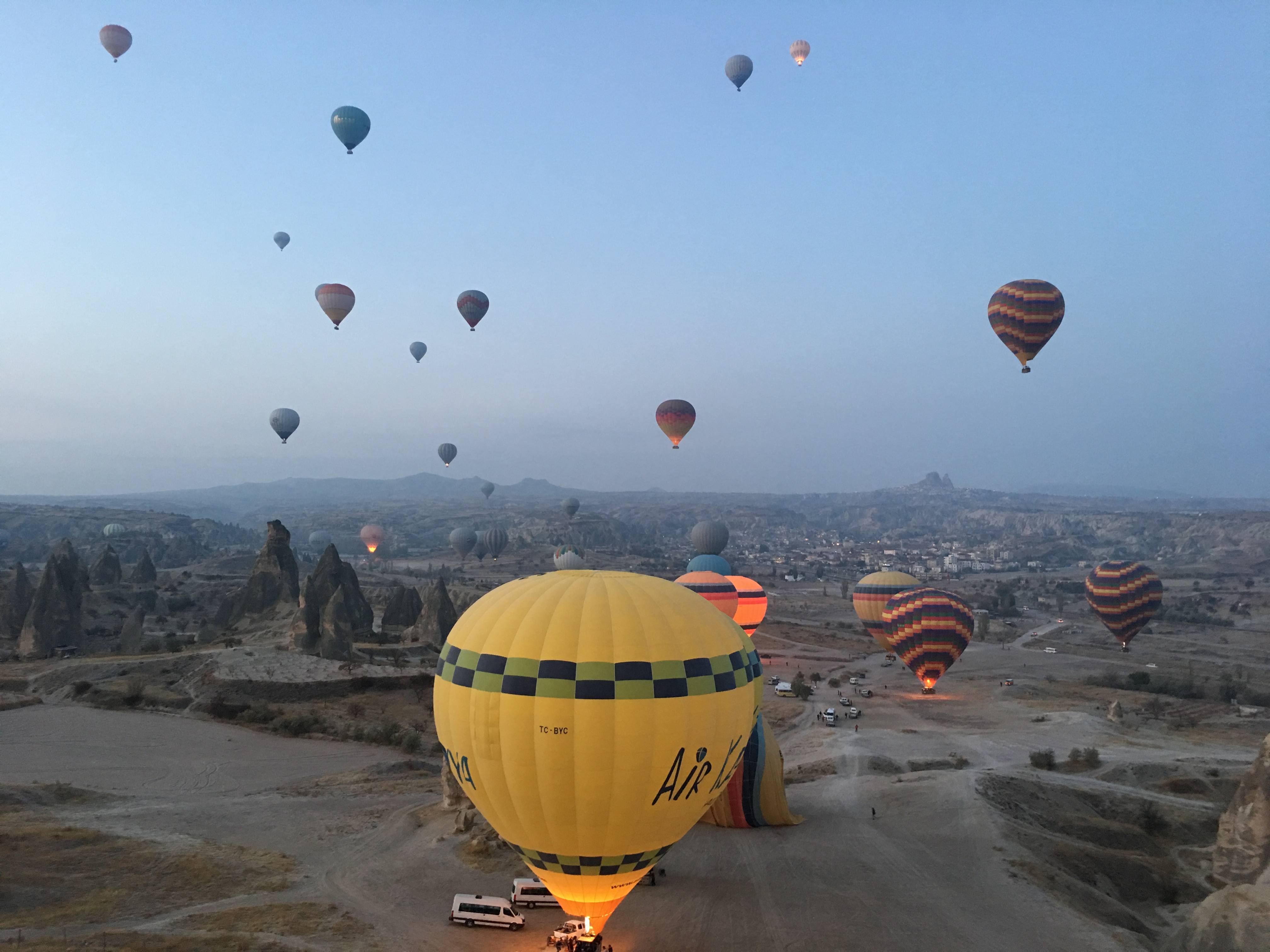 A Turkish passenger on our inward flight asked for a drink which the flight attendant poured from what looked like a two litre bottle of milk, but as he poured I could see it was much too thick to be milk. When I asked if I could "have what he's having" the flight attendant looked sceptical. He said that usually only Turks asked for Ayran and I might not like it, so he gave me a little to try before filling up my glass. It's basically plain yogurt watered down to pouring consistency, with a little salt added. Full of probiotics it's really good you, so I drank it all the time while we were there. Delicious.
This was our third trip to Turkey and we felt perfectly safe. The people are friendly and helpful and the food is simple, but healthy and delicious. Lots of kebabs and grills, as well as vegetable dishes, salads and traditional casseroles cooked slowly in sealed clay pots. Thick yoghurt drizzled with local honey was my favourite dessert.
This rice recipe is from the inflight magazine on Turkish Airlines. It makes quite a lot so you may want to halve the recipe. Serve it with kebabs, hummus, Turkish bread and a salad of diced tomato, onion and cucumber.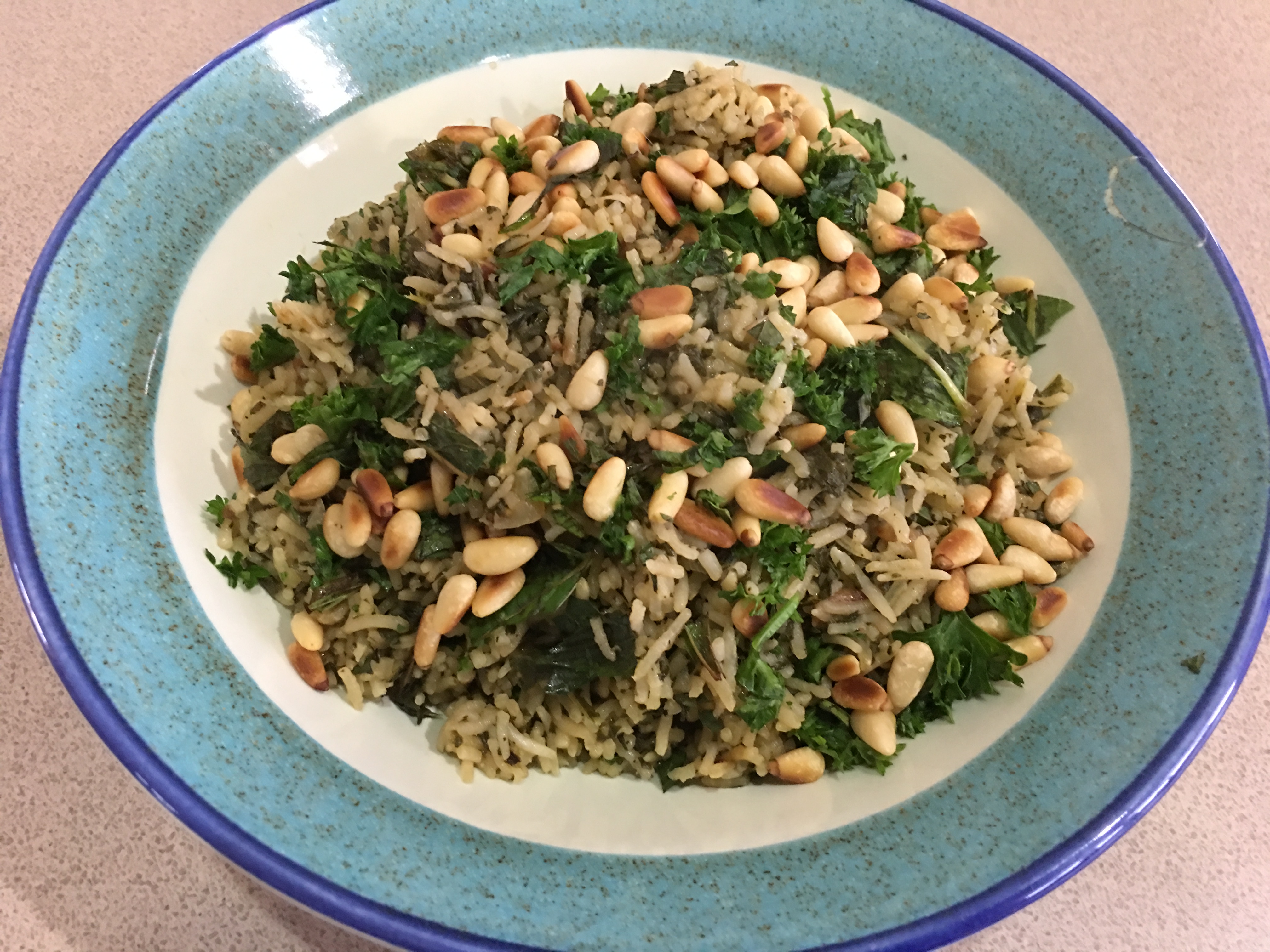 2 cups long grain rice such as Basmati
1 packet frozen spinach or 1 bunch fresh spinach
1 onion, finely chopped
50g butter
3 cups water
Salt and freshly ground black pepper to taste
2-3 Tbs each finely chopped parsley and mint
2 Tbs pistachio nuts or pine nuts, lightly toasted in a dry pan
If using fresh spinach, remove leaves and discard stalks. Wash thoroughly. With just the water clinging to the leaves, place spinach in a large saucepan, cover and cook, stirring from time to time, for a few minutes or until wilted. Place in food processor and chop finely. You will need a generous cup or more of this chopped spinach, or use thawed frozen spinach. Quantities are flexible.
Heat butter in a large saucepan and cook onion until soft, stirring from time to time, and allowing it to brown slightly. Add rice, spinach, water, salt and pepper, bring to the boil, then cover and turn the heat as low as it will go. Cook for 20 minutes or until rice is cooked and has absorbed all the liquid. If not quite ready, turn off the heat and let it sit for a few minutes to continue cooking in its own steam. Stir in the chopped herbs. Check for seasoning and if liked add another knob of butter. Garnish with the toasted nuts.
Serves 6-8