I grew up on a fairly basic British diet of meat and three veg. However, my mother was a British Army kid and while living in Hong Kong and Malta she was exposed to some "foreign dishes". She had two in her repertoire – Spaghetti Bolognese and Kedgeree. Nowadays these dishes are familiar to most people, but when I was a child they were pretty unusual to find in a British household – unless of course you were "foreign", which we weren't.
When one of my school friends came round for dinner and Mum served one of these my guest would push the food around the plate and eat very little. No doubt about it, back then this was weird food.
You can find my mother's recipe for Kedgeree along with an Asian variation here. I found today's version in an airline magazine some years ago and have been meaning to make it ever since. I have a huge folder and an email box dedicated to recipes I plan to make one day, so I don't think I'll ever run out of inspiration for this blog!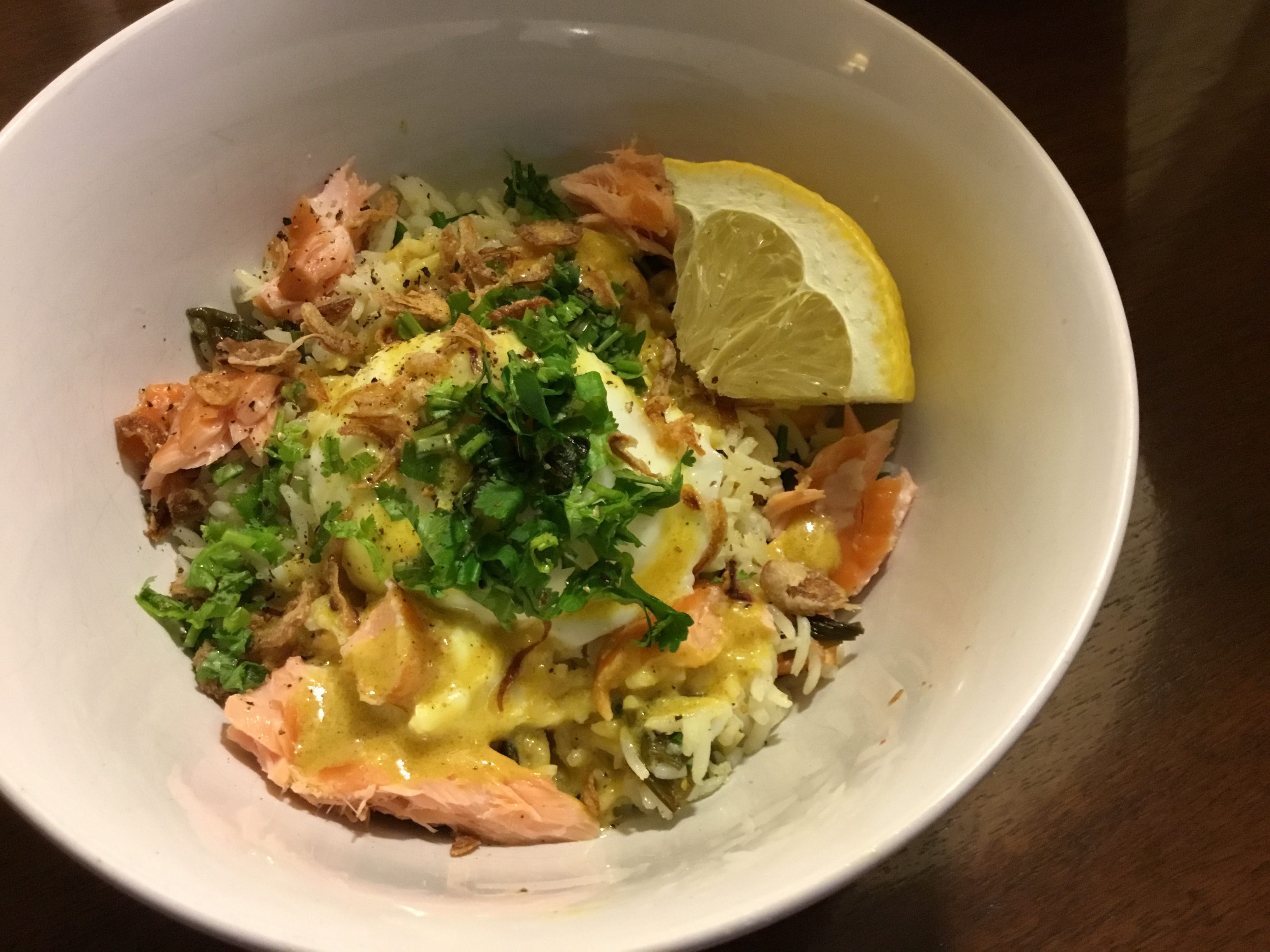 1 cup basmati or other long grain rice
300g hot smoked salmon (or substitute ordinary smoked salmon)
1 Tbs butter or Extra Virgin olive oil
2 Tbs snipped chives
Salt and freshly ground black pepper
Curry Sauce:
1 Tbs butter or olive oil
2 shallots or spring onions, chopped
2 tsp curry powder
¼ tsp cayenne pepper
2 Tbs vinegar
½ cup white wine
1 cup fish or vegetabe stock
1 cup cream or coconut cream
pinch of saffron or turmeric
Salt and freshly ground black pepper to taste
To finish:
4 poached eggs (or soft boiled)
Chopped fresh coriander
Crispy shallots (a dried product from Asian supermarkets)
Lemon or lime wedges
Place rice in a saucepan with a little more than one and a half cups of water and a teaspoon of salt. Bring to the boil then cover and turn down heat as low as possible. Cook for 10-15 mins, or until water has been absorbed. Turn off the heat and leave it to continue cooking in the steam.
Meanwhile for the Curry Sauce, melt butter in a frying pan and cook shallots for 2-3 mins until soft. Add curry powder and cayenne and cook, stirring for a minute. Add vinegar and cook until it has evaporated. Add wine and do the same. Add stock and cook until reduced by half. Add cream or coconut cream and saffron and cook until the sauce has a nice coating consistency.. Season to taste. (If liked pass through a sieve – see Note below)
Poach the eggs. Break the hot smoked salmon into large chunks and mix into the hot rice with the butter or olive oil and chives. Season to taste.
To serve, divide rice between four bowls. Top each serving with a poached egg and some Curry Sauce. Garnish with coriander, crispy shallots and a lemon or lime wedge.
Serves 4
Note: I used spring onions rather than shallots and decided to pass the sauce through a sieve to remove the bits. I mixed these bits into the rice, so they weren't wasted. I just thought the sauce looked nicer without them. After sieving the sauce I reheated it to serve.