As I've said before, if I were to become a vegetarian I would eat a lot of eggplants. They're filling and there are so many different ways of using them.
Here's a delicious recipe for you to try. As a main course, half a large eggplant is enough for most people. If you want to serve this as a side dish, buy smaller eggplants so you get more halves.
More delicious ways to use this versatile vegetable can be found in the Recipe Index under Vegetables. Do you have a great eggplant recipe you would like to share with Cafe Cat readers?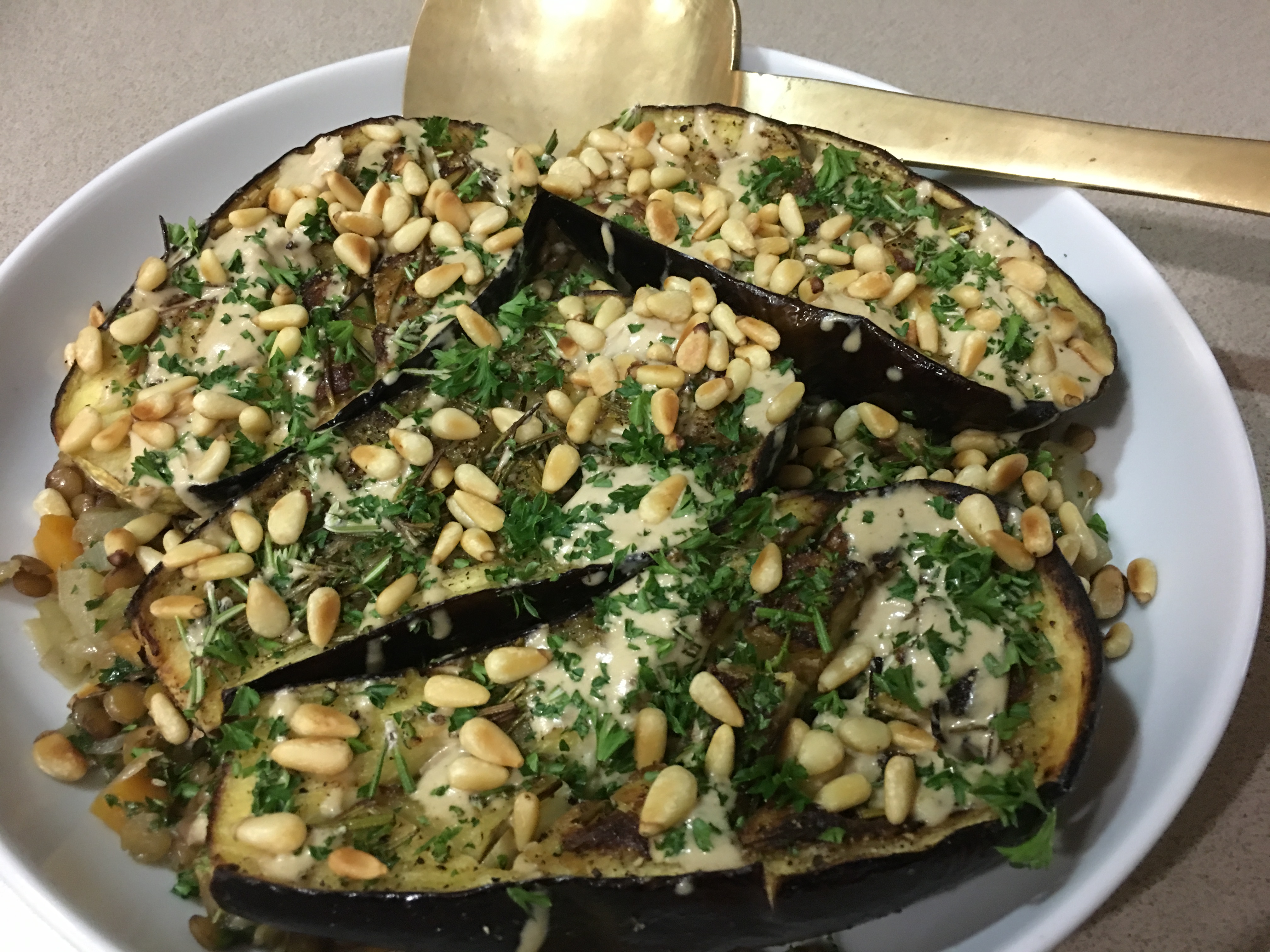 Base:
2 Tbs olive oil
2-3 carrots, peeled and cut into large chunks
1 large onion, chopped
2 stalks celery, chopped
4 cloves garlic, crushed
350g dry lentils (Puy or similar)
4 cups vegetabe stock
2 tsp vinegar (any kind will do)
Salt and freshly ground black pepper
Eggplants:
2 large eggplants or more smaller ones (about 1kg or a bit more)
4 Tbs olive oil
Salt and freshly ground black pepper
1 Tbs finely chopped fresh rosemary
To serve:
2 Tbs lemon juice
½ cup Tahini paste
Water
2 Tbs chopped parsley
1 Tbs chopped rosemary
¼ cup pine nuts
Salt and freshly ground black pepper
For the base heat oil in a large heavy-based pan and add all the vegetables. Cook gently for 10-15 mins, stirring regularly, until softened. Add the lentils and stock then simmer for half an hour or until the lentils are just tender. Add a little more water as necessary. When lentils are cooked and most of the liquid has disappeared add the vinegar and continue to cook for a few minutes, stirring. Season to taste.
While lentils are cooking pre-heat the oven to 200°C. Cut eggplants in half lengthwise and arrange them in a baking tin. Slash them all over with a sharp knife in a diamond pattern. Brush the cut surfaces generously with olive oil, season with salt and pepper and sprinkle with rosemary. Bake for 25-30 mins until soft and browned.
Mix lemon juice into the tahini, then add enough water to give a thick pouring consistency. Season with salt and pepper. Place pine nuts in a dry frying pan and stir over moderate heat until golden.
Spread hot lentil mixture in a large serving dish (reheat if it's got a bit cold) and arrange eggplants on top. Drizzle with the tahini sauce and sprinkle with the parsley, rosemary and pine nuts.
Serves 4 as a main course