Maggie and Richard served this delicious chilled soup when we were staying them last year in St Germain en Laye, on the outskirts of Paris.
Richard, who was chef that day, said the recipe came from Honey & Co. As per the recipe he garnished the soup with roasted yellow beetroot, diced and mixed with a crushed clove of garlic, chopped fresh oregano and a splash each of lemon juice and olive oil. This made a spectacular contrast. Unfortunately I didn't have any yellow beetroot, so just used yoghurt and some chives as a garnish.
The original recipe says to roast the beetroots on a bed of salt, but as you're going to peel them I decided this wasn't going to make a huge difference to the end result. I just sprinkled them generously with salt before roasting.
This soup goes down a treat at a relaxed weekend lunch in late summer.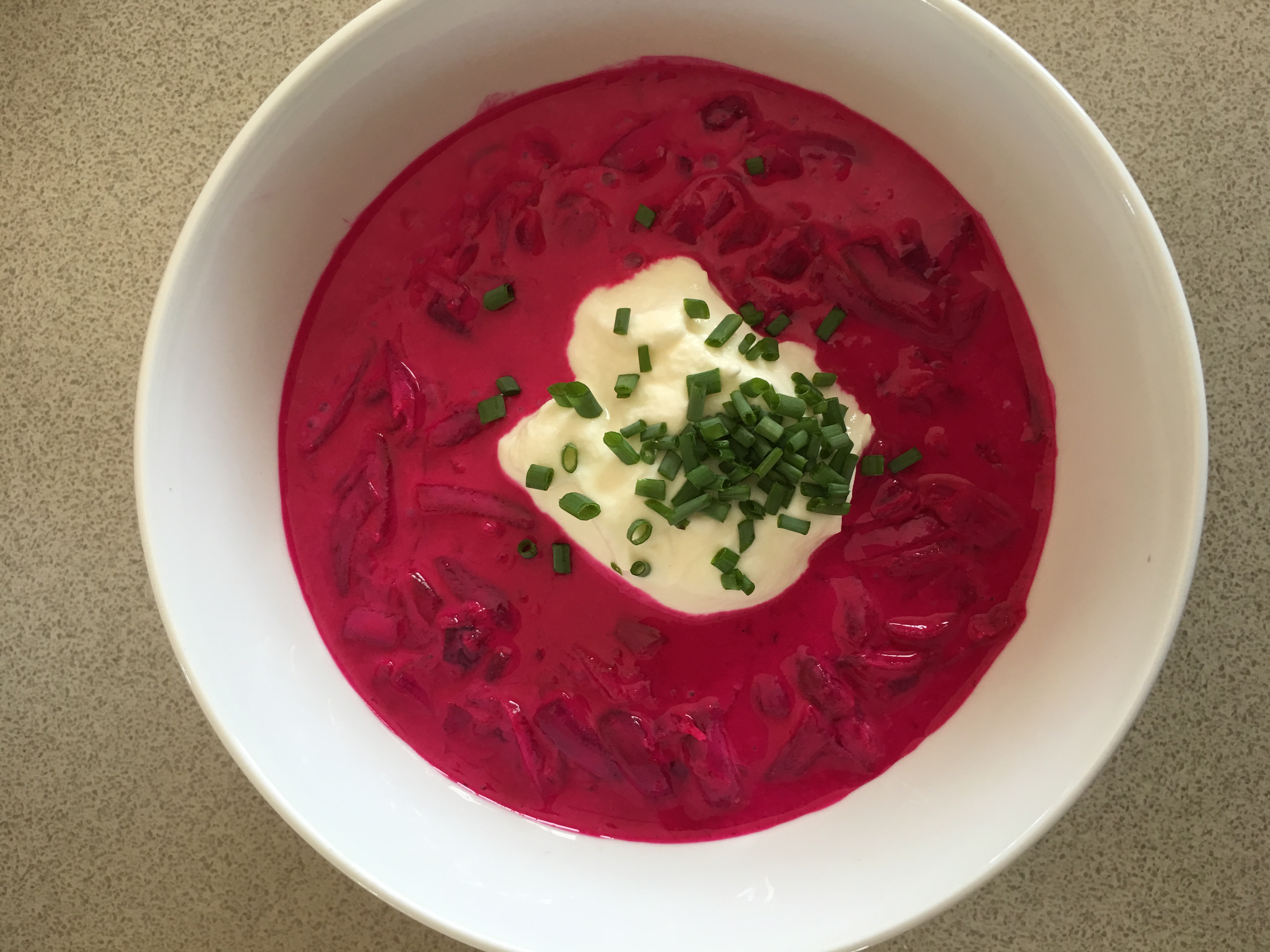 6-8 beetroot (a bit over half a kg)
2 tsp salt for sprinkling on the beetroot
2 cups plain Greek-style yoghurt
Between 1 and 2 cups cold water
1 tsp salt, or to taste
1 clove garlic, crushed (2 if small)
Freshly ground black pepper
2 tsp ground cumin
Grated zest and juice of 1 lemon
3 Tbs olive oil
To serve:
Diced roasted yellow beetroot (optional)
Plain Greek-style yoghurt
Snipped chives
Preheat the oven to 200°C. Wash beetroot, but leave whole and unpeeled. Place on a baking tray lined with foil and sprinkle with salt. Bake for an hour or until tender. When cool enough to handle peel the beetroot. Grate very coarsely – a Magimix with a coarse grating blade makes short work of this.
Mix beetroot with remaining ingredients then chill until serving time. Add one cup of water first and see if it needs more. Serve garnished with a dollop of yoghurt and the yellow beetroot, if available.
Serves 4-6