Leftovers on a slice of buttered toast is one of my favourite quick meals. What might not be quite enough for one or two can be stretched (as my mother used to say) by serving it on a slice of toast. Leftover spag bol sauce for example.
This recipe uses a slice of toast to create a light but satisfying mid-week dinner or weekend lunch for two. Use two small chicken breasts, one large one, or buy the small strips called fillets.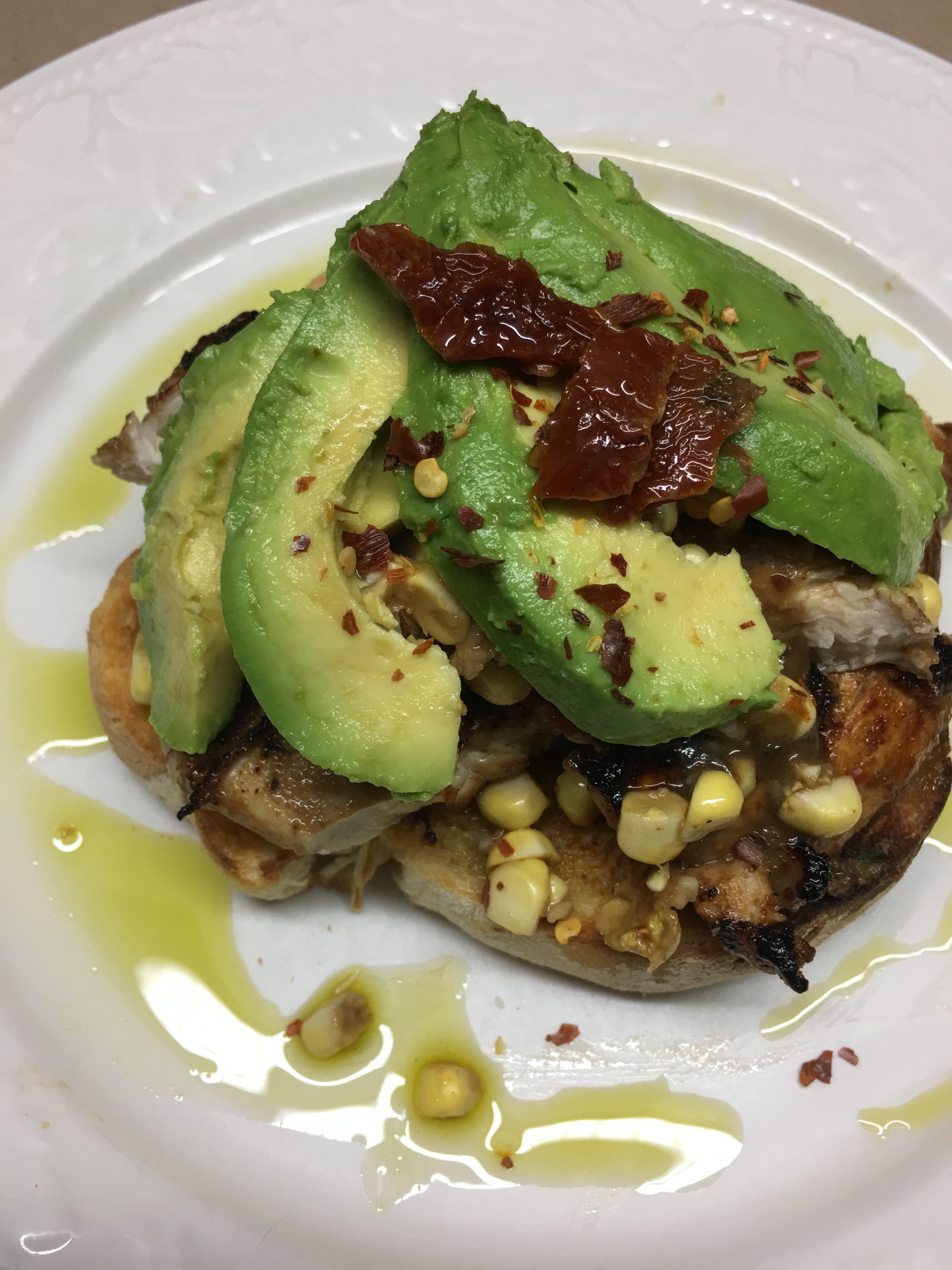 350g chicken breast or fillets
Marinade:
2 tsp olive oil
1 tsp Dijon mustard
½ tsp hot English mustard
1 tsp vinegar or lemon juice
1 tsp chopped fresh thyme or a pinch of dried
½ tsp salt
½ clove garlic, crushed
1 tsp honey
Freshly ground black pepper to taste
1 pinch chilli flakes (optional)
Fresh Corn Salsa:
1 ear fresh corn
1 tsp vinegar
½ tsp Dijon mustard
1 Tbs olive oil
½ clove garlic, crushed
Salt and freshly ground black pepper to taste
1 tsp chopped fresh thyme or a pinch of dried
To serve:
2 tsp olive oil to fry chicken
2 slices buttered toast
Something red (capsicum, tomato, sun dried tomato)
1 avocado, sliced
2 sprigs thyme
If using whole chicken breasts cut them into chunky slices like fillets.
Mix all ingredients for marinade with the chicken in one bowl. Remove kernels from corn cob by slicing downwards with a sharp knife. Mix with remaining salsa ingredients in another bowl.
Heat olive oil in a non-stick frying pan and fry chicken for 4-5 mins each side or until golden brown and cooked through. Serve chicken on toast, topped with the salsa and avocado. Garnish with something red for a bit of colour and a sprig of thyme. If liked drizzle a little olive oil around the plate.
Serves 2