When I do my weekly shopping I often buy a couple of eggplants with a view to making some kind of vegetarian dish. Inspired by a photo in a recent QANTAS magazine I created this colourful dish which was delicious. There was no recipe, just a photo, so there was a lot of guesswork!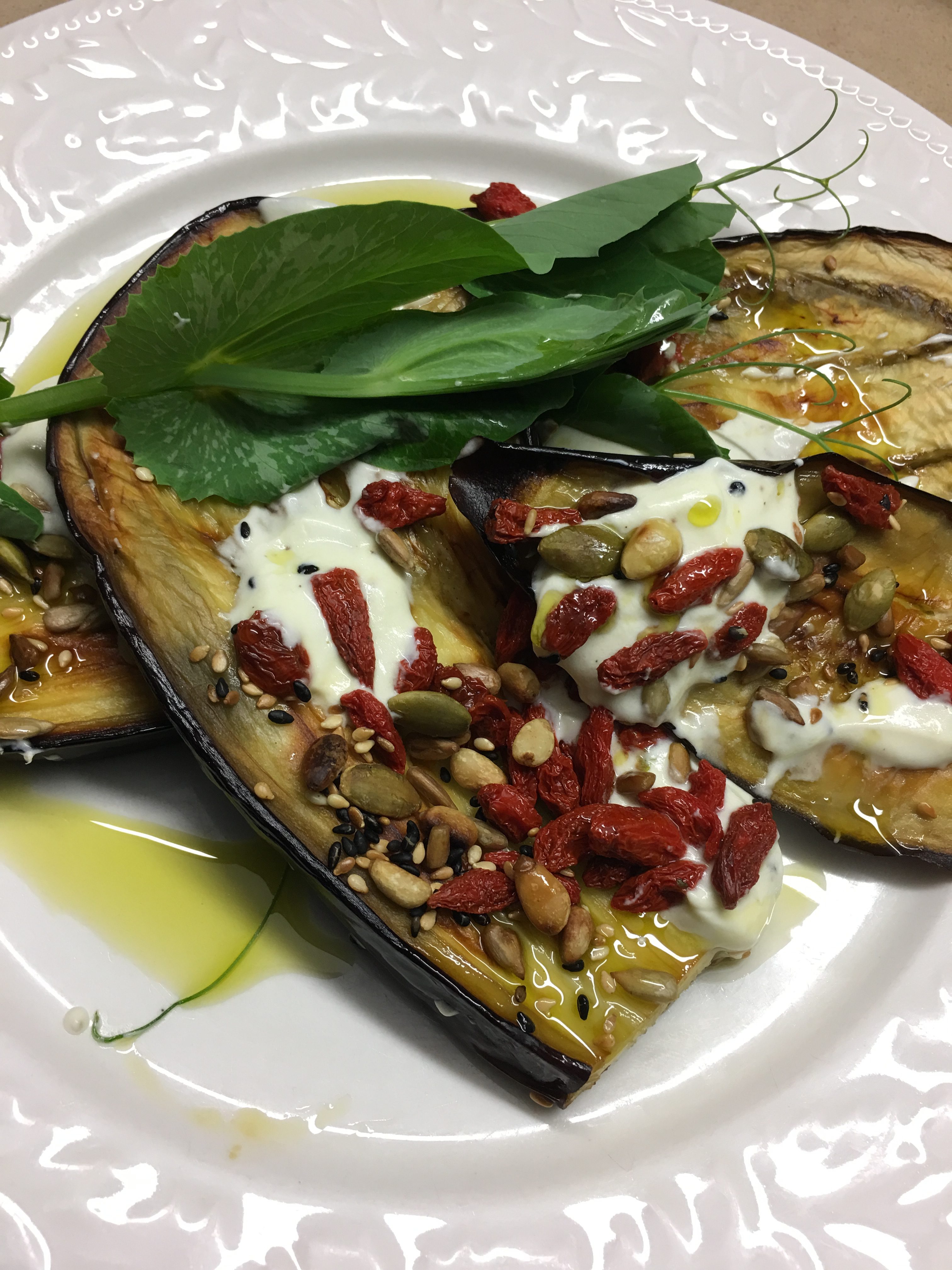 2 large eggplants, sliced lengthwise about 1cm thick
olive oil
1 cup plain Greek yoghurt
1 Tbs lemon juice
Salt and freshly ground black pepper
Seeds from 1 pomegranate or ½ cup dried Goji berries
1 Tbs each pine nuts, sunflower seeds, sesame seeds and pepitas
2 tsp black sesame seeds (optional)
A few green leaves such as rocket, spinach (I used pea shoots from the garden)
Extra Virgin olive oil
To make the Labneh, strain the yoghurt for a few hours or overnight in a sieve lined with muslin or a man's handkerchief, in the fridge. Discard the liquid.
Preheat oven to 200°C. Arrange eggplant slices on two large shallow baking sheets, lined with baking paper. Brush both sides with olive oil then bake for 20-30 mins or until cooked and golden brown. Arrange in a serving dish in overlapping circles.
Meanwhile heat the nuts and seeds in a dry frying pan over moderate heat, stirring, until lightly toasted. Remove seeds from pomegranate, or if using Goji berries, cover them with boiling water, then drain after 2-3 minutes.
Mix labneh with the lemon juice and season to taste.
Garnish eggplant slices with the pomegranate seeds or Goji berries, the toasted nuts and seeds and the labneh dressing. Add a few green leaves for colour. Drizzle a little Extra Virgin olive oil around the plate.
Serves 4