My Chilean friend Pia made this for one of our Spanish conversation monthly lunches. It's similar to an Italian lasagne, but with Mexican flavours.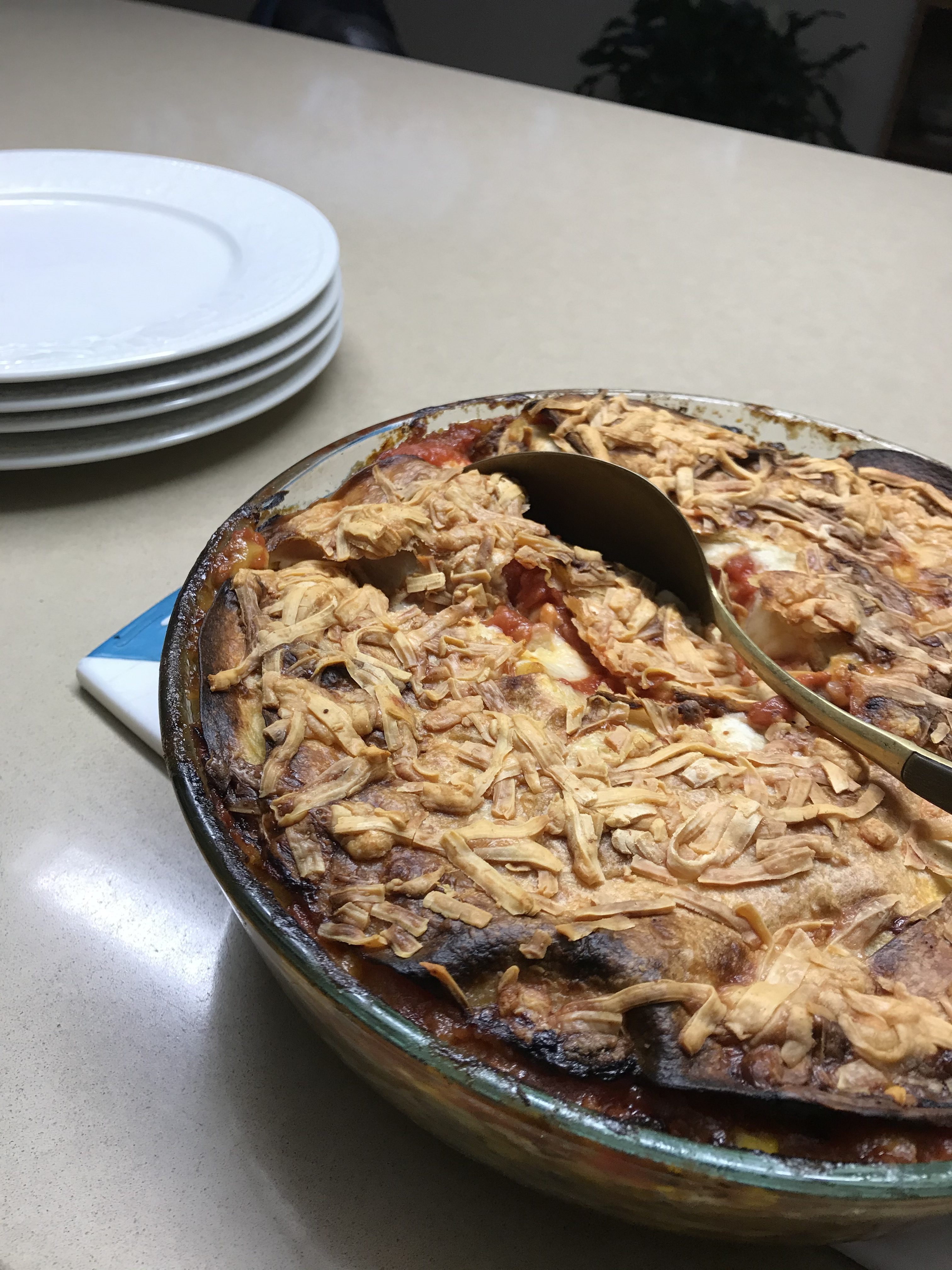 1 large onion diced
2-3 cloves garlic, crushed
1 red capsicum, deseeded and cut into strips (optional)
250g mushrooms, sliced (optional)
2 Tbs butter or oil
500ml cream
1 packet soft tortillas
Meat from 1 cooked chicken, diced
2-3 Tbs chopped fresh herbs of choice
2 cobs fresh corn (or use canned or frozen kernels)
1 tin tomatoes, chopped
1 small red chilli, finely chopped, or 1 tsp dried chilli flakes (optional)
Salt and freshly ground black pepper, to taste
2-3 cups grated cheese e.g. cheddar
Preheat oven to 180°C. In a large frying pan gently fry onion and garlic with mushrooms or capsicum, or both, in oil or butter until softened, but not browned. Remove kernels from fresh corn, or drain off the liquid if using canned. Add to pan with cream, herbs, chicken and tomatoes. Add chilli if using and season to taste. Cook, stirring for a few minutes to thicken a bit, but not too much as you need the liquid which will soak into the tortillas.
Cover the base of a greased lasagne-type rectangular, oval or round dish with one layer of tortillas, cutting to fit. Spoon half the chicken sauce over and sprinkle with a third of the cheese. Then arrange another single layer of tortillas, followed by the other half of the sauce and another third of cheese. Finally arrange a third layer of tortillas over the top. The top can get a bit dry and crunchy so I suggest you dip the final layer of tortillas in water or milk to moisten them before arranging on top, then top with remaining cheese.
Bake for 30-40 mins or until golden and bubbly. Stand for 10 minutes then cut into squares or wedges and serve with a salad.
Serves 6-8