Every year we grow zucchini (courgettes) in our vegetable garden. Despite our best efforts, some of them get away and end up looking more like marrows. Large zucchini are great for making into fritters or a savoury slice like this one. If zucchini are large remove the seeds and some of the skin.
It's worth investing in a 0.5cm grating attachment for your food processor. The grating attachment which came with my Magimix is too fine for things like carrot, zucchini and beetroot so I ordered the larger one online. It makes grating vegetables a cinch and has become the attachment I use most.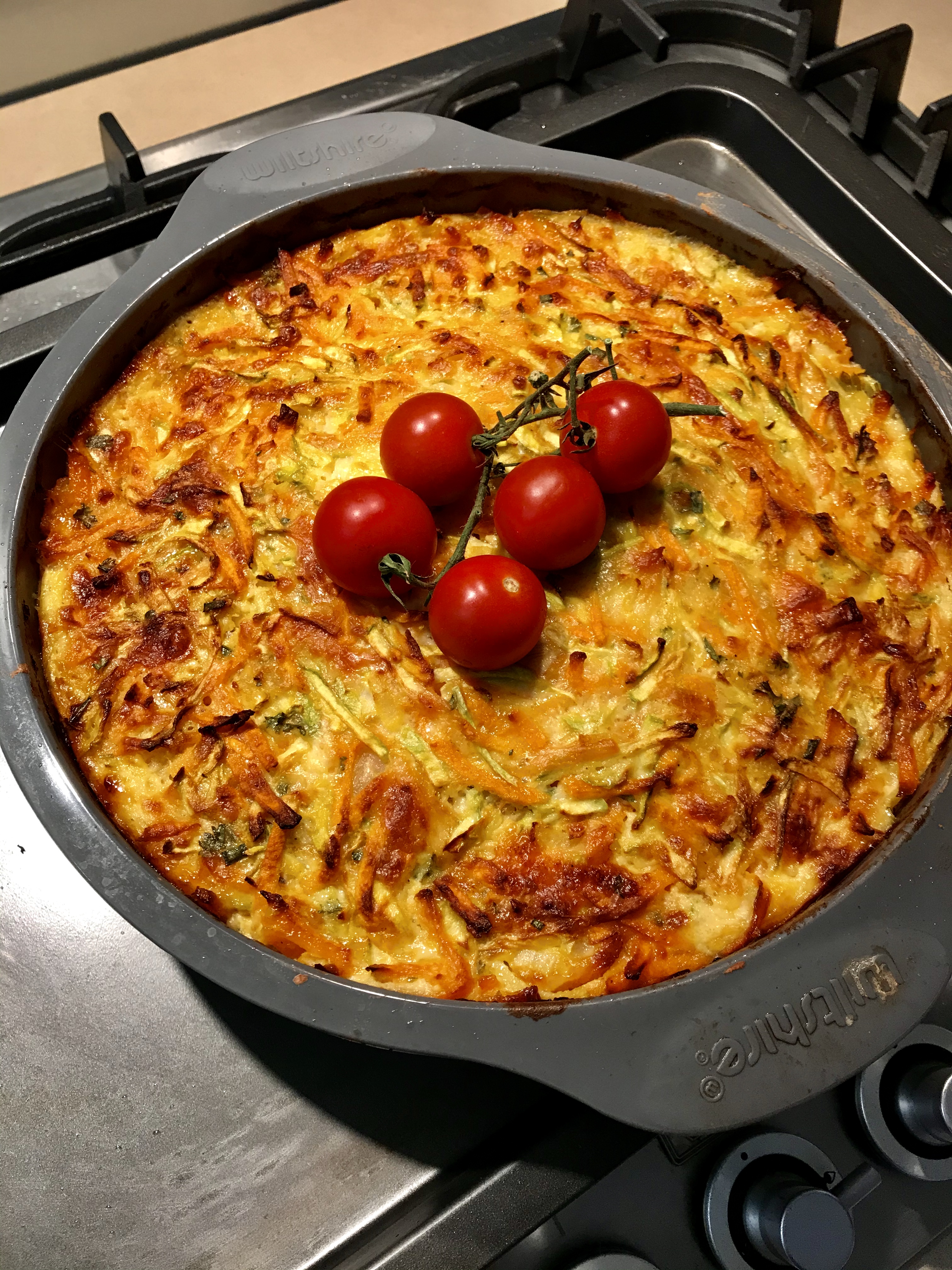 1 Tbs olive oil
1 large onion, chopped
2 cloves garlic, crushed
1 large sweet potato (about 500g), peeled and coarsely grated
500g zucchini, peeled and coarsely grated
1 cup ricotta or cottage cheese
1 cup grated cheddar cheese
¼ cup plain flour
5 eggs
2 Tbs chopped chives or basil
2 Tbs chopped parsley
Salt and freshly ground black pepper
Cherry tomatoes to garnish
Preheat oven to 180°C. Grease and line a rectangular slice tin. I used a 22cm round cake tin instead.
Heat olive oil in a frying pan. Add onion and garlic and cook gently until soft but not browned. Mix with remaining ingredients, then scrape into cake pan and smooth the top. Bake for 40-70 minutes. Time will vary according to the cake pan you choose. If you use a rectangular slice pan it will be thinner and take around 40 mins. The one in the photo took about 70 mins. Any size/shape will do. When cooked it will be golden all over and firm to the touch in the middle.
Serve cold or at room temperature, garnished with the cherry tomatoes. We preferred it cold.
Serves 10
Variation: Fry 3-4 rashers of chopped bacon with the onion and garlic