You only need one or two zucchini plants in the veggie patch to be inundated in the middle of summer. And if you don't catch them when they're small, a day or two later you'll find they've turned into huge marrows! Zucchini with Tarragon and Sour Cream is a good way to use up the big ones.
Zucchini and Haloumi Fritters make a tasty vegetarian meal and any leftovers are delicious cold or reheated in a moderate oven for 5-10 minutes. Serve with Tzatziki and/or tomato chutney. Use regular sized zucchini or remove the seeds from bigger ones.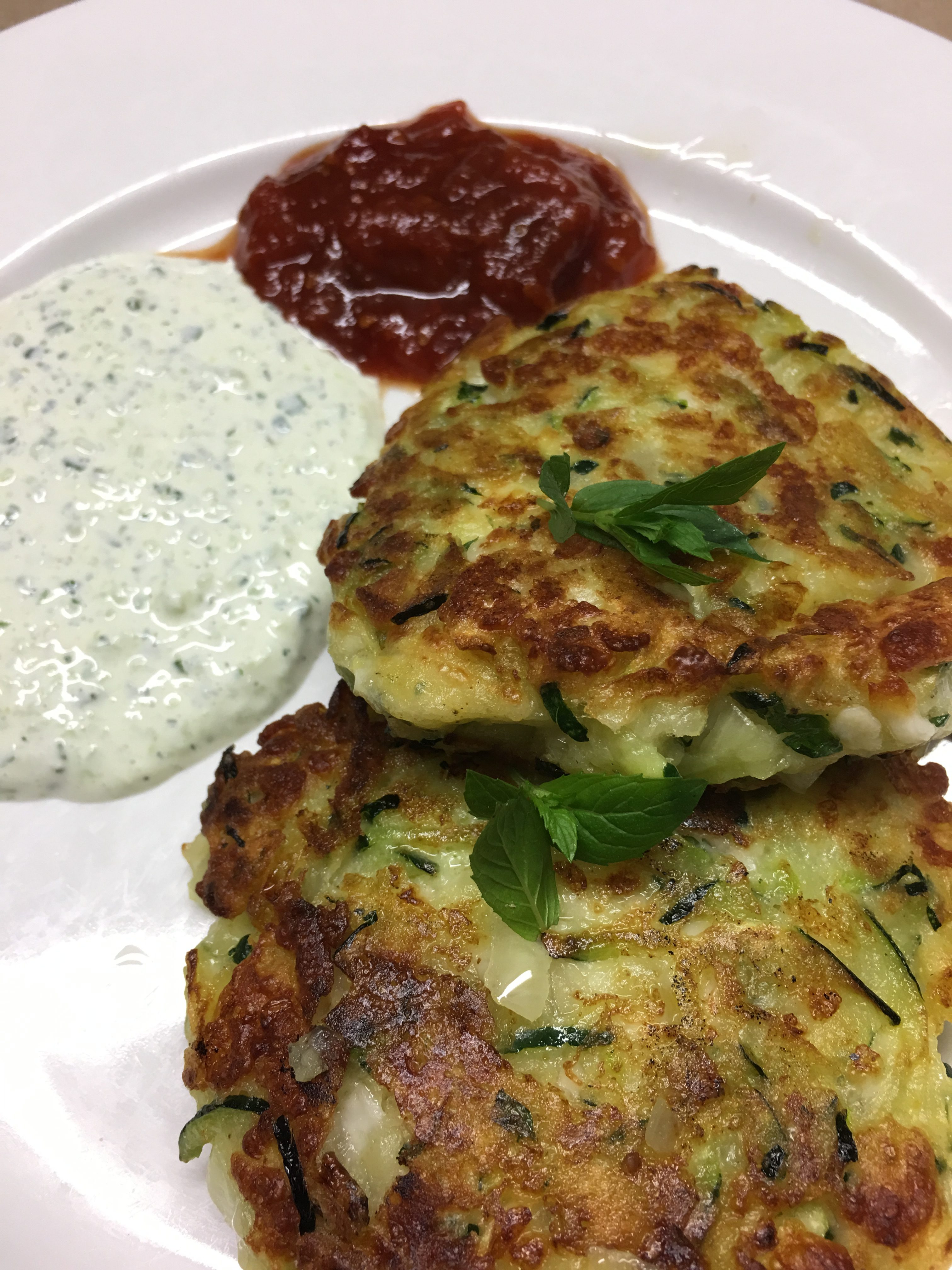 500g zucchini (seeds removed if large)
250g haloumi cheese
1 small onion, finely chopped
¼ cup finely chopped mint leaves
1 egg
2/3 cup self-raising flour
Vegetable oil for frying the fritters
Tzatziki:
1 Lebanese cucumber, coarsely grated (or half a telegraph one)
1 cup thick plain Greek yoghurt
1 clove garlic, crushed
grated rind ½ lemon
Salt and freshly ground black pepper, to taste
To serve:
Salt flakes
Ground cumin
Fresh mint leaves
Tomato Baharat Jam (optional)
Coarsely grate zucchini and halloumi. If you have a coarse grating disk on your food processor, this is a breeze. Mix with remaining ingredients. Heat a little oil in a large frying pan and cook the fritters, 3-4 at a time. Use a tablespoon to dollop the mixture into the pan and flatten each fritter into a thick round shape. Fry for about 4 minutes each side, or until golden brown. Drain on paper towels and serve with the Tzatziki, mint leaves, salt flakes and a shake of ground cumin. A little Tomato Baharat Jam, or any other tomato chutney, also goes well.
For the Tzatziki, place the grated cucumber in a sieve and sprinkle with a little salt. Leave to drain for a few minutes, then press down on the cucumber to squeeze out as much liquid as you can. Mix with remaining ingredients.
Serves 4