This delicious recipe is adapted from one by Yotam Ottolenghi. He used an Indian soft cheese called paneer as the filling. I used halloumi but you could use feta or ricotta.
I first discovered red lentils when watching a Nigella Lawson TV show, in which she said they are great because they only take about 20 minutes to cook. Be careful as overcooking results in mushy lentils.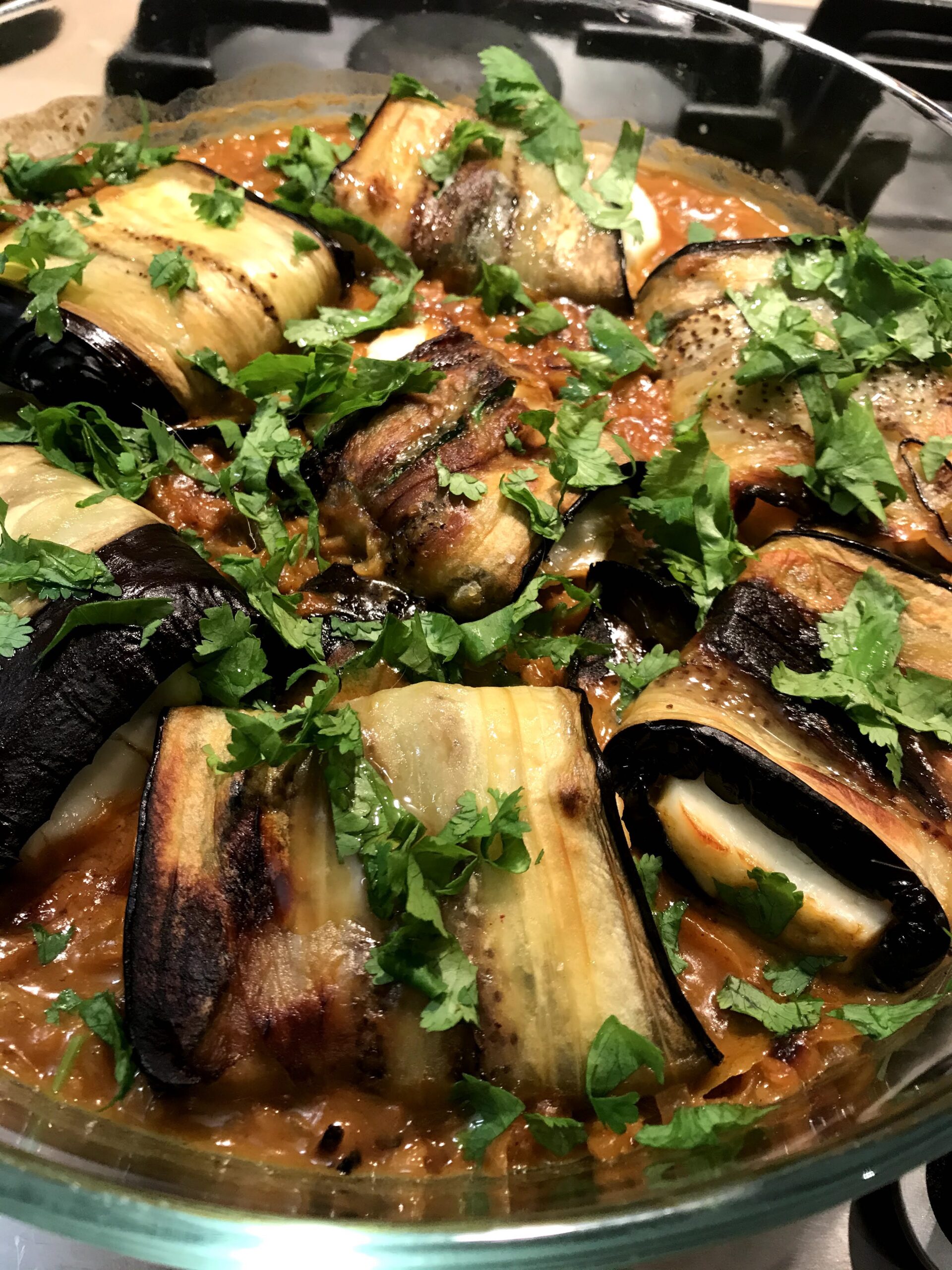 3 large eggplants, sliced lengthwise ½ to 1 cm thick
About 100 ml vegetable oil
Salt and freshly ground black pepper
2 onions, peeled and finely chopped (or 6 shallots)
2 Tbs finely chopped ginger
1 small red chilli, deseeded and finely chopped
1 tsp black mustard seeds
2 tsp ground cumin
2 tsp ground coriander
1 tsp ground turmeric
2 tsp curry powder
1 Tbs tomato paste
2 tsp sugar
Strips of peel from 1 lime removed with veg peeler
200g red lentils
400ml can coconut milk
800ml water
100g spinach leaves
220g feta, halloumi or ricotta cheese
To garnish:
Juice from 1 lime
Fresh chopped coriander
Preheat oven to 200°C. Line two large oven trays with baking paper. Arrange the eggplant slices on the trays, brush both sides with oil and season with salt and pepper. Roast for 30 mins or until cooked and golden brown. Cool.
Put 2 Tbs oil in a large frying pan and cook the onions over medium heat, for 2-3 mins, stirring. Add ginger, chilli, spices, tomato paste, sugar, strips of lime peel and lentils and continue to cook, stirring, for a couple of minutes. Add coconut milk, water and a teaspoon of salt. Turn down heat and simmer 20 mins, stirring from time to time, or until lentils are al dente and sauce is thick. Pour into an oiled baking dish large enough to take the eggplant rolls in one layer and put aside.
Arrange spinach leaves all over the eggplant slices in one layer, then a piece of feta or halloumi. Roll up from the thinner end so the cheese is enclosed. Arrange the packages seam-side down in the lentil sauce and press them in a bit. You should end up with 16 to 20 rolls in one layer. Bake 20 mins or until golden brown on top. Drizzle with the lime juice and garnish with the fresh coriander.
Serves 6
Substitutions: use lemon instead of lime