If you have a packet of miso paste in the fridge, bought for a recipe which only required a tablespoonful or two and you're wondering what to do with the rest, this is the recipe for you. If not, go and buy some.
Miso paste keeps for weeks in the fridge and is a useful addition to all sorts of dishes, both sweet and savoury. It adds an intensity of flavour known as umami, the fifth taste sensation after sweet, sour, bitter and salty. Try adding a tablespoonful to your next casserole or bolognese sauce.
This yummy slice has miso in the shortbread base where it combines with the other ingredients to make a very moreish snack. If you like peanut brittle you will like this slice which is totally addictive. If you don't have any miso you could just leave it out.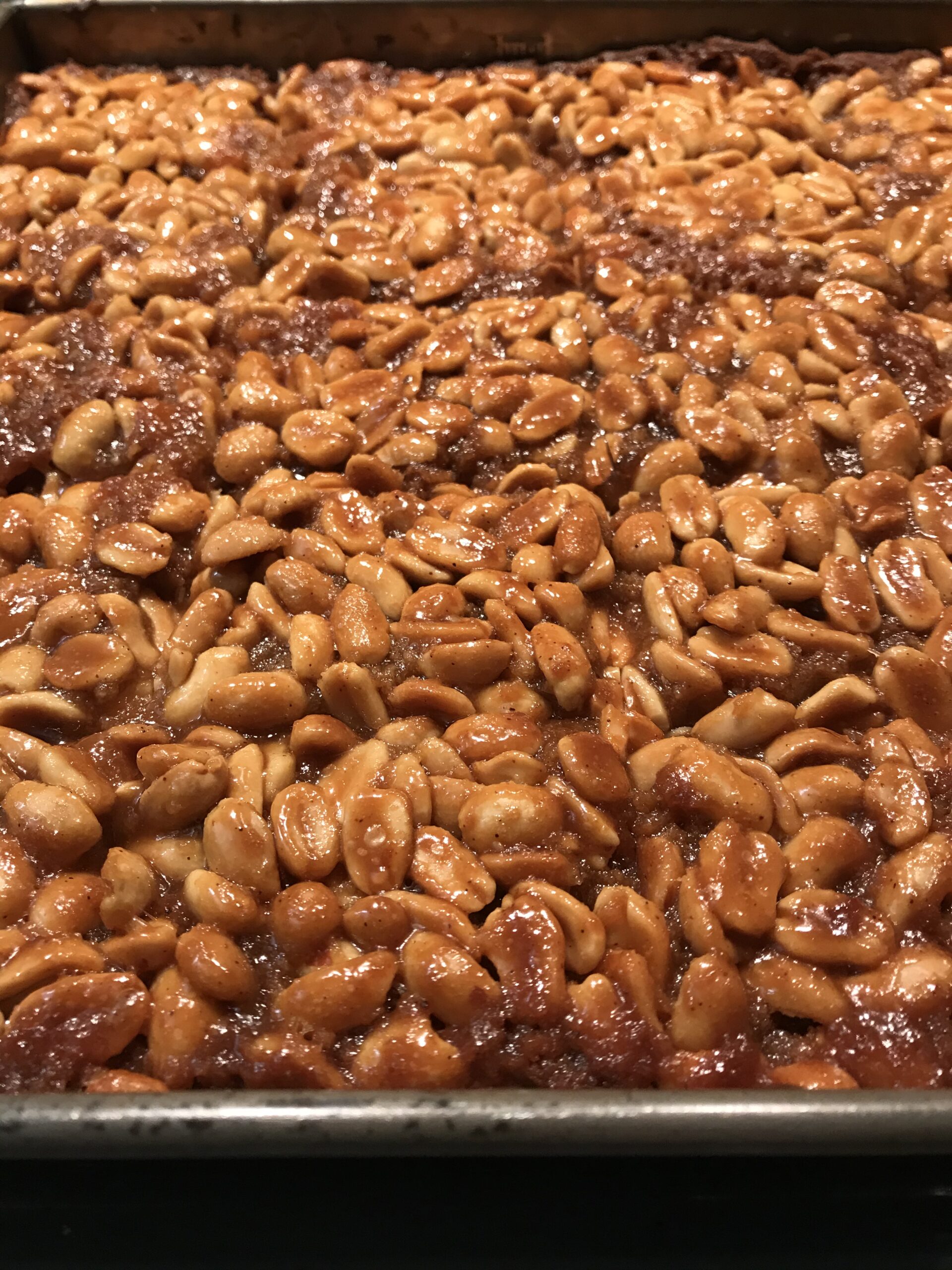 Shortbread base:
125g butter at room temperature
5 Tbs sugar
1 egg yolk
1 Tbs miso paste
1 cup flour
2 Tbs cornflour
½ tsp salt
1/8 tsp baking powder
Caramel:
1 cup brown sugar
2 Tbs honey
50g butter
Good pinch of chilli powder (optional)
250g salted roast peanuts
½ tsp salt
Preheat oven to 180°C. Line the base of a 9″ (22cm) square cake pan with baking paper and grease the pan. Place butter and sugar in food processor and mix till creamy. Add egg yolk and miso then lastly the flour, cornflour, salt and baking powder. Mix well, stopping halfway to scrape down the sides. Put blobs all over the base of the tin, then press it to a uniform thickness with slightly damp fingers. Bake for 10 minutes or until golden.
Meanwhile, heat brown sugar, honey and butter in a saucepan until melted, stirring. Add chilli powder, peanuts and salt and mix well. Put blobs all over the shortbread base, then spread evenly with a knife. Put back in the oven for 10-15 minutes, or until golden brown.
Cool for 20 minutes, then cut into about 20 squares while still warm. Keep in an airtight tin. If kept in the fridge the slice will be more chewy. As an after dinner nibble cut the pieces in half again so you get 40.
Makes about 20 pieces
Variations: use slivered almonds, roughly chopped macadamias or a mixture of nuts instead of the peanuts.