Serve these tasty burgers as a mid-week family dinner, with or without French fries, and I guarantee you will be asked to put them on the menu on a regular basis.
There is no doubt that homemade French fries (or chips as we call them) are much tastier than bought ones. However, if I made them on a regular basis I would be twice the size, with or without Covid. So I keep a packet of bought chips in the freezer to zap in a hot oven and serve with steak, burgers and fried fish. Just a few, mostly for Matthew, which always puts a smile on his face. Using frozen fries makes this a very quick meal, but if you want to make your own please do.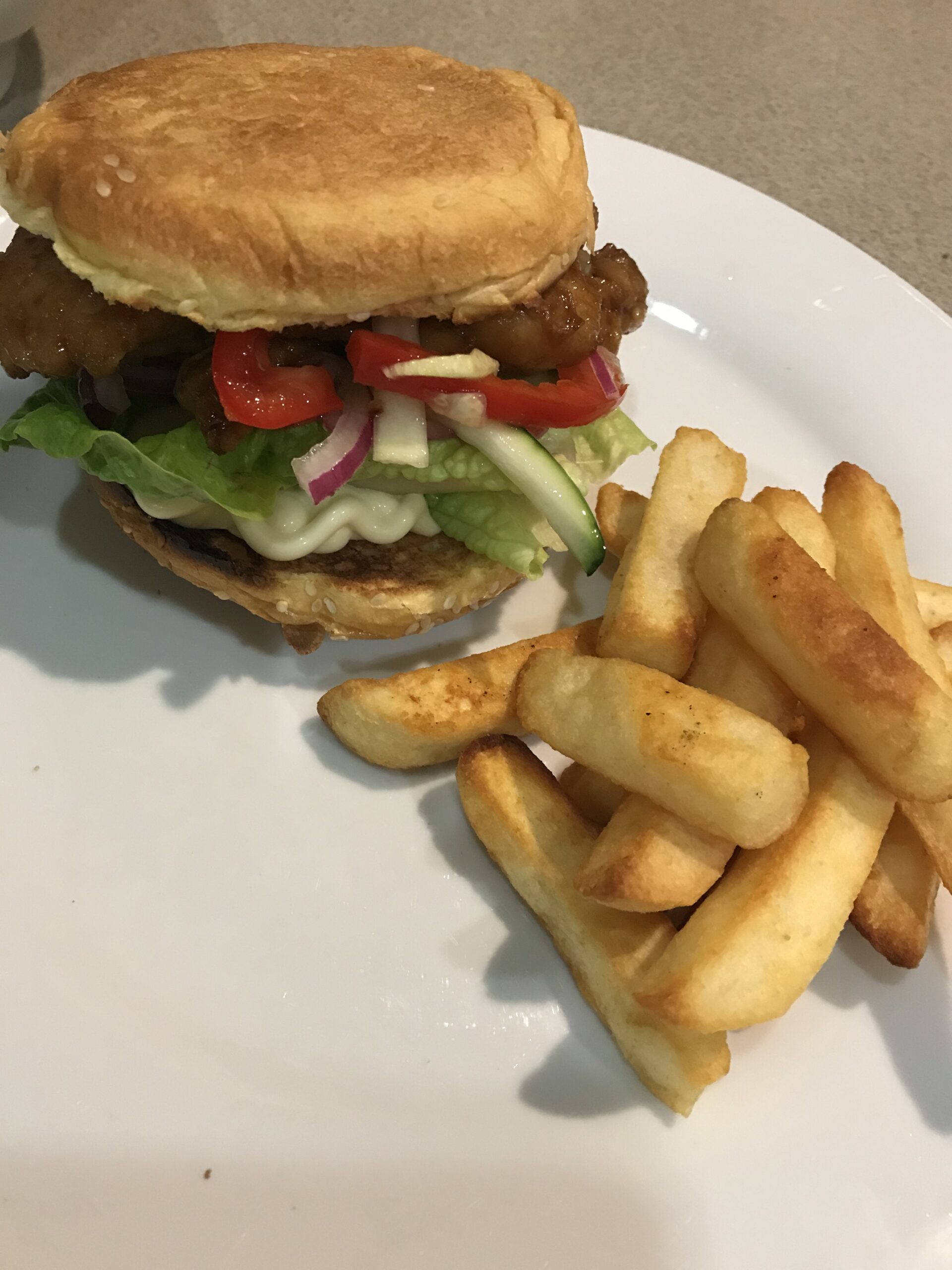 6 hamburger buns, halved and toasted (I used brioche)
Quick pickled veggies (see below)
Mayonnaise (preferably Japanese Kewpie, but any will do)
Lettuce leaves
French fries, homemade or bought
Teriyaki chicken:
6 boneless, skinless chicken thighs, trimmed
3 Tbs plain flour
Salt and freshly ground black pepper
2 tsp oil
¼ cup soy sauce
2 Tbs Mirin (or substitute vinegar)
2 Tbs sake or dry sherry
1½ Tbs sugar
Make the quick pickled veggies at least a couple of hours before eating. They will keep for up to a week in the fridge.
Mix salt and pepper into flour and use to coat the chicken, shaking off excess. Heat oil in a large non-stick frying pan and cook chicken for 3-4 minutes on each side, or until golden. Mix the soy sauce, Mirin, sake and sugar and add to the pan. Cook, stirring and spooning the sauce over the chicken and turning them until the sauce has thickened and reduced and chicken is nicely glazed. Toast the burger buns. Be careful if using brioche buns as they can easily burn.
To serve, spread some mayonnaise on one half of each burger bun, then top with lettuce, some pickled veggies, a piece of chicken and the other half of the bun. If liked, serve with French fries, either homemade or bought, cooked according to the package directions,
Serves 6
Quick pickled veggies: finely slice or julienne 1 zucchini (or a Lebanese cucumber), 1 carrot (or a small red capsicum/pepper) and 1 onion (or half if very large), either red or brown.. Add ¼ cup vinegar, ¼ cup sugar, 1 tsp salt and enough water to just cover them. Make at least 2 hours before serving. Keeps for a week in the fridge.