Frittata is a quiche without the pastry. Delicious straight out of the oven and leftovers make a tasty lunch the following day.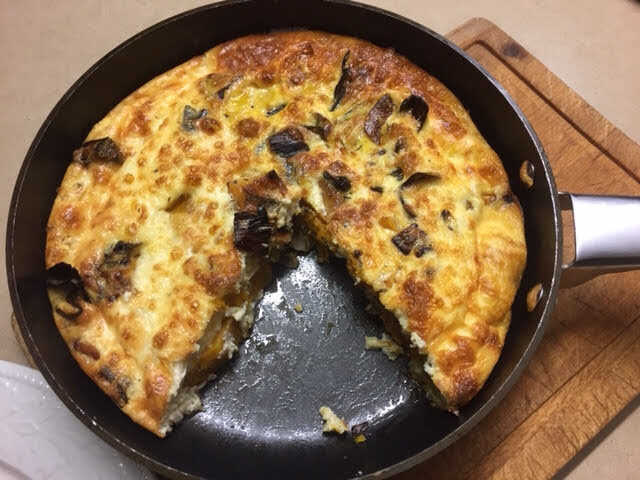 1 kg butternut pumpkin, peeled and cut into 2cm cubes
2-3 leeks depending on size, white part only, sliced
6-8 cloves garlic, chopped
1 Tbs fresh chopped thyme
1/3 cup olive oil
Salt and freshly ground black pepper to taste
8 eggs
1½ cups cream
½ cup grated parmesan
1 cup ricotta or cream cheese (optional)
Chopped parsley to garnish
Preheat oven to 220°C. Place pumpkin, leeks, garlic, thyme, oil, salt and pepper in a bowl and mix well. Spread out on a shallow baking tray lined with baking paper. Bake for 25-30 mins or until cooked and starting to brown. Meanwhile whisk eggs, cream and parmesan in a bowl and season.
Tip vegetable mixture into a non-stick frying pan with an oven-proof handle. Choose one measuring about 28cm in diameter. Pour the egg and cream mixture evenly over the vegetables, then if using put blobs of ricotta or cream cheese all over.
Bake for 25 minutes or until puffed and golden. Garnish with parsley.
Serves 4-6