Keeping the weight off becomes a constant battle for most people over the age of forty. Some have to pay attention much earlier and a few lucky ones never have to think about it.
Unless we're entertaining, I rarely make desserts. Every now and then, however, I think what the hell, life's too short, especially during this Covid pandemic, when we're entertaining and going out far less.
When I think we deserve a treat I make individual desserts in small glasses and put them in the fridge for us to eat over a few days. These small indulgences are not so big as to make you feel guilty, but when you feel like something sweet they just hit the spot.
I often think of my Irish grandmother who said to me after Grandpa died at the age of 62 "I didn't let him have all those English puddings he loved and he died young anyway." Actually I think it was the smoking rather than the weight that did it. Or maybe a combination of the two.
I have several quick and easy desserts I make in these small glasses and this is one of them. Any plain chocolate biscuits will do. Buy ones which are made with a chocolate mix, such as Arnott's Chocolate Ripple, not ones which are iced with chocolate. If in doubt Google Arnott's Chocolate Ripple so you can see what they look like and find something similar.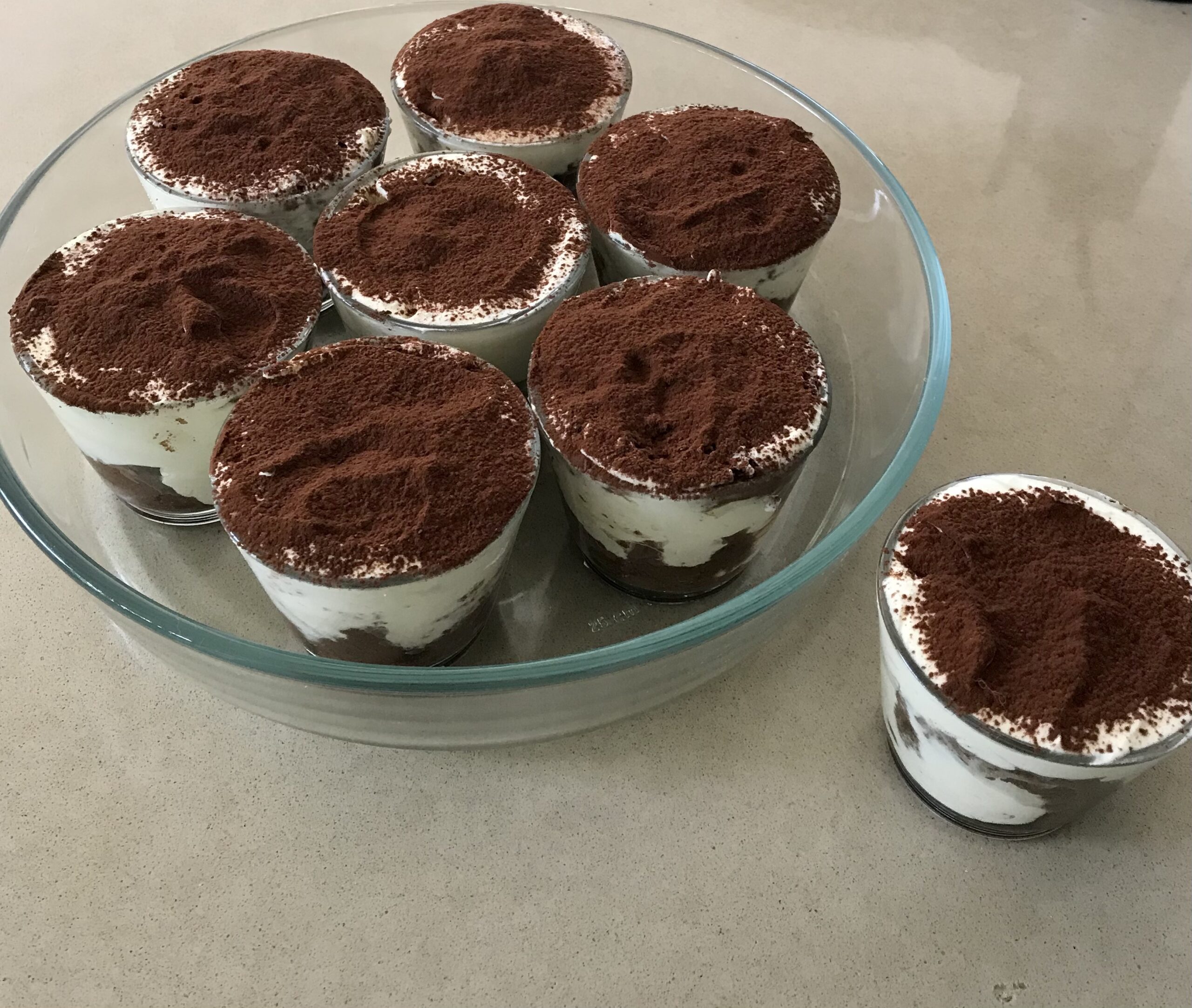 8 (or 12) un-iced chocolate biscuits, eg Arnott's Chocolate Ripple
1 cup strong coffee (see note below)
2 Tbs brandy or rum (optional)
1½ cups cream
½ cup cream cheese or mascarpone, at room temp
2 Tbs icing sugar
Cocoa powder
Find 8 small glasses or ramekins which each hold about half a cup or 125ml.
Mix coffee and brandy or rum. Dip biscuits in this mixture to thoroughly soak and put one, or one and a half in each glass. Divide any leftover coffee amongst glasses, drizzling it over the biscuits.
Whip cream and when it holds soft peaks add cream cheese or mascarpone and mix to combine, then add the icing sugar. Divide amongst the glasses, pushing it under and around the biscuits. It doesn't matter if they break up. Smooth the tops, then cover with sifted cocoa. Refrigerate, loosely covered. I put them in one large dish and cover it with a shower cap.
Makes 8 individual desserts
Note: use brewed coffee, cooled, or a cup of boiling water mixed with a heaped tablespoon of instant coffee, cooled. You could leave out the cream cheese or mascarpone and use more cream.