This recipe is adapted from one by Yotam Ottolenghi. The flatbreads are easy to make, but you could buy some Naan bread or wraps and use those instead. Any leftover flatbreads can be frozen. Just thaw and reheat briefly in a frying pan.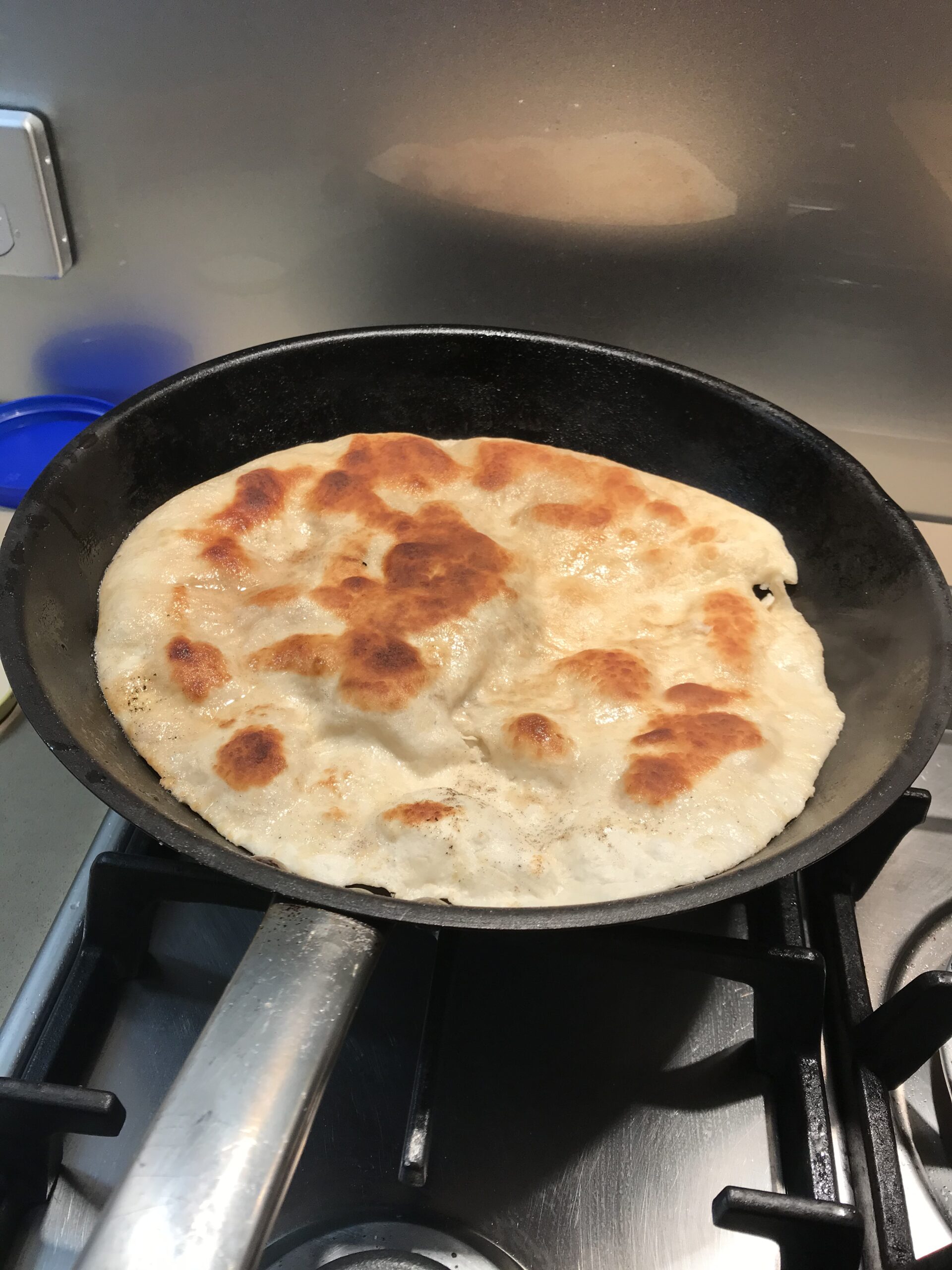 Flatbreads:
400g plain flour (see note below)
½ cup plain yoghurt
1 tsp salt
1 tsp dried yeast
180ml warm water
1 tsp sugar
Ghee (or oil and butter) for frying
Oven-Roasted vegetables
1 tsp ground cumin
1 tsp smoked paprika
Mint Yoghurt:
2 cups plain yoghurt
2 Tbs chopped mint
1 tsp lemon juice
1 Tbs olive oil
Good pinch of salt
Place flour and salt in food processor and add yoghurt. In a small bowl, mix yeast with warm water and sugar and leave to stand for 10 minutes until frothy. Add to the food processor and process until mixture forms a ball. If it seems too dry to form a ball add a bit more warm water, a tablespoon at a time with the motor running. Once dough has formed into a smooth ball, tip onto a lightly floured surface and form into a sausage shape. Cut into 8 even-sized pieces, then knead and roll each into a ball and place on a tray. Cover with a tea towel and leave for an hour and a half, or until doubled in size.
Meanwhile prepare the oven-roasted vegetables according to the recipe link, seasoning them before roasting with the cumin and paprika, as well as the oil, salt and pepper. Any mix of vegetables will do. You might like to add some tomatoes as in the photo.
Line a sieve with a piece of muslin or similar cloth (I use a man's cotton handkerchief I keep for this purpose), scrape in the yoghurt and stand over a bowl so the liquid drains out. Leave for an hour or two or overnight in the fridge. Blitz mint, lemon juice, oil and salt in a mini-blender, spice grinder or use a mortar and pestle. Mix this paste into the strained yoghurt.
At serving time, on a lightly floured surface, roll out each flatbread ball thinly to form a circle about 25cm in diameter. Heat some ghee (or a drizzle of oil and a small piece of butter) in a large non-stick frying pan and cook flatbread on high for about 2 minutes each side. Keep warm in a low oven covered with a tea towel while you cook the rest, adding a little more ghee or oil and butter as required.
Serve flatbread spread with Mint Yoghurt and topped with warm roasted vegetables.
Makes 8 servings
Note: if available use half plain flour and half strong bread flour