I recently gave away my deep fat fryer, to make room in the cupboard for a newly-acquired air fryer.
Deep fried food isn't good for cholesterol levels and I never knew what to do with all that half-used oil. I put the deep fat fryer on a local Facebook "buy nothing" website and a friendly Turkish man collected it within an hour. Better his cholesterol than ours.
I bought a smallish 5 litre air fryer for under $100. It has a five litre capacity which is big enough to make a family-sized batch of chips (French fries) when the grandkids come, or as a treat for us – steak and chips or fish and chips for dinner never fails to put a smile on Matthew's face.
Since it arrived a couple of weeks ago I've tried my new gadget on chips and calamari rings – the ready crumbed frozen ones you buy in a supermarket – and suffice it to say, I'm hooked. They took less than half an hour to cook from frozen and were perfect. There are only two settings to deal with on the model I bought – temperature and time. You can pull out the drawer at any time to give the food a shake and see how it's doing. No. 1 son was impressed and put it on his Xmas Wish List.
Last night it was time to put the machine to the ultimate test – crispy roast pork belly. As you can see from the photos, it was amazing and all done in less than an hour. Two big pluses with an air fryer are firstly that the kitchen stays cool (this will be great in mid-summer) and secondly the oven doesn't get spattered with pork fat. I haven't done a whole roast chicken yet, but that's on the list.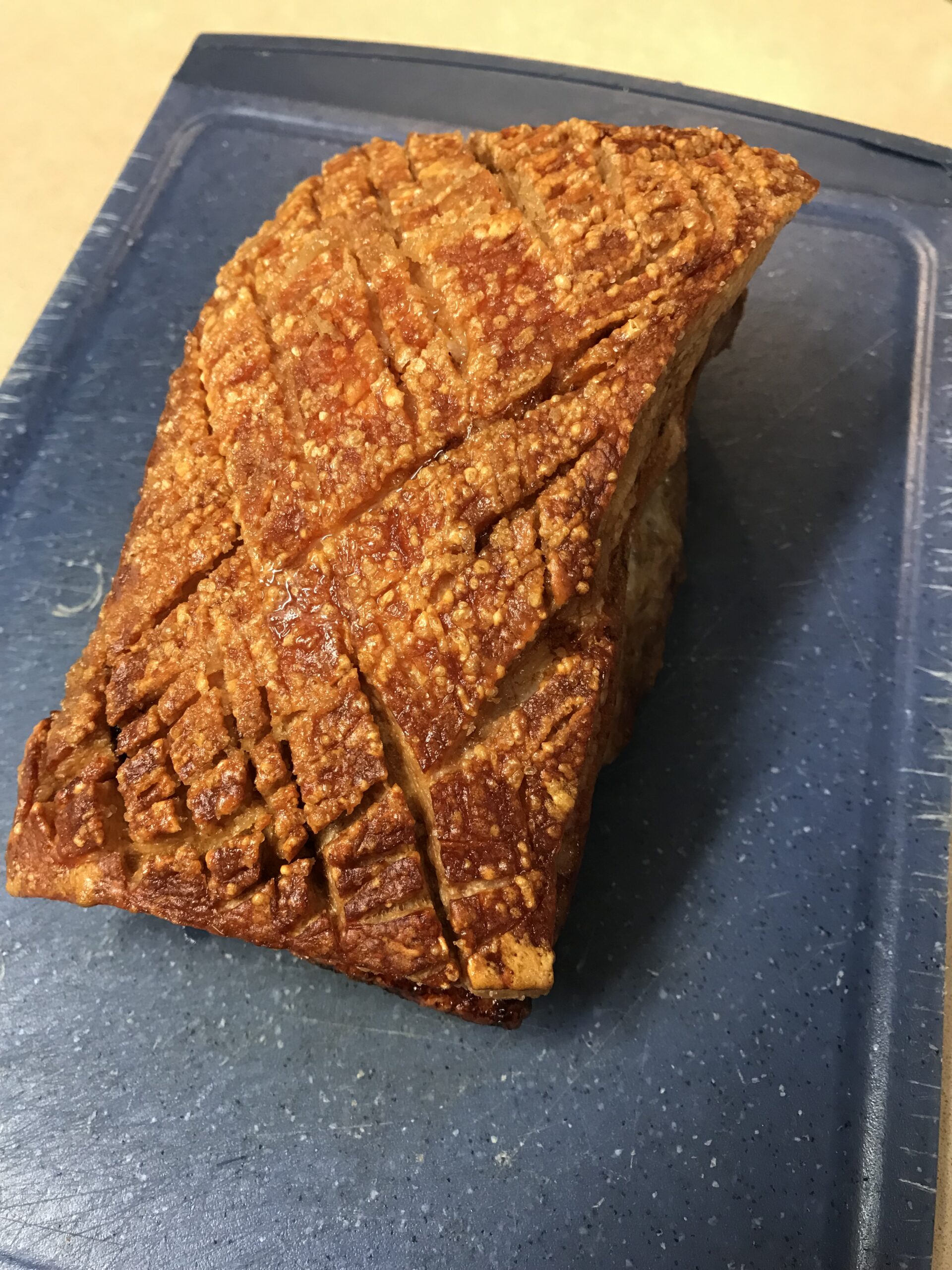 800g – 1kg boneless pork belly, with skin
2 tsp salt
Oil spray
Plum Sauce:
6 medium plums, stoned (see note below)
2 cloves garlic, chopped
½ red onion, chopped
2 Tbs tamari sauce (or substitute ketchup manis or soy sauce)
1 tsp chilli flakes (or to taste)
1 Tbs chopped fresh ginger
Sugar, honey or maple syrup to taste
Preheat air fryer to 200°C for three minutes. Cut through the pork skin with parallel cuts in two directions. Rub all over with salt, place in the air fryer basket and spray the skin with oil. Cook for 25 minutes, then lower the heat to 160°C and cook for a further 30 minutes, or until cooked to your liking. Serve with the sauce and a steamed green vegetable.
Sauce: Place all ingredients except sweetener in a medium saucepan and simmer for 20 minutes or until everything is soft. Cool then blend until smooth. Sweeten to taste with a little sugar, honey or maple syrup. I used a tablespoonful of sugar.
Serves 4
Note: Freeze stoned plums during the season, six to a bag. They are useful to make this recipe, or to add to fruit crumbles. The plum sauce keeps in the fridge for up to a week or in the freezer for several months.