Many readers will have tried confit of duck, a popular dish served in restaurants. This traditional French way of cooking poultry works just as well with chicken. Confit meat almost falls off the bone and is packed with flavour. Great for entertaining as most of the preparation can be done ahead of time. It's also good for anyone who has trouble chewing because the meat is so tender.
Traditionally confit is made using duck or goose fat, but olive oil works well and can be kept and reused several times. When the oil has cooled pour it through a sieve, discard the bits (or in our house, mix into the dog's dinner) then pour it into a large jar with a lid and refrigerate. It will separate into three layers – jelly at the bottom, then fat, then olive oil. Next time you make confit, use the top two layers – the oil and the fat – adding more olive oil as required. You can also use this oil and fat to make the most delicious roast potatoes. Use the jelly to enrich gravies and stocks.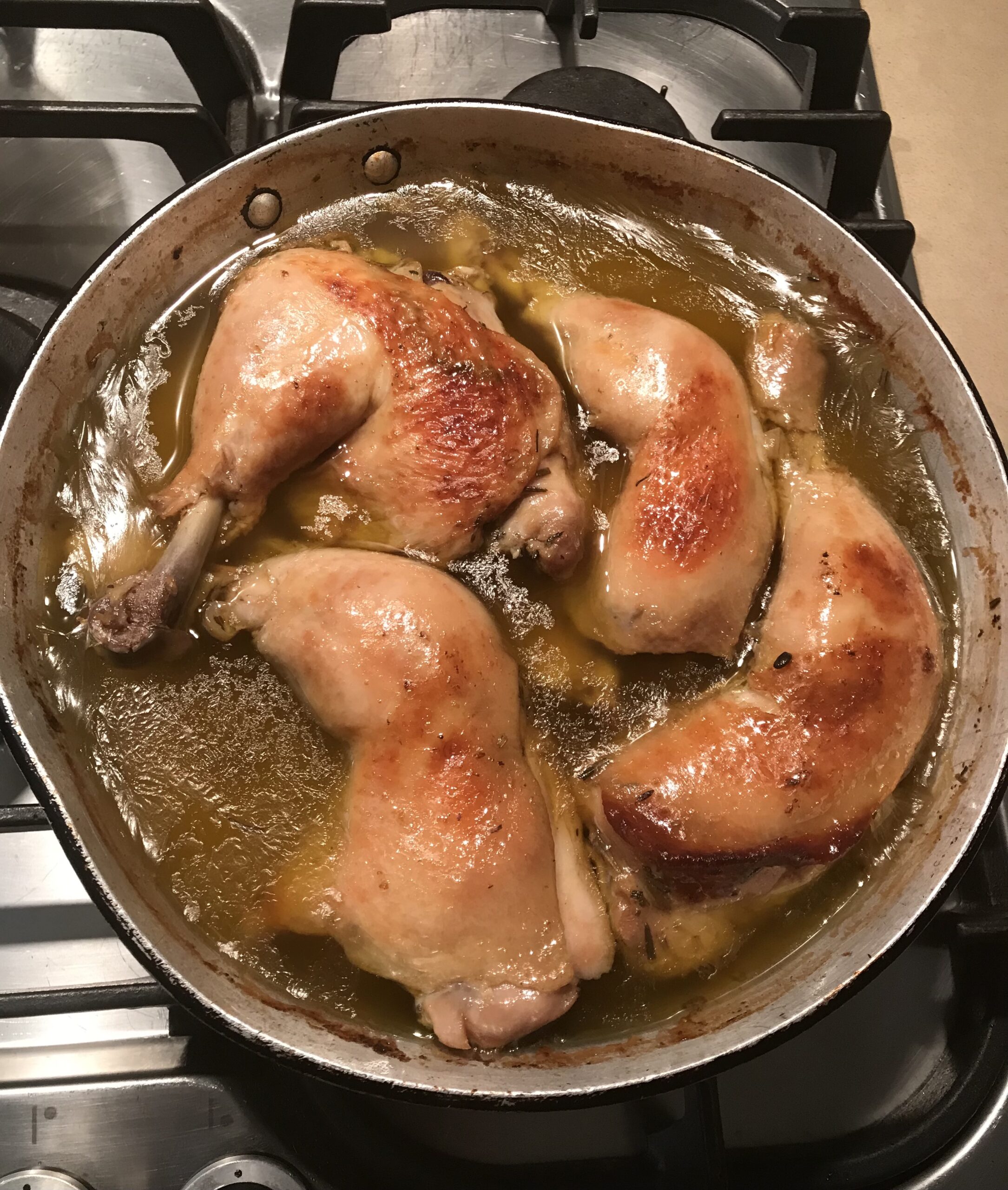 8 chicken or duck pieces (about 1 kg) (I used 4 chicken Marylands)
2 tsp salt
2 garlic cloves, crushed
2 tsp dried thyme
Olive oil
Trim chicken or duck of excess fat. Chicken Marylands cut in two or left whole (as in the photo) are ideal. Place in a dish. Add the salt, garlic and herbs and rub in well using your hands. Cover and refrigerate for several hours or over night for flavours to penetrate.
Rinse the chicken/duck pieces and pat dry with paper towels. Place in a baking dish just big enough to fit them in a single layer and pour over enough olive oil to just cover. Bake covered for three hours at 120°C. When cool, carefully remove chicken/duck from the oil – keep the oil – see above. Refrigerate chicken/duck pieces until needed, covered. They will keep in the fridge for several days.
To serve: heat a little olive oil in a frying pan and cook the chicken or duck pieces, skin side down, until crispy. Turn over and cook the other side, or put the pan into a hot oven for a few minutes to heat the meat right through. If you have an air fryer cook the pieces for 8-10 minutes at 200°C which is what I did and gives a fantastic all-over crispy finish. If liked, serve with a sweet and sour sauce such as plum sauce.
Note: If you prefer Asian flavours, use soy sauce, garlic and ground star anise or Chinese five spice for the marinade, instead of salt, garlic and herbs.
Serves 4