We watched Rick Stein make this dish on a TV cooking show recently. He described it as a Vietnamese take on Duck à L'Orange and said it was easy to make and delicious.  Matthew is not a big fan of duck, but I am, so he felt magnanimous in suggesting we make it.
The recipe calls for a 2.5kg duck but I bought a frozen one from Aldi for $14.99 which was 2.2kg. I also bought a bottle of orange juice with pulp from the same place.
The recipe says to cut the duck into six portions, but you can only get 4 decent portions from a whole duck – two breasts and two Marylands (leg and thigh). I used the wings as well, so I did have six portions, but there's not much meat on them. A better solution, especially if you're entertaining and want six decent portions, is to buy six duck portions. If you use a whole duck, remove the portions, then use the carcass to make stock for another meal.
I was left with more than a cup of duck fat which I poured through a sieve into a jam jar and put in the fridge. There's nothing quite like potatoes roasted in duck fat – see last week's recipe.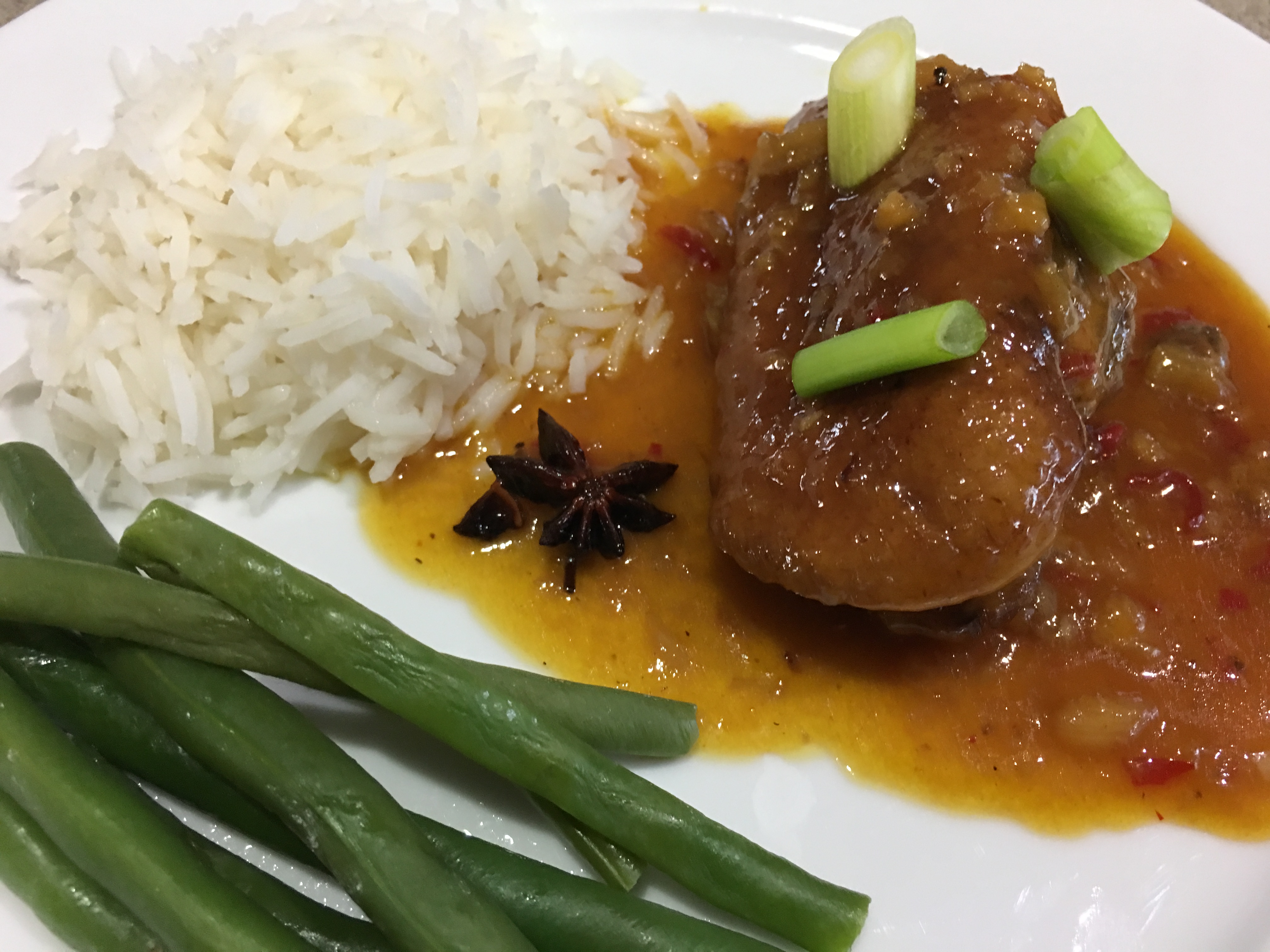 1 Duck weighing between 2 and 2.5kg
Or 6 duck portions
1 Tbs crushed garlic
2 Tbs peeled and chopped or thinly sliced ginger
1 litre orange juice
4 Tbs fish sauce
1 Tbs sugar
5 whole star anise
4 bird's eye red chillies
2 lemongrass stalks, finely chopped
Freshly ground black pepper, to taste
8 spring onions, finely sliced on the diagonal
½ tsp cornflour
Remove the breasts, legs and wings from the duck so you have four decent portions plus the wings. Heat a large heavy-based frying pan over medium to high heat. Cook the duck skin side down for 5 to 6 minutes until skin is crisp, then on the other side for 2-3 minutes, or until all the fat has rendered off. Once cooked, place in a deep saucepan and set aside.
Pour all but 2 tbsp of the duck fat off and keep it (see Note below). Add the garlic and ginger to the frying pan and cook gently till soft, then add to the pan with the duck. Add the orange juice, fish sauce, star anise, chillies, lemongrass and season with black pepper. Simmer gently for an hour or until duck is tender.
Remove duck and set aside, skim off any excess fat from the sauce then bring to a boil and simmer vigorously until reduced and concentrated in flavour. Mix cornflour with 1 tsp of water, mix into sauce and simmer for a further minute. Recipe can be made ahead to this point.
Put duck portions back into the sauce for a minute or to and heat through. Serve duck with rice and a green vegetable, garnished with the spring onions.
Serves 4 using a whole duck or 6 using portions
Note: After removing the duck portions from the carcass I had quite a few pieces of duck fat or fatty skin. I put them into a frying pan and cooked them gently until most of the fat had been rendered. I added this to the fat obtained when browning the duck portions and poured it through a sieve into a jam jar.