If you follow this blog you may have seen that I recently bought an air fryer and used it to make some amazing roast pork belly with crunchy crackling.
It had been quite some years since I last bought a new kitchen gadget. Many people rave about their Thermomix, but I haven't been tempted, happy to stick with my trusty Magimix food processor, an old-fashioned blender (for when I want a really smooth soup) and a Kenwood stand mixer (which must be getting on for 50 years old) for making meringues and Christmas cakes. It's been on permanent loan from my friend Ferne since the 1980s!
An air fryer works like a mini fan-forced oven and I love it. The main advantages are:
not having to turn on the oven in the middle of summer when you're trying to keep the house cool.
being able to cook a roast without having to clean the oven afterwards (an air fryer is quick and easy to clean)
producing crispy food such as French fries with only a smidgen of oil, or sometimes none at all
Today I discovered another use: browning meat before it goes into a casserole. Those who have done this will know that it usually involves browning the pieces in two batches and afterwards you need to clean the spattered hotplates. For today's casserole I just put the sliced oxtail pieces in the air fryer, gave them 10 minutes at 200°C and Bob's your Uncle, as they say in the classics. They came out beautifully browned all over.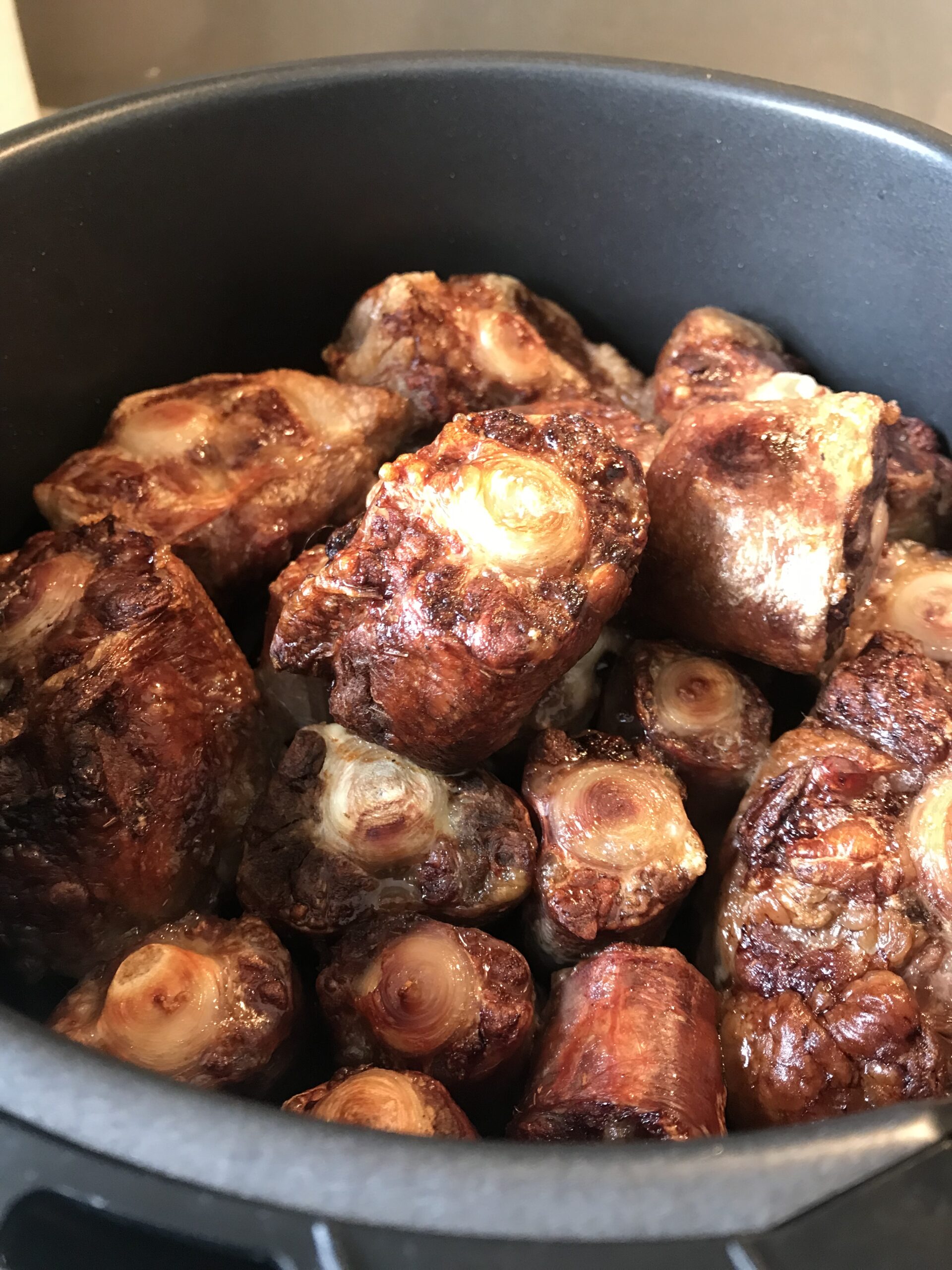 Pressure cookers were all the rage when I got married many moons ago. Back then they weren't electric and were probably a bit dangerous. Once the kids left home mine gradually found its way to the back of the cupboard and from there to the Op Shop. About five years ago I upgraded to an electric combined slow cooker and pressure cooker. I find it useful for making rich casseroles like this recipe, in a fraction of the time it takes in the oven.
2 kg oxtails, cut into thick slices (about 2kg)
1 carrot, peeled and diced
1-2 stalks celery, diced
2-3 cloves garlic, crushed
¼ cup tomato paste
1 cup beef stock
250g (more or less) store-bought caramelised onion jam or relish
1 Tbs chopped fresh thyme leaves
2 bay leaves
1 cup red wine
2 tsp brown sugar
2 Tbs Balsamic vinegar
2 tsp porcini mushroom powder (from specialty shops) (optional)
To serve:
Sour cream (optional)
Fresh herbs
Place beef pieces in the basket of an air fryer and cook for 10 minutes at 200°C. If you don't have an air fryer, brown the meat all over in a large frying pan with a tablespoon of olive oil – you will need to do this in two batches.
Place the browned meat in a pressure cooker with remaining ingredients. If the juices left in the bottom of the air fryer look a bit fatty, discard them, or perhaps mix them with your dog's next meal. Our golden retriever reckons it does wonders for those dry old biscuits. My oxtails weren't very fatty, so there were just a couple of tablespoons of meat juices under the trivet of the air fryer and I added them to the ingredients in the pressure cooker. If you don't have a pressure cooker, place the ingredients in a large casserole with a lid, or use a slow cooker.
Pressure cook for 45 minutes or cook for 2-3 hours in the oven set to 160°C, until the meat is falling off the bones. When cooking in the oven add a little more water if necessary during cooking time.
Serve garnished with a dollop of sour cream (optional), creamy mashed potatoes and roasted carrots (perhaps these carrots with harissa) or a green vegetable such as peas or beans.
Serves 6-8