This recipe was inspired by a dish we enjoyed at a small deli and restaurant on King Street in Newtown called Pistou. There are lots of little gems on King Street and Pistou is no exception.
With a good wine selection and lots of delicious sharing plates, including cheese and charcuterie platters, it was a good choice for a light meal on a Friday evening.
If you haven't come across labneh before, it's just strained plain yoghurt and you can easily make your own. After removing the excess liquid it becomes very thick. Labneh can be served as it is or you can add salt and herbs or a little sweetener and vanilla for a sweet version. Try this delicious Ottolenghi recipe for labneh with summer berries.
Instead of making the Caramel Sauce you could use balsamic glaze or pomegranate or date molasses.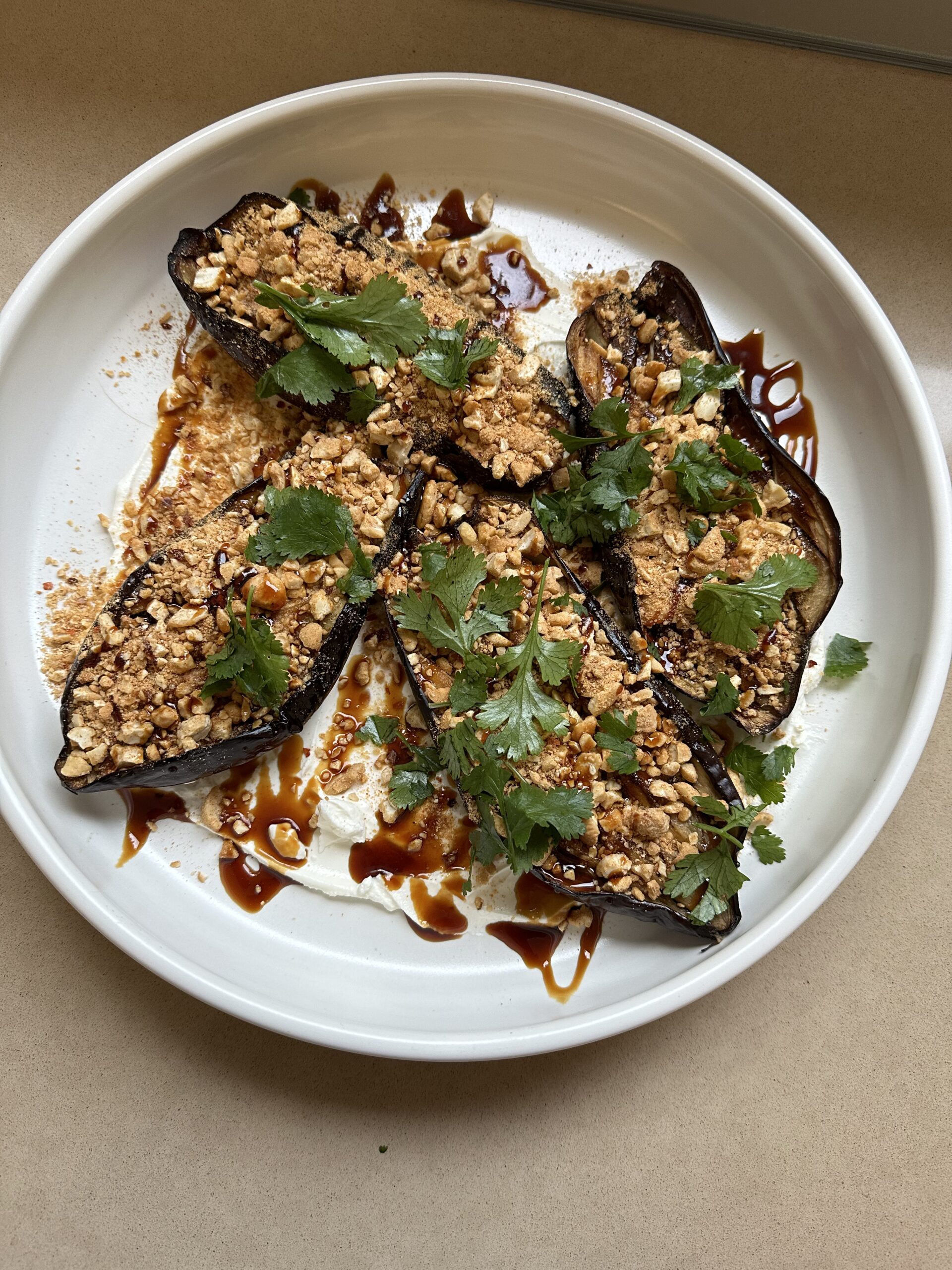 250g plain Greek yoghurt
2 medium to large eggplants
Olive oil to brush
Salt to taste
Spicy Cashews:
1 cup cashew nuts, lightly toasted
1 tsp each cumin and paprika
½ tsp each salt and chilli flakes
Caramel Sauce: (see note below)
1/3 cup sugar
1/3 cup vinegar
To serve:
Juice of ½ a lemon
Fresh coriander leaves, roughly chopped
Make labneh: place a sieve over a bowl, line it with a piece of fine cotton or muslin and scrape in the yoghurt. Cover and leave in the fridge for several hours or until all the liquid has drained out. Discard the liquid.
Preheat oven to 180°C. Line a shallow oven tray with baking paper. Remove stalks from eggplants, then cut them in half lengthwise. With a sharp knife, cut deeply into the flesh in a diamond pattern. Brush both sides with olive oil and sprinkle with a little salt. Bake for 20-30 minutes, or until golden and tender.
Place ingredients for the Spicy Cashews in a food processor, then use the pulse button to chop. You want some larger pieces of cashew to remain, so don't over-process.
For the Caramel Sauce, place sugar in a small heavy-bottomed pan and cook, swirling and shaking the pan, until it has dissolved and turned into caramel. Add vinegar – be careful as it will spatter – and continue to swirl and shake until the caramel has dissolved. Cool.
To serve, spread labneh on one large or four individual serving plates. Top with the eggplants, then the Spicy Cashews. Drizzle with some of the Caramel Sauce, then the lemon juice and garnish with the coriander.
Serves 4
Note: instead of making the Caramel Sauce, you could use balsamic glaze or pomegranate or date molasses instead.