With a growing family, we had two Christmas lunches this year.  With visitors from overseas, it was simply impossible to do everyone on one day.
For the second family gathering I decided to barbecue a boned leg of lamb, using a recipe from the December edition of Delicious magazine.  It's one of the best food magazines on the market and I have a subscription.  Always full of inspiring ideas.  Here is my slightly adapted version which was delicious.  Boning a leg of lamb is not as hard as it looks – just keep cutting the meat away from the bone at one end, then start on the other end and eventually you will meet up and be able to pull it out!  The magazine suggested serving the lamb with a cucumber, tomato and spinach salad, with a lemony dressing, topped with toasted sesame seeds, which went very well.  The recipe called for Harissa, which I didn't have, but Sambal Oelek was a perfect substitute.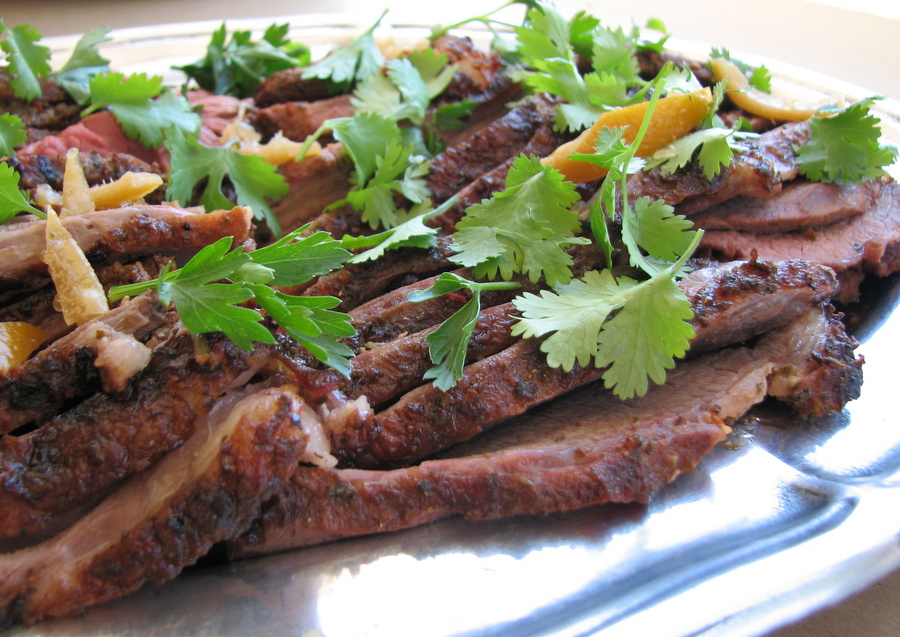 Chermoula Lamb with Yoghurt Dressing
1 large leg of lamb, boned
Marinade:
4 cloves garlic
2 tsp ground coriander
2 tsp ground cumin
A handful of fresh coriander
A handful of fresh mint
2 Tbs Harissa or Sambal Oelek (both are chilli pastes)
Grated rind and juice of 1 lemon
2 Tbs olive oil
Dressing:
250g thick Greek-style yoghurt
A handful of chopped fresh mint
2 preserved lemon quarters
Garnish:
A few fresh coriander sprigs
A few slivers of preserved lemon, extra
After removing the bone from the lamb, cut through the part where it's still joined, so you can open the meat out flat.  Place in a ceramic dish.  Place dressing ingredients in food processor and process until smooth.  Pour over lamb, turn to coat thoroughly.  Cover with plastic wrap and refrigerate several hours or overnight.
Next day remove meat from marinade and cook on a medium to hot BBQ until done to liking.  If you leave the meat spread out some parts will be quite thin, so they will be rather well done by the time the thicker bits are cooked.  So if you prefer your meat medium-rare, use some kitchen string to form it back into a round shape with the skin on the outside.  As the meat is cooking, baste regularly with remaining marinade.  If the meat has been left spread out it will take 15-20 minutes each side.  If reformed into a round shape with string, it will take about an hour.  A meat thermometer is a good investment for getting it right.
Let the meat rest, covered loosely with foil, for about 10 minutes then slice thinly and arrange on a serving platter.  Garnish with the coriander and a few slivers of preserved lemon.  Serve yoghurt dressing separately.
Dressing:  Rinse the lemon quarters, discarding the pulpy part.  Finely chop the skin, then mix into the yoghurt with the mint.
Serves 8-10