The proper name for this old English cake is Barra Brith.  In our house it's always called Tea Cake, because it's made with cold tea.  In the good company of the Date and Walnut Loaf which appeared here a couple of weeks ago, this cake is simple, quick to make and it keeps for a week in an airtight tin.  I used to use half a cup of sugar, but I cut it down as the dry fruit provides quite a lot of sweetness.
2½ cups mixed dried fruit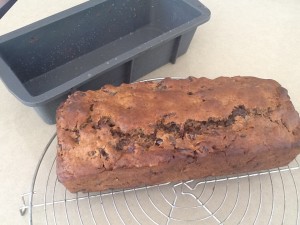 and nuts if liked (raisins, chopped dates, currants, walnuts, pecans)
1 cup cold tea, including leaves
¼ cup brown sugar
2 cups self-raising flour
1 large egg
1 tsp cinnamon or mixed spice
3 Tbs oil
Soak fruit (and nuts if using) in tea overnight. Preheat oven to 160°C. Mix in remaining ingredients. If the mixture is rather dry add one or two tablespoons of milk. Scrape into a loaf tin approximately 12 x 25 cm, greased and bottom-lined with baking paper. Or use a silicone pan which doesn't need greasing or lining – you can see mine in the photo. Smooth over the top with a knife. Bake for about an hour or until well-risen and browned and a toothpick inserted in the centre comes out clean. Don't overcook or cake will be dry. Leave in tin 5 minutes then turn out and cool on a rack. Keep at least a day before using. Serve sliced, either plain or buttered. Keeps for about a week in an airtight tin.