My friend Chris Wride in Paris has just requested my recipe for Pavlova via the Café Cat Facebook page.  He remembers I served it at a dinner when we were living there. Well his timing couldn't have been better. We've just picked our first raspberries and one of the nicest ways to enjoy fresh berries, especially raspberries, is in a Pavlova.  Chris your wish is my command!  Here it is.
Australians and New Zealanders argue about where this dish originated and both claim it as their national dessert.  It doesn't really matter who invented it – it's a world class dish by any standards.  Sometimes I make individual ones but they're a bit more fiddly.  One big one can be whipped up in no time at all.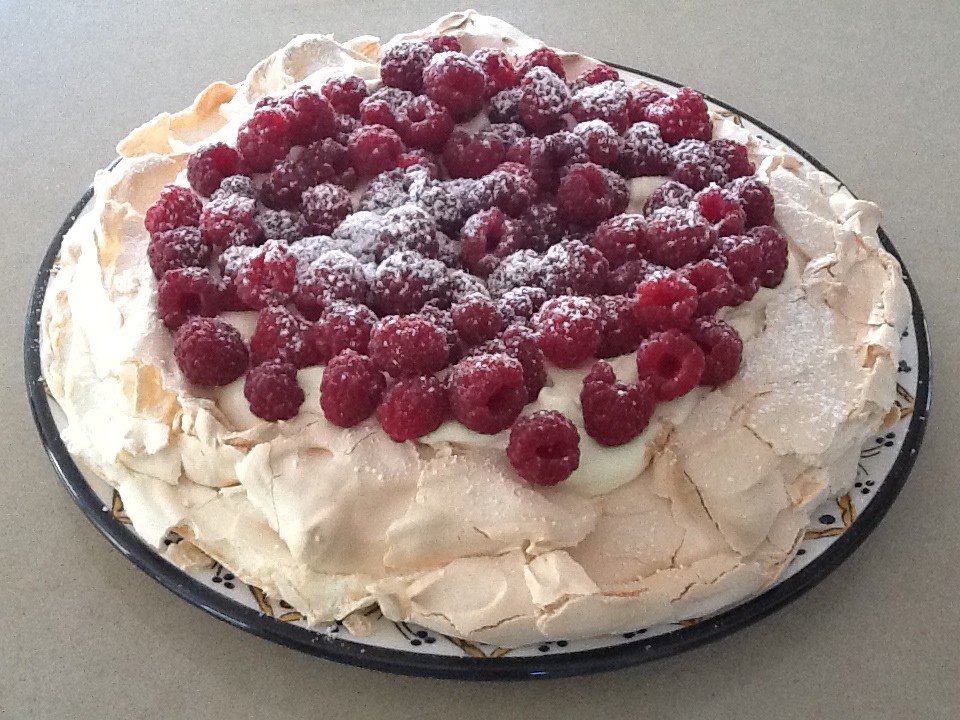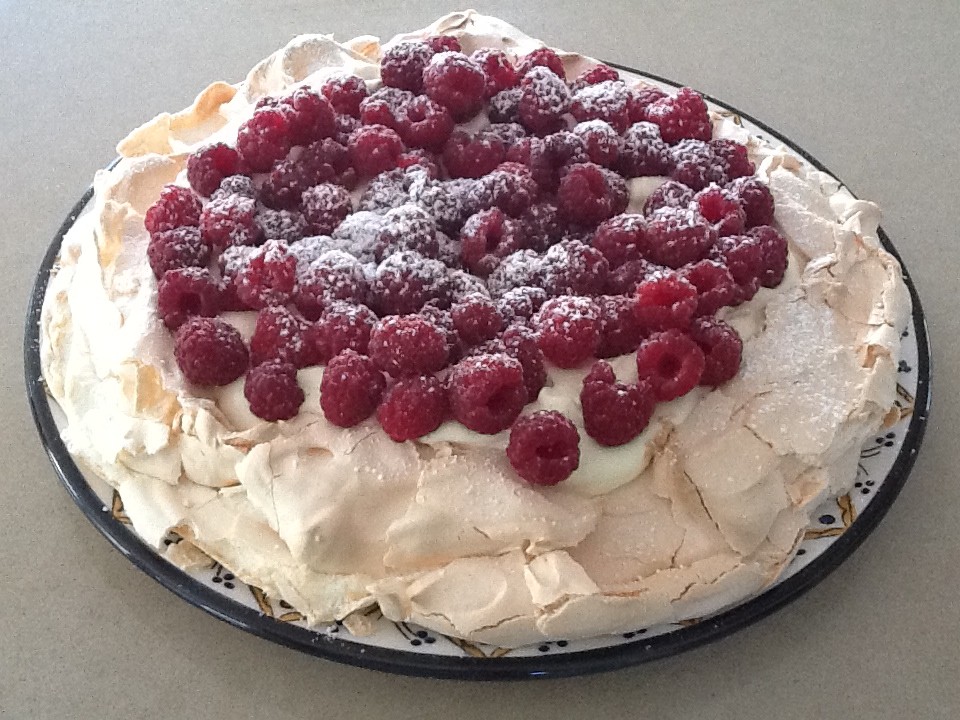 4 large egg whites (approx 125g) at room temp
250g caster sugar
1 tsp white or cider vinegar
1 tsp cornflour
400ml fresh cream, whipped
2-3 cups fresh berries such as raspberries, blueberries, strawberries
Serves 10
Preheat oven to 170°C.  Place a sheet of non-stick baking paper or foil on a large baking tray and draw a 25cm circle on it using a dinner plate.  Place egg whites in a large bowl and whisk using electric beaters until soft peaks.  A Kenwood or Kitchen Aid mix-master is ideal for this, but hand held beaters will do, although it will take twice as long. Gradually add sugar and keep whipping until you have a stiff, glossy meringue with no crunchy bits of sugar left.  Halfway through stop the machine and scrape mixture down from sides of the bowl.  Add vinegar and cornflour then pile the meringue onto the baking paper circle.  Spread to an even thickness then remove some from the middle to the edges so you end up with a meringue which has a dip in the middle for the cream and fruit.  Bake for 10 mins then turn off the oven and leave there till cool.  Fill pavlova with unsweetened whipped cream and berries. Dust with sifted icing sugar (optional).
Notes:
leftover egg whites from a recipe which uses only yolks can be stored in a plastic container in the freezer, adding more on other occasions.  Thaw and weigh: one egg white weighs 30g (1 ounce) more or less
if there is any trace of egg yolk left in the whites they will not whip
all ovens differ so you may need to adjust the oven temperature and/or the cooking time till you get this right
the finished meringue should be crisp on the outside but soft like marshmellow on the inside
passionfruit pulp is also nice on pavlova and some people like to use slices of kiwi fruit