Looking for a quick and easy dessert to serve over the Canberra Day long weekend? Eton Mess, a traditional English dessert which makes the most of the summer berries is quick, easy and delicious.
A mixture of meringue, berries and whipped cream, this dish was first mentioned in print in 1893 and is thought to have originated at Eton College in England, where it's served at the annual cricket match against Harrow School.
In the 6th episode of the TV series The Gilded Age, which I'm currently watching, the French chef is asked to prepare a British meal. For dessert he makes Eton Mess, which he describes disparagingly as a mess made by a bunch of schoolboys.
The traditional recipe for this sumptuous dessert uses broken up meringues, either home-made or shop bought. I prefer to use a pavlova base, because the meringue is crunchy on the outside, but soft and marshmallowy on the inside. In Australia pavlova bases are sold in most big supermarkets.  I'm not sure if they are available in other countries, except perhaps New Zealand, but you can always make your own or use broken up hard meringues, which are more readily available around the world.
I like to use half fresh cream and half sour cream or crème fraîche, but if preferred you can use all fresh cream.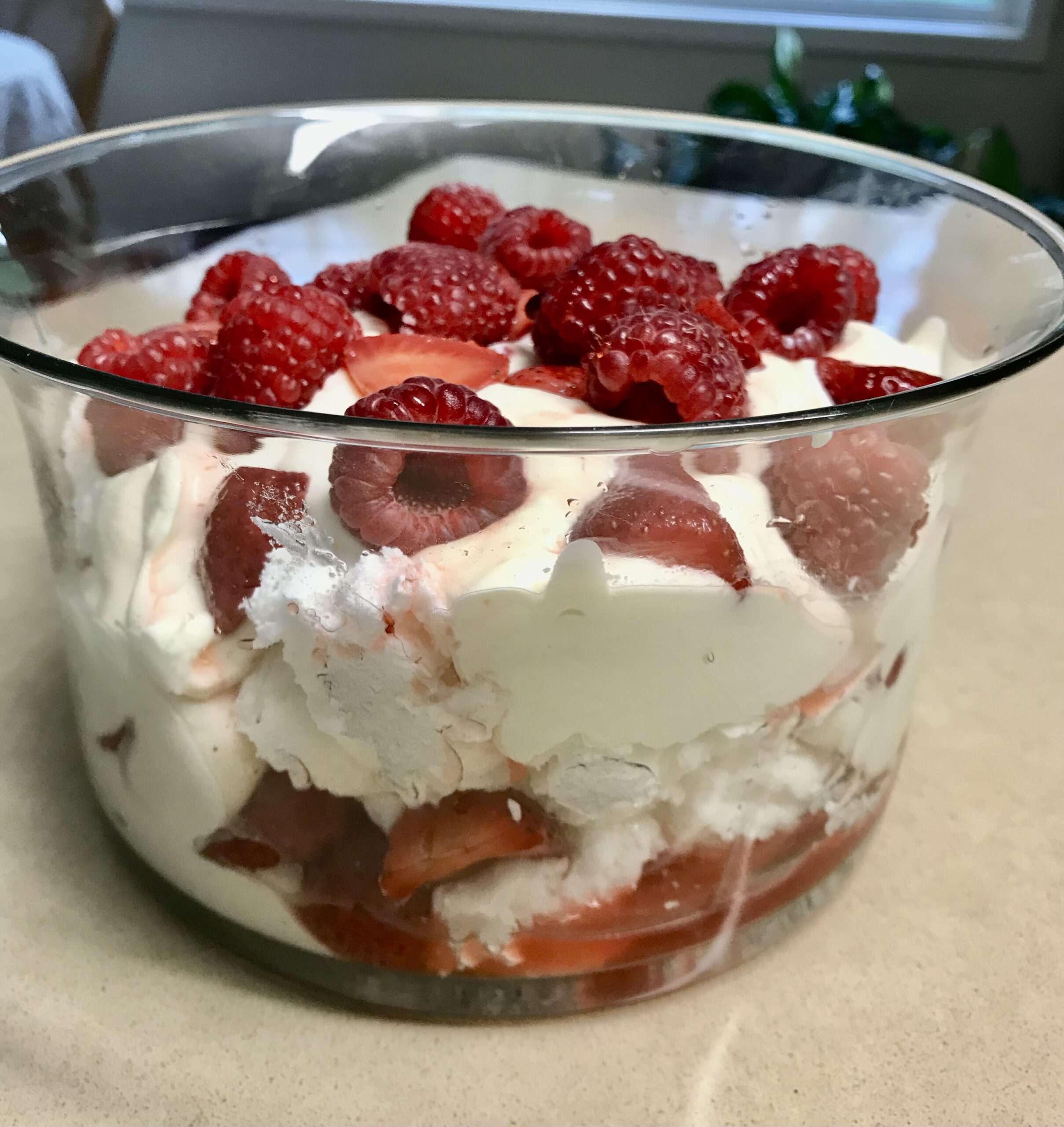 1 pavlova base to serve 12 (or about 12 large individual meringues)
250 ml whipping cream
250 ml sour cream or crème fraîche
1 Tbs icing sugar
1 tsp vanilla essence
500g strawberries
2-3 tsp caster sugar
150-200g raspberries (or blueberries, blackberries, blackcurrants etc)
Chocolate sprinkles (optional)
Wash strawberries, cut in half or slice if large and place in a bowl with the caster sugar. Mix and leave aside for an hour or two, so the juices start to run.
I used about three-quarters of a large pavlova base for this dish. Break off chunks and arrange about half of them in a large glass serving dish, or break up the hard meringues. If preferred, make individual servings using large whisky tumblers.
Scatter half the strawberries and half the raspberries or other berries over the meringue. Place the cream, sour cream, icing sugar and vanilla in a bowl and whip using electric beaters until soft peaks form. Place blobs of the whipped cream over the meringue and fruit, then the rest of the pavlova/meringue pieces, the juices from the strawberries, the remaining cream and lastly the rest of the strawberries and raspberries. They are not shown in the photo, but if liked decorate the top with some chocolate sprinkles, which always look nice with berries and cream. Refrigerate until serving time and serve within a couple of hours.
Serves 6-8
Note: if liked, add a tablespoonful of a liqueur such as Kirsch, Grand Marnier, Cointreau or Curaçao to the strawberries and sugar.