The other evening I switched onto the ABC and watched Kitchen Cabinet. In this series political journalist and commentator Annabel Crabb visits a politician in their home for a chat about politics and life in general.  The conversation takes place over a meal – Annabel takes the dessert and the politician cooks one of their favourite recipes for the main course.
In this episode Deputy Leader of the Opposition Julie Bishop produced what looked like a delicious prawn risotto. Having made a mental note of the main ingredients (prawns, rice, celery, coriander, Cinzano, pine nuts and Parmesan) I decided to recreate it this evening.
For dessert Annabel brought Eton mess, which is basically whipped cream with pieces of meringue and berries folded through. A sort of deconstructed Pavlova!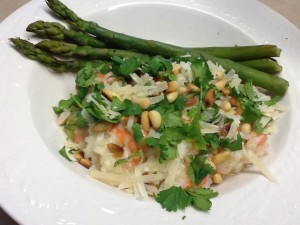 2 Tbs oil or 25g butter
1 medium onion, finely chopped
2 stalks celery, finely sliced
350-400g peeled raw prawns
1/3 cup Cinzano or other white vermouth
2 cups Arborio rice
4-5 cups chicken or vegetable stock
salt and freshly ground black pepper to taste
To serve:
Lightly toasted pine nuts
Chopped fresh coriander
Grated Parmesan cheese
Steamed and buttered asparagus
Heat oil or butter in a large heavy-based pan and cook onion and celery until soft but not brown, stirring. Add rice and cook stirring until translucent. Add prawns and cook stirring for 1-2 minutes. Add Cinzano and cook, stirring to evaporate some of the alcohol. Slowly add stock, about a cup at a time, simmering until absorbed and continue cooking and adding more stock until the rice is tender. Risotto should be wet and slightly soupy, not dry like paella or pilaf. Season to taste with salt and pepper and if liked add a final drop of Cinzano.
Serve risotto garnished with the pine nuts, coriander and Parmesan and the asparagus on the side.
Serves 4