I often make a salad using avocado and orange or grapefruit segments, which go well together. A recipe with the addition of oven-roasted carrots appeared recently in the Canberra Times and came from a cookbook called A Girl and Her Pig by April Bloomfield. I read through the method and found it unnecessarily complicated, so I made a few changes. I also added some honey to the dressing. Here is my tweaked version.
1 bunch baby carrots (about 750g)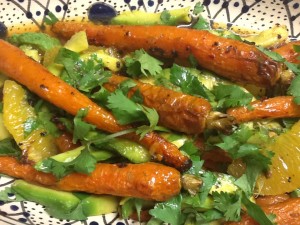 2-3 cloves garlic
1 rounded tsp cumin seeds
1 rounded tsp coriander seeds
1 tsp dried crushed chilli (or use some fresh)
Salt and freshly ground black pepper
6 Tbs extra virgin olive oil
2 large oranges
2 large avocados
Juice of ½ a lemon
2 tsp honey
Coarsely chopped fresh coriander
Preheat oven to 200°C. Toast cumin and coriander seeds in a dry pan over moderate heat for a minute or two, or until fragrant. Place in a mortar with garlic, chilli, a tsp of salt, some pepper, 4 Tbs of the oil and crush to a paste. Scrub and trim carrots but don't peel. Leave a small bit of the greenery at the end. Place carrots in a large baking dish which holds them in one layer. Add paste, mix well to coat. Add ¼ cup water then place in the oven to roast for about half an hour, stirring halfway, until tender and starting to brown a bit. Remove from the oven and cool.
Meanwhile remove peel and pith from the oranges with a serrated knife, then remove each segment by cutting each side of the membrane. Place segments in a small dish and squeeze what's left of the oranges over the top to remove all the juice. Peel and slice avocados lengthwise.
Arrange carrots, drained orange segments (keep juice) and avocado slices decoratively in a serving dish. Place cooking juices from the carrots in a jam jar. Add orange juice, lemon juice, remaining 2 Tbs oil, honey and salt and pepper to taste. Shake well and drizzle over the salad. Top with the fresh coriander and serve.
Serves 4