This recipe is based on one by Neil Perry. The original recipe only had half a cup of chicken stock. I added extra liquid to make it more of a soupy stir-fry. I also added a touch of sugar  – as per my grandmother's rule of always adding some sugar to anything savoury and some salt to anything sweet – and some ginger.
It's a delicious, light and easily-digested supper which takes no time at all to make. If you don't like squid (which I bought in Woolies) just increase the chicken.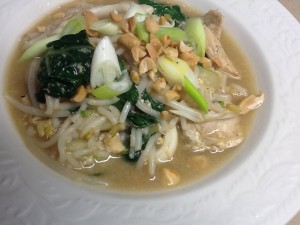 2 Tbs oil
3 boneless chicken thighs, thinly sliced (or 2 breasts)
2 cloves garlic, crushed
1 beaten egg
250-300g fresh rice noodles (I used 220g pack of Kan Tong Shelf Fresh)
3 Tbs soy sauce
1 cup chicken stock
1 squid tube, cut into thin rings
1 bunch Chinese greens e.g. Bok Choy, washed and thickly sliced
2 cups beansprouts
salt and freshly ground pepper to taste
1 tsp sugar
1 Tbs grated fresh ginger
To serve:
¼ cup crushed roasted peanuts
2 spring onions, finely sliced on the diagonal
Heat oil in a wok and stir fry chicken for 3-4 minutes, then remove with a slotted spoon. Add garlic and cook for a minute, stirring, then add the egg. Continue to stir-fry as you add the noodles, soy sauce and chicken stock. Return chicken to the pan with squid, ginger and greens and continue to stir-fry for 2 minutes or so. Don't overcook or the squid will be tough. Add sugar, season to taste and at the last minute add the beansprouts, plus a little more water if necessary. Serve in shallow bowls garnished with the peanuts and spring onions.
Serves 4