This recipe first appeared in the Australian Women's Weekly Big Book of Beautiful Biscuits when it was published in 1982. I've been making it ever since and it's always popular.
The original recipe uses 2 cups fruit mince (mincemeat) but I use a cup of dried fruit and a cup of jam instead. It's great for using up all those bits of jam and marmalade at the bottom of jars – something my family say I'm famous for. It's always a great achievement when you can find things in the fridge which need using up and turn them into something finger lickin' good.
When I returned to take the photo someone, who shall remain nameless and blamed the dog, had already eaten a piece.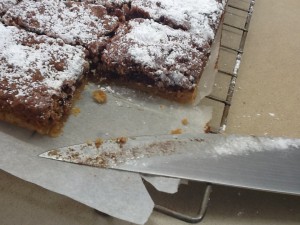 Base:
180g butter at room temp
2/3 cup brown sugar, lightly packed
2 cups plain flour
Topping:
4 eggs
1 cup brown sugar, firmly packed
2 tsp vanilla essence
2 Tbs Plain flour
1 tsp Baking Powder
3 cups dessicated coconut
1 cup jam (any flavour)
1 cup dried fruit
Preheat oven to 180°C. Process butter and sugar in food processor until creamy. Add sifted flour and mix until you have crumbs which are starting to stick together. Press mixture into a greased Swiss Roll tin or slice tin (mine is 35x25cm) lined with baking paper. It doesn't have to look very smooth but it does need to be evenly spread to cover the base. Bake for 10 mins or until golden.
Process eggs, sugar and vanilla in food processor. Add coconut, jam and fruit and process just enough to mix. Spread topping over the cooked base, bake for 25-30 mins or until firm and golden brown. Cool, dust with sifted icing sugar and cut into squares.
Variation: Frangipane Bars: make the base as above. When cooked, spread with about a cup or so of raspberry jam or lemon curd. For the filling mix 125g butter, softened, with 1 cup caster sugar in food processor until light and fluffy. Add 4 eggs, ¼ cup plain flour, 3 cups almond meal (or another ground nut) and a tsp of vanilla or almond essence. Spread evenly over the base, sprinkle with flaked almonds and bake for 25-30 mins or until firm and golden brown.