My daughter Catherine invented this delicious vegetarian recipe when she only had some beetroot, a leek and an avocado as inspiration. It's at times like this when some of the best dishes are created. Remember the TV programme Ready, Steady Cook where participating cooks were handed a bag of ingredients and had to whip up a meal with no recipe, or even time to plan?
This recipe is flexible because you can use any vegetables you have on hand. I didn't have any leeks so used a big onion and instead of potatoes I added carrots. I also used a creamy Danish feta rather than goat's cheese and pecan nuts instead of walnuts.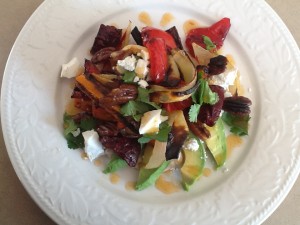 Hummus – homemade or bought
1 avocado
3 small beetroot
2 carrots
1 red capsicum (pepper)
4 cloves garlic, peeled
1 onion or 1 leek, or both
Olive oil
Salt and freshly ground black pepper
2 Tbs coriander leaves
50 goat's cheese or feta
2-3 Tbs walnut or pecan halves, toasted
Balsamic glaze or a fruity finishing vinegar (I used apricot, Catherine used cherry)
Preheat oven to 200ºC. Cut vegetables into even-sized chunks or sticks, mix with a good slug of olive oil, salt and pepper and spread out in a single layer on a baking tray lined with baking paper. Bake for 30 mins or until tender and starting to brown at the edges, turning them about halfway through. Remove from the oven and let them cool a bit. Spread about 3 Tbs hummus on two large serving plates. Arrange half an avocado, sliced, on each plate on the edge of the humus, as shown in photo. Pile the roasted vegetables on top, then garnish with the coriander, the crumbled cheese and the toasted walnuts or pecans. Drizzle with the vinegar.
Serves 2