Salted caramel desserts are very "in" at the moment. I first tasted this combination of flavours in Brittany, where you can buy a salted caramel spread in jars to eat on toast like Nutella. The Bretons also use it as one of the many fillings you can choose for crepes sold by street vendors in the region. I know it's not good to eat too much, but Matthew and our two boys are very keen on anything salty and this includes salted caramel desserts.
Israeli-born chef Yotam Ottolenghi created this delicious caramel and macadamia cheesecake. All I have done is to add salt to the caramel sauce, cut down a bit on the biscuits in the crust and the sugar in the cheesecake filling.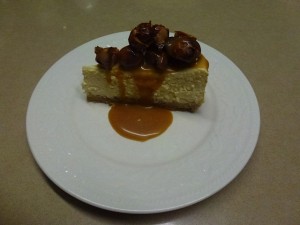 Base:
About 130g plain sweet biscuits (I used 9 Digestives)
40g unsalted butter
Filling:
500g ricotta cheese, at room temperature
250g cream cheese, at room temperature
100g caster sugar
4 eggs
½ cup sour cream
Seeds scraped from 1 vanilla pod or 2 tsp essence
Topping:
150g macadamia nuts
90g caster sugar
Sauce:
65g unsalted butter
160g caster sugar
100ml cream
½ to 1 tsp salt, to taste
Base: Preheat oven to 140ºC. Lightly grease a 20cm spring-form cake tin and line the base and sides with baking paper. Whiz biscuits to crumbs in food processor. Melt butter in microwave, add biscuit crumbs and mix. Tip into the cake tin and flatten with the bottom of a glass to create a level base.
Filling: In a bowl with electric beaters or in a food processor, mix all ingredients for filling until smooth. Scrape into cake tin and bake for 50 mins or until set in the middle. Cool then refrigerate for a couple of hours or overnight, covered.
Topping: Preheat oven to 140ºC. Spread macadamias over a baking sheet and roast for about 15 mins or until light golden brown. Watch them carefully – mine got a bit too brown as you can see in the photo. Remove and set aside. Place sugar in a heavy-based saucepan and heat gently until it turns golden-brown. Do not stir, but you can lift and swirl from time to time. Add nuts and mix gently with a wooden spoon. Pour onto a tray lined with foil or non-stick baking paper and leave to set. Chop roughly with a large knife, leaving some of the nuts halved or whole.
Sauce: Melt butter in a heavy-based saucepan, add sugar and stir constantly over medium heat with a wooden spoon until you have a smooth, dark caramel. It may split, but that doesn't matter. Add cream carefully – it will splutter – and stir to combine. Sieve to remove any gritty bits then cool.
To serve: Remove sides and base of cake tin and place cheesecake on a serving plate or board. If you want to present it whole, spoon the sauce in the middle, allowing it to spill over the sides a bit and scatter the nuts over the top. Alternatively arrange slices on individual plates, then decorate with the nuts and spoon over some of the sauce. Keeps for 3 days in the fridge.
Serves 10